DAY-187
5/7/2012
I needed to change my oil; I searched through Puno for 2+ hours looking for oil with no luck. I decided to go ahead and head for Copacabana in Bolivia, so I just changed my filter. It's a waste of a filter but I had to no other choice. My bike is running like crap at altitude, I need to change my jets bad. I headed out and the road twisted right next Lake Titicaca all day. I had nervous butterflies today like I always do on Border crossing days. I had been warned and terrorized about the Bolivian crossing. I made it to the border and pulled up to a deserted border crossing, just with two different chains crossing the road. I stopped at the first one and a cop started to talk to me, he was saying I had to come in to the office and show my permit, insurance, driver license, and everything before I can pass. Although one other cop was saying that I could just go to the permit check out, but the other cop insisted on going into the office. I did and I showed him my Permit, tourist card, and stalled on my insurance. Well I don't have any for Peru because after talking to other riders they never ask for it and nobody seemed to know where to get it; I couldn't find it at the border. So I heard from another rider about a trick using your home insurance and claim that it is international insurance. I did he was not happy but after 5 minutes of saying that's all I have and it is my insurance. He threw his hands up looked at the other guy; I smiled said thanks and grabbed my paper and walked back to my bike. I moved it and went and checked my bike out of the country and then got my exit stamp. I headed for Bolivia; I rode up to a metal shut gate. I went received my visa for $135 he took all my money except for one $20 which had a microscopic tear. I then got my Bolivian stamp into the country, I walked out and a cop wanted me to come with him to his office I pointed at the permit office and just walked there he said okay and walked back to his office. There was a young guy doing the bike permits and was so nice and helpful, we chatted as he checked my bike in. A cop was standing outside by my bike the whole time. When we finished up I asked if I was all done and could get on the road. I asked if I needed insurance for Bolivia he said no and I was good to get back on the road, he walked with me to my bike. I was getting ready to go when the cop suddenly asked for my new permit, license, and INSURANCE. He walked away with my stuff and talked with another cop then they took me into an office. We sat there for a while and he kept asking for international Insurance I told him that is what he had in his hand. He then seemed happy, but then wanted the original. That is the original, I bought it and printed it out offline (it is actually just my insurance for Colorado). He kept asking I just kept telling him that it is the original. He then all of a sudden said $10 dollars. I pulled out 40 Bolivian equivalents to 5 bucks or so. He took it quickly and put it in his draw, then wrote down some info on a piece of paper and sent me on my way. I walked out and the young guy who had been helping me asked if all was good, I nodded and made the money movement with my hand. He shook his head and said sorry, that some people in his country were corrupt. I told him no sweat it is part of the adventure and that it has been like that in almost all the countries I have been to. Haha
I pulled into town and found a hostel for cheap with safe garage parking. I then headed to town for food, found a small place with two other travels sat with them and talked for awhile. As I was talking a guy walking with a group stopped and yelled my name it was Kevin from Trujillo who I had hung out for 4 days a couple weeks ago. I met up with him and a few others for dinner. Two girls were from Colorado, Jayme and Julie. We started talking and Julie competed in the North face series in snowboarding. She asked if I knew a girl Mary Boddington, I started to laugh of course I do she was a roommate, a work colleague, dear friend, and she dates a very close friend of mine now. We all started to laugh at how small the world is. They were from Colorado Springs, as we kept talking I found out that Julie was from South Parker. I laughed and asked if she knew a guy who went by Lloyd, no wait that's what we called him his real name is Aaron Grinter. She stared at me and started to laugh, yup he was her neighbor growing up and his dad coached her basketball team!!! Lloyd is a good friend from college and was my roommate. She knew a few other friends from Parker what a small world. We had a great night drinking beer and eating good food.
DAY-188
5/8/2012
Still no luck roads were still closed to La Paz not only La Paz but all different cities all over Bolivia have been shut down due to road blocks and protesters. My buddy Joel who I met in Panama from NZ riding from Oregon (US) to Cochabamba Bolivia where his brother lives, wrote me and told me not to come to Cochabamba right now not safe and tons of road blocks.

My plan had been to ride up to Cochabamba and store my bike/gear at his brothers, then catch a bus back to La Paz to meet my best friend Mikey who is flying in to travel with me for two weeks. So instead I will ride to La Paz and play it by ear and figure it out from there.
I walked around looking for oil again no luck found some but it was crap. I went for a long walk along the shore of Lake Titicaca. I ran into my new friends again and had lunch and decided to meet up for dinner. I took it easy talked with Dusty from Wolfman and arranged a pick up over Wolfman saddle bags and tank saddle bags. Yup that's right I have been so stoked with Wolfman gear and am tired of the weight and nuisance of bulky plastic saddle bags. Also the weight and no flexibility of hard bags is starting to break my racks (surprise surprise) so I have decided to go all Wolfman Luggage COLORADO WHAT!!! HAHAHA. Poor Mikey is bringing me a bag of stuff down that I need, bike parts, new luggage, hiking boots, hat, and a few other things.
I met up for dinner and had a nice night out and then said our goodbyes and headed for bed to pack and get ready to leave tomorrow.
DAY-189
5/9/2011
I went for a walk, got my bike loaded, paid my hostel bill, and suited up. I was warned that the road blocks were down but still a few mobs causing chaos aka people throwing rocks at you. So being paranoid I hid my new camera deep in my luggage and just left my old trusty camera out. Threw the helmet cam on and was off to find gas. I pulled into the only gas station and waited in line for 10 minutes or so, when it was my turn the guy kept ignoring me obviously not wanting to give me gas. When he was finally going to he told me it was going to be 9.25 Bolivians a Liter ($1.40) instead of the local price that was on the pump of 3.65 Bolivian, ($.60). Fine fine just need gas, he asked how much I said full okay and then he walked away and started filling others up I waited another 5 minutes then he returned and filled me up.
I headed out of town and ran into a Police Check/ Toll booth; the cop waved me into the office. They checked my papers then said ten Bolivians to pass, I said no five, and they quickly agreed. I asked for a receipt, what do you know the permit receipt he gave me said five Bolivians. I headed down the road making good time enjoying the view of riding right next to and above the lake for about 50km's. I got to the ferry crossing as I pulled up a guy waved me right onto the boat. I say ferry it was a floating wood plank with a small 30cc motor, with one other car on it and off we went. I had to stay on my bike keeping it up right, a passenger of the car got out and I asked him to take a picture for me. He was stepping backwards with my camera and fell into a hole and down he went. He wanted pictures of him posing with him and the car. He started to talk with me asking me all different questions standing in front of my bike.
(For this next part let me explain a little something about me) I have a hard time with massive crowds and with people standing extremely close creeping me out, especially people I do not know or trust.
So he then moved to the right of me leaning against me and my bike with one hand on my bike and the other right next to my pocket of my pants. He kept asking questions and just rambling on, I kept telling him Poco Espanol, didn't matter then he kept putting his head against my helmet and whispering things that I didn't understand to me. After about 15 minutes of this I just started saying random crap back to him confusing him. He then leaned in and asked for Gas!! No sorry I am almost out; his friends were laughing and encouraging him. I tried nudging him off of me politely to no avail. He had to be a little hammered I hope, he was starting to really piss me off but I just laughed it off and knew we would be at the other side. Finally when we got to docking he went and sat on the side of the ferry and kept smiling at me. HAHA I have no clue what the hell was going on but I defiantly felt my pocket making sure I felt my wallet. Well we had to back off of it so when I was told to go, it was too uphill for me to back up solo, so I waved him over asking him to help with a push he just sat there laughing and thumbs up. Finally the worker came over and gave me a push and directed me off the boat around the holey ramp. I paid my fee of 3 dollars and got the hell out of there; I had a bad vibe and wanted to get some distance.
A huge mountain range came into view all snow capped and awesome! So pumped but to be honest I had a un easy feeling all day riding like something bad was going to happen, mostly because I knew there would some type of trouble in La Paz. I got into town and had my small city map out and made my way. I came down a one way road and had traffic coming at me what the hell I swerved over to the right and missed them. I got to the problem the road was taken over by a mob a people with a line of men and women standing in the road not letting anyone pass and not flinching when big trucks got right up to them. So I flipped around and followed the traffic, we took a quick turn off and before I knew it we felt like we were headed into town. I stopped and asked a couple on a moto if this was Potosí ave, they said yes and gave me the thumbs up, then BOOM BOOM explosions I quickly looked at them the lady on the back smiled and gave me the thumbs up "what the hell". I rode in circles tons of road blocks by the mobs and cops; I rode the wrong way down one way streets. While riding around I heard more Explosions and defiantly at least one gun shot. I saw a cop, rode up to him going the wrong way he could careless and he pointed me in the right direction, well kind of. After a few more cop direction I got close and finally went for a one way street going the wrong way but saw flags and it looked to be a hostel, yup got it the Wild Rover. I had talked to them before and was told they had safe parking. They did, I checked in and then pulled the bike into the back locked courtyard. About thirty minute later still hearing the explosions (which was tear gas launchers) someone said they just saw the news and one person had been shot and killed CRAZY!!!
I talked with Mike on Skype for a bit he sounded super pumped but def a little nervous which is expected considering he has never really traveled and I have him coming to Bolivia where everything is shut down due to protests and road blocks... haha it will def be an experience for him.
As I was waiting to play pool I saw a girl at the bar that looked very familiar I went up started to talk to her and up we had celebrated New Years in Lanquin Guatemala 3.5 months ago haha awesome!! Played pool with a few guys for a couple of hours and headed for bed.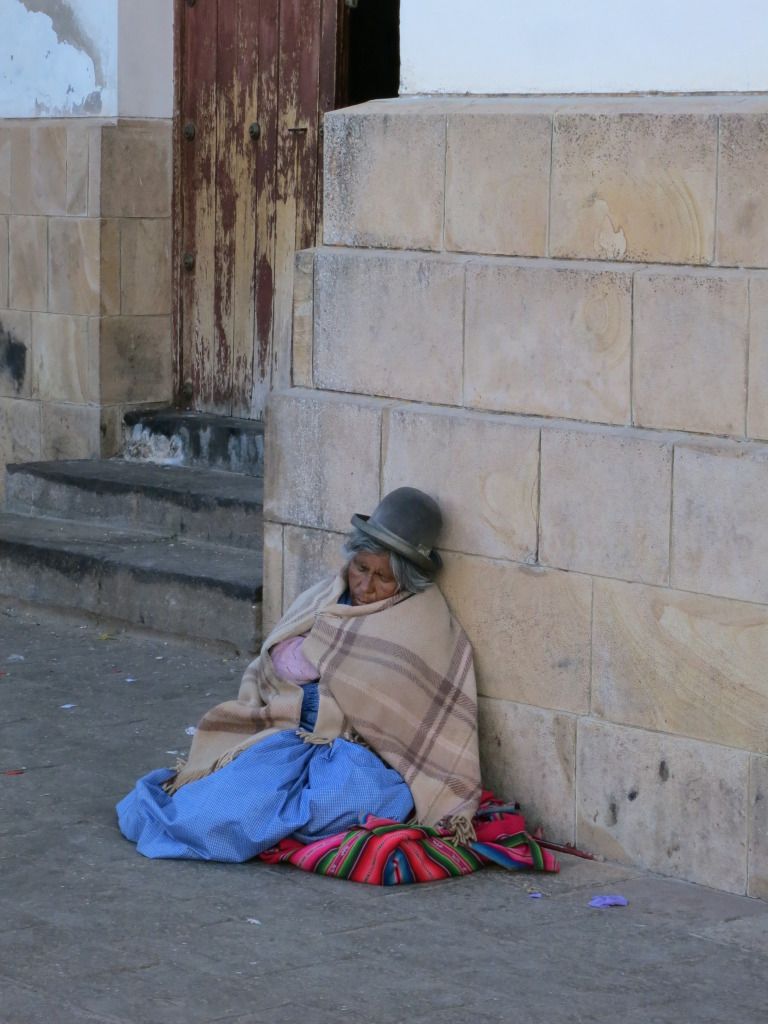 SLEEPING AT CHURCH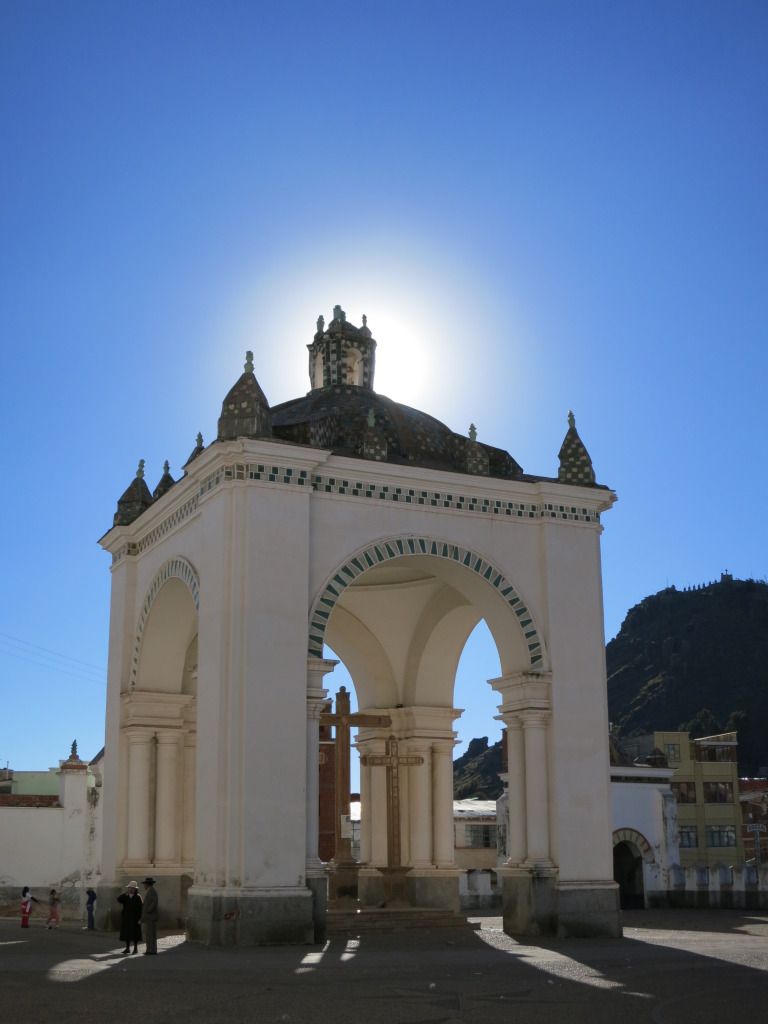 WALKING THROUGH COPACABANA, BOLIVIA
FIRST EVENING IN BOLIVIA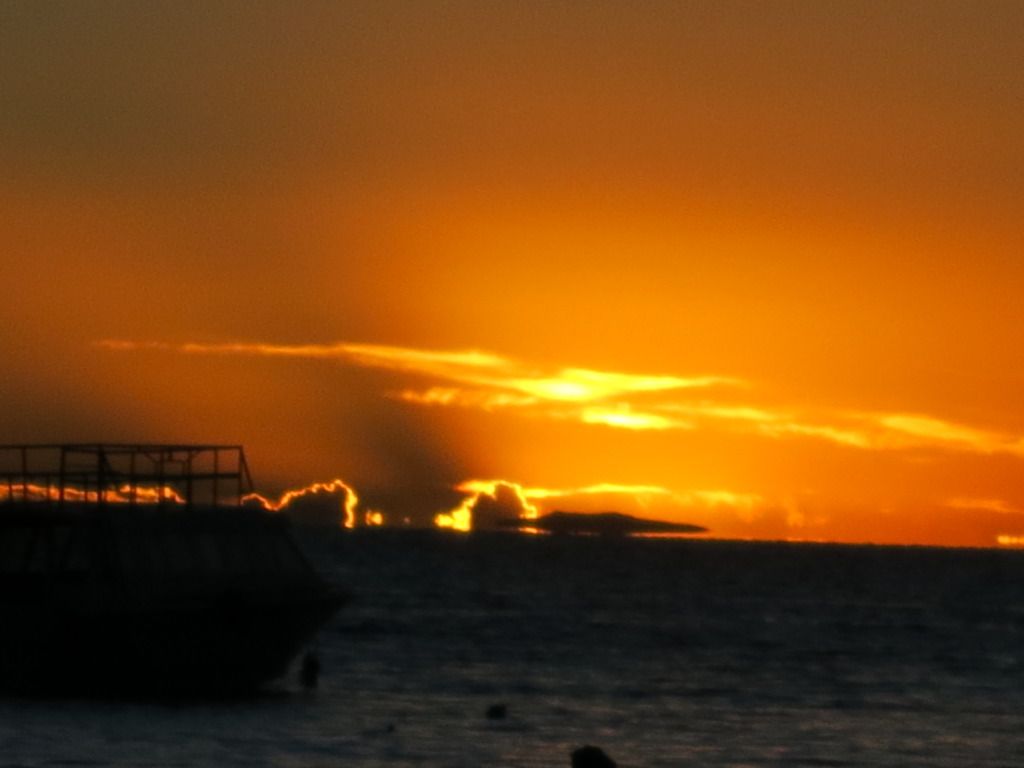 THIS PLACE IS INCREDIBLE
HEADED FOR LA PAZ
RIDING ALONG SIDE OF LAKE TITICACA ON THE BOLIVIAN SIDE LOOKING OUT TO PERU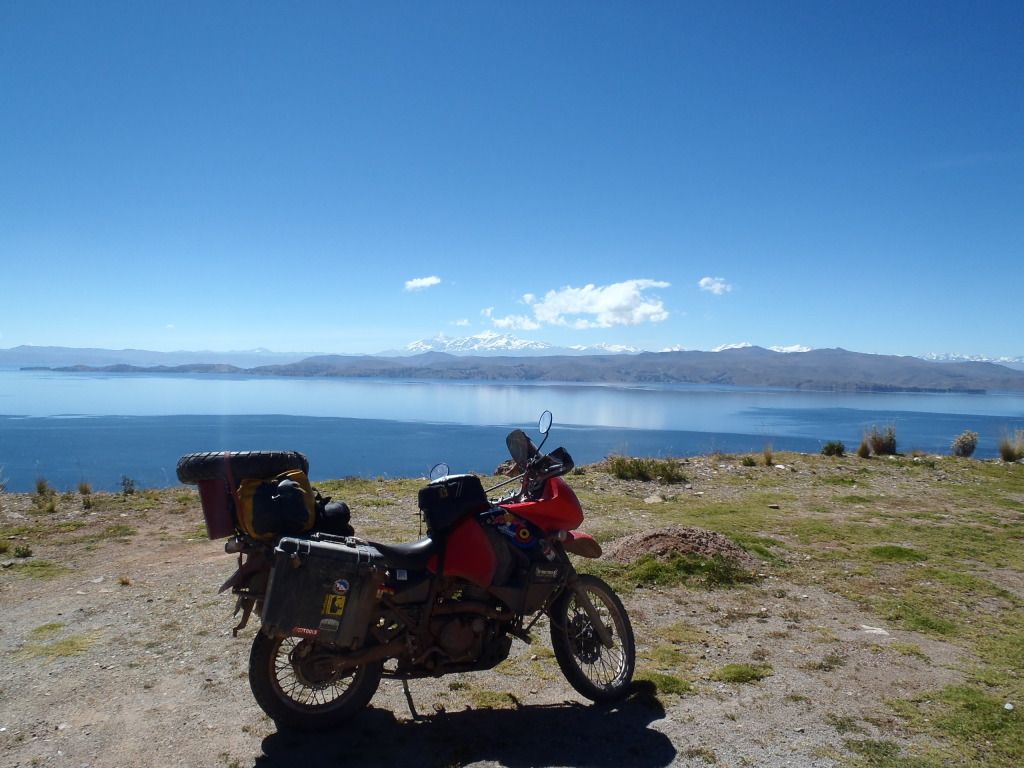 FERRY TIME!!! BOAT #5 OF THE TRIP
BALANCING ACT AS WE CROSS, DON'T SLIP OR DOWN WE GO!!!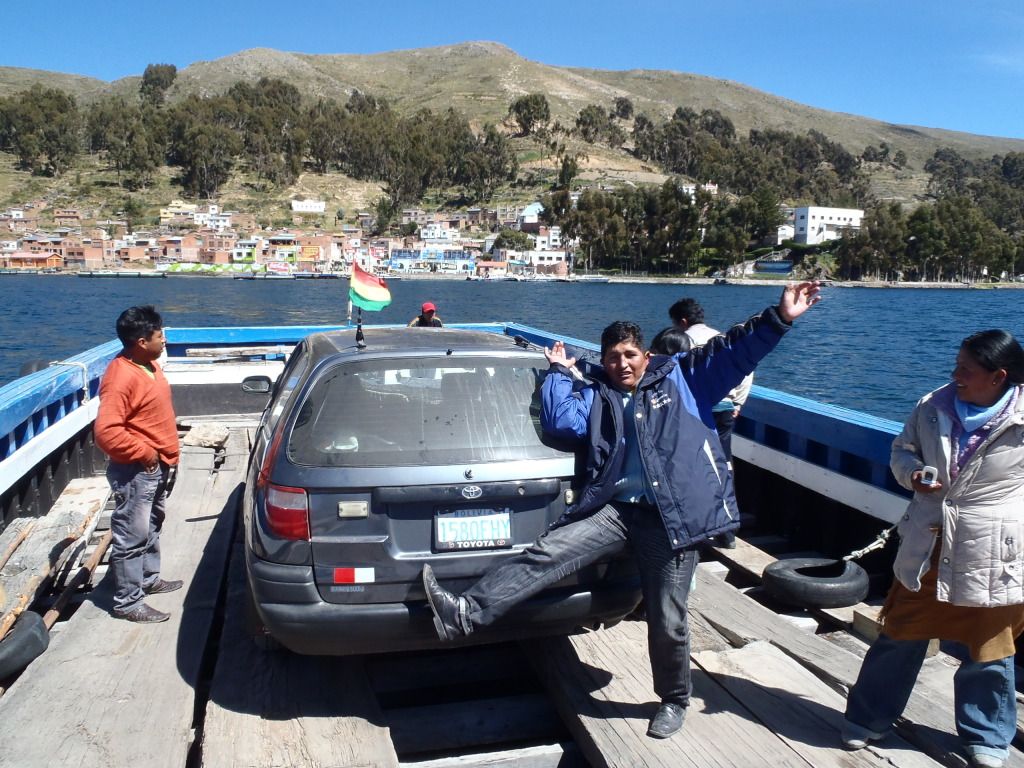 THE CREEPER!!! HAHA

THE ANDES OF BOLIVIA!!
STREETS TAKEN OVER BY PROTESTING
POLICE BLOCKS
Welcome to La Paz!!!
Mike arrives in a few days