DAY-192
5/12/2012
We head out of the hostel to get picked up at 7:30am, there are 11 of us in two vans and bikes are on top. The bikes are Kona's and we have an hour ride. We have a mixed group from all over the world and all ages; ranging from 13 to 40 years old.
We get to the top of the road and get out, we eat breakfast and they pull the bikes down. One guide doesn't talk at all the other guy is a pretty cocky not so friendly person. The bike we were shown was a lot nicer than the bikes that were laid out in front of us. We were told they were all brand new 2012 bikes, I'd say more like '08 and well beaten up. We get our gear and they start matching us up with bikes, a few are pretty nice. I get my bike suspension clapped out but oh well I ride around my back brake doesn't work. I ask for a different bike, the guide tells me that the brake does work it is just locking up and sliding, I look at him and tell him this isn't my first time on a bike I know what it feels like to lock up the back and it is not doing that; it does not work. He doesn't believe me, so I hand him the bike and tell him to give it a ride. He does and I watch him try to lock it up right in front of me to prove his point but weird he just keeps rolling by haha. He comes back lays the bike down away from the other bikes and hands me another bike. This one's back suspension is locked up and doesn't work but oh well I don't care just glad to have a bike that kind of works. We head off and the first portion is all pavement, we start off slow but the guide stays in front slowly going faster. I am dyeing laughing because good old' Mikey is all over the guide and keeps getting yelled at every time he tries to pass him. Finally we get to go as fast as we dare, Mikey, I, and two others stay in the front chasing each other passing cars and trucks. It is fun to have a different experience once in awhile then sitting on my moto (although I miss it of course). We get to the start of the park which we have to pay a park fee and then load the bikes up for a quick transport.
The road looks awesome but not really that deadly looks like a lot of the roads in Peru that I have just ridden to get here. It gets its name because it used to be one of the main roads to get to La Paz so with buses and trucks trying to pass each other a lot of buses have rolled off thus averaging 23 people a year dyeing. Although since they have started bringing tourist down on bikes 16 have died. It a pretty bumpy dirt road with good drop off to the left, we only had one person in our group wreck and it was within the last 200 meters of the road, haha he was okay bruised and caught a rock to the neck so his whole left side was swollen on his neck. The ride took about three hrs on the bikes with lots of breaks; we finished at a hostel and a dip in the pool. The three hour ride back was on the new road which was smooth and fast.
We got back around 7pm and knew we were going to go out on the city. When we were walking back to the hostel I saw a DR650 near our hostel that I thought I recognized and stopped to talk. It was Patrick from BC who I had talked with on the HUB before I left the US and randomly met in Puerto Escondido. This place is crazy the clubs don't really open and get full until about 2am and people don't go home till the sunrises. We walked to the hostel bar which was packed at 10pm, met two awesome guys riding bicycles. One of the guys is Nicky who has been slowly piecing together the world on his bike on many different trips throughout his life. The other guy is Dr Steve who is on a 5-6 year ride around the world riding 6 Continent top to bottom. Please check him out at
www.cyclingthe6.com
. He has already been on the road for 2.5 years and had ridden from UK to Cape Town shipped over to Argentina and is making his way to Alaska. It is always nice for me to meet other guys who are traveling that are not doing the back packer thing they just gave a different mentality and is fun to hang out with and talk to. Patrick showed up at the bar and we talked and caught up playing pool, he has been traveling for 7 months as well. He unfortunately had just been in Potosi building a memorial for a fellow rider and friend of his Kevin who I met with Patrick in Mexico, Kevin was hit and killed by a Mining truck near Potosi Bolivia early April. The cops had told his parents he was passing a truck on a blind turn when he was struck by oncoming traffic, but when Patrick was building the memorial a family came out and told him what really had happened. A mining truck was passing another mining truck on a blind corner and Kevin had nowhere to go.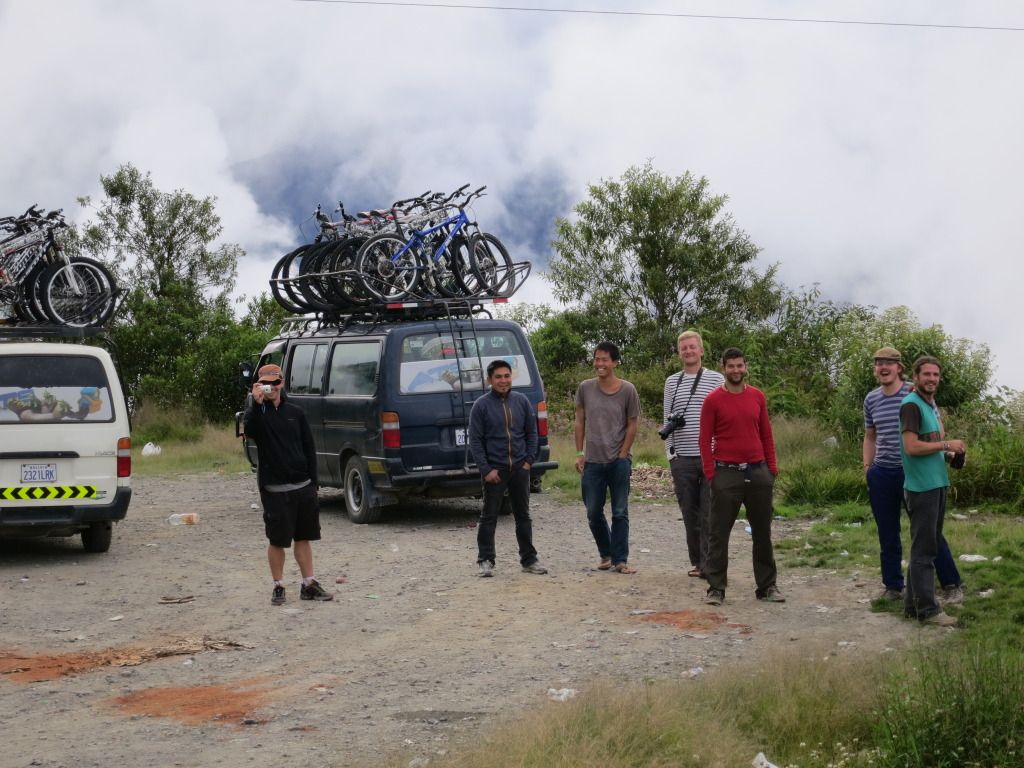 Getting ready to shred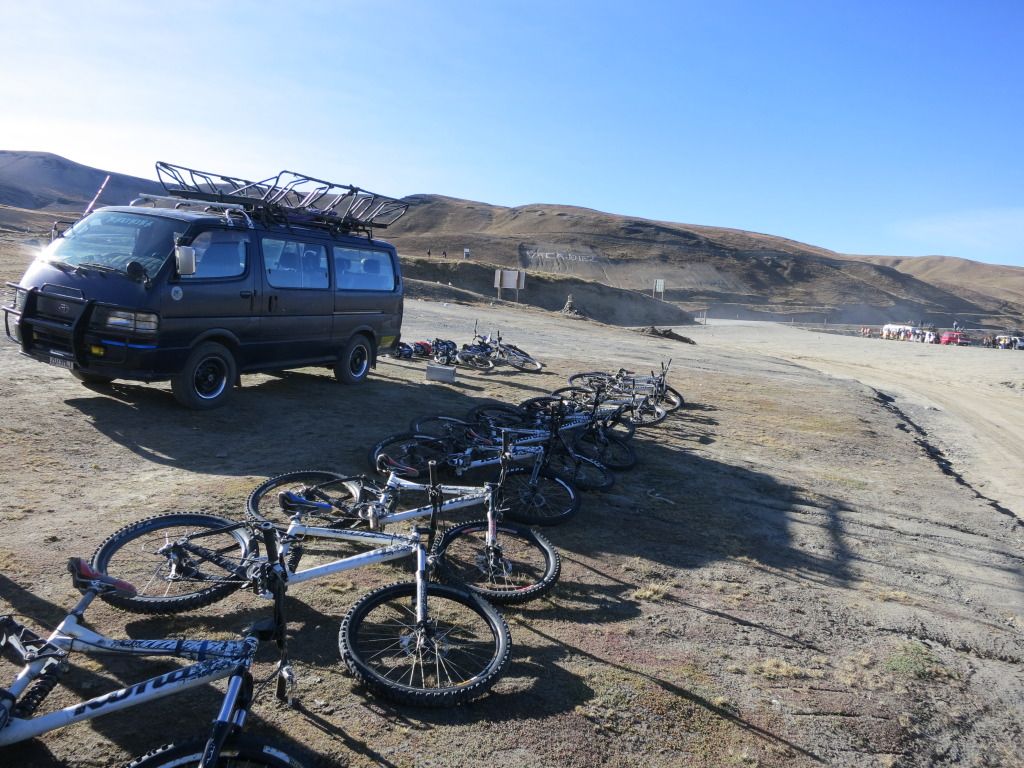 The Bikes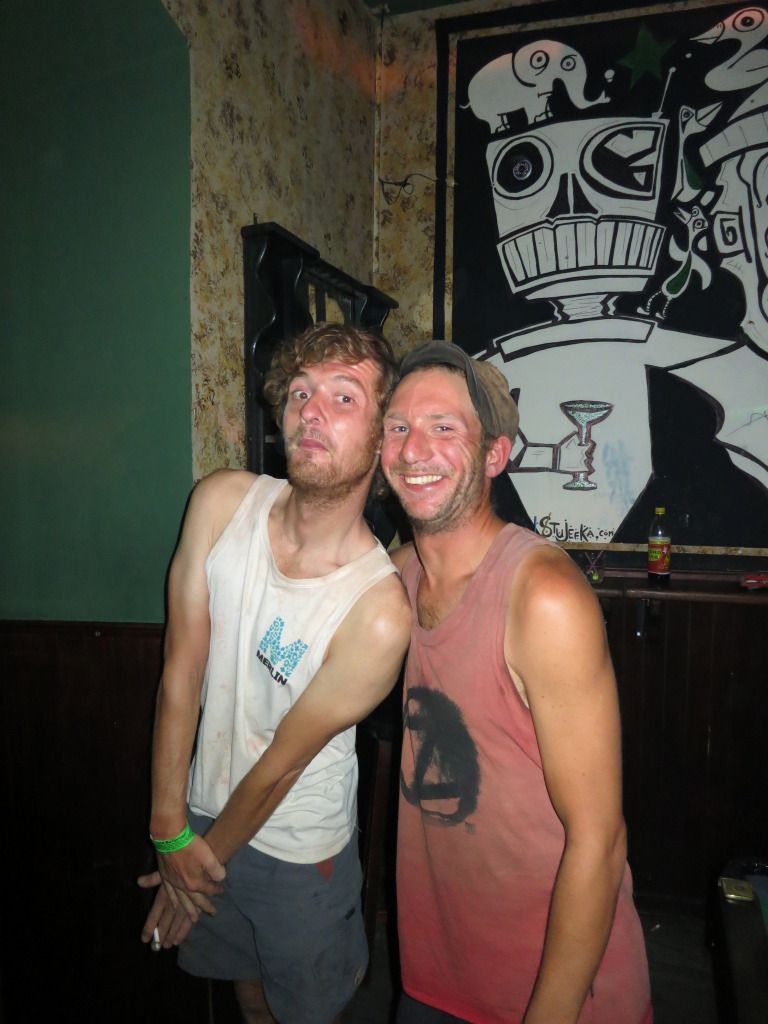 Nickey and Steve
Thats Mikey B, haha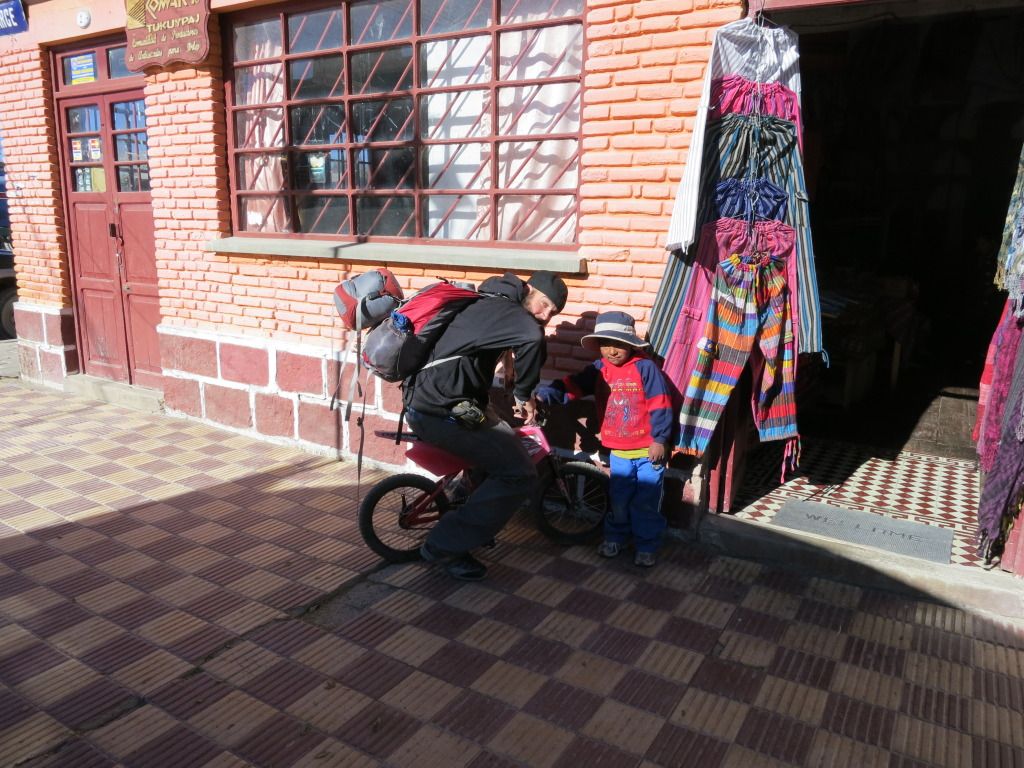 He was not stoked to find me on his bike!
Best Painting ever!!!! Hahaha