DAY-282
8/11/2012
I woke up and headed to the shop, Nicky was very busy for the day he is only opened from 8am to 1pm on Saturdays. There is another motocross race tomorrow so there was a lot of racers their getting their bikes ready. We drove a couple of quads out to the practice area so Rorro and Henry could teach them how to ride and then take them out on a 6hr tour. Nicky asked if I could help me out and we jumped on my bike I let him drive so he could feel the bike and see how it was doing. We rode out to his brother's brother in-laws house to pick up his wr450 to take it back to the shop and work on it for him. It was about 12km's each way. The bike is feeling really good and I couldn't be happier so is Nicky, he is very happy with how it is sounding and feeling as of now. We ran around all day doing small tasks. He got his wife's parts for her car and replaced a few worn out parts. We were planning on going to the motocross track at 2:30pm but he was so busy he didn't finish up at the shop until a little after 2pm and we headed for his house for lunch. We walked up stairs trying to decide to go or not and was watching the Olympics when he remembered he had to be back at the shop at 4:30pm for the tour to return the quads. I fell asleep watching the Olympics, now it is a big joke with Nicky because every time I eat and then sit to watch the Olympics and fall asleep. We headed into town I was following them through town as he dropped one of his daughters off at a birthday party. Then he took me to an old ice cream shop that had been in this tiny little building near the park since the 80's, and it was SO GOOD!! Although I do love my sugar, ice cream, and coffee; and the ice-cream dish he ordered me had all three!!!! So yummy!!
I went and worked on my writing and pics for the rest of the day and headed home. Recca pulled up to me at a stoplight and we headed to his house to park my bike. We went out to dinner for some Calzones and pizza which was good and cheap. I was exhausted so I went into my room and messed around on the internet. Nicky called around 10:30pm asking if I wanted to join them for some drinks I declined since I was exhausted, already in bed, and have been drinking a little too often lately hahaha.
DAY-283
8/12/2012
I woke up and headed to the shop to meet Nicky to go to the MX race. Although I got there and the shop was closed up tight and no Nicky, he had ended up going very early to help out. So I headed to Florin and worked on my writing, pics, blog, and my RR on advrider for 7hrs haha.
I was walking home when I talked with Recca and he told me he had a dead battery and needed help pushing his bike into his house. We then went for a walking just talking, I had him dying laughing telling him different stories of my travels, some good wrecks, others about amazing places, and a lot about different people's reactions over my beard haha; like getting called Santa Clause, asking if I was a UFC fighter, people just telling me they felt safe when they walked with me because I am so scary looking haha, and others of kids walking up and just reaching up and tugging on it.
There is one story I was telling him that I realized was not told to you guys; Nick, Ian and myself were riding toward Sucre when we came upon a town to get gas. We headed up a very steep and slick cobble stone street I was in the middle, nick stopped at the top for a car and I stopped. Well with it being so steep and slick I start to slide backwards picking up speed with locals watching, I had a choice keep sliding backwards picking up speed and crash into Ian or lean to my right and crash into a wall. I chose the wall; I leaned in and wedge myself and the bike into the wall stopping myself. A local came running laughing but running to help, I was dying laughing as we un wedged myself from the wall and bike and got the bike straight… haha we all had a good laugh about it after I made it to the square.
We sat at this fountain watching water show linked to music which was entertaining, the fountains soaked the crowd haha... We walked to the square so I could get dinner (Ice-cream) haha and then headed back home; I went to my room and passed out.
DAY- 284-287
8/13-16/2012
I ran around and printed out my favorite MX shot of Rorro and gave it to him as a thank you for everything he had done for me; He drove me many times all over the city figuring out my immigration and my moto permit and would never take gas money or anything. He was going to La Paz and I wouldn't see him before I left. We went to lunch to his favorite sandwich place, had Sucre Chorizo and ham sandwiches. He owed me a meal because we had made a better and I had said the USA would win the gold In Men's basketball he disagreed. Nicky had told him not to get the chorizo because I would be able to handle it and I would get sick, but when I asked what he had told him he said I just wouldn't like it..haha.. When we got back Nicky asked me what I had, told him what I had eaten. He was oh no people that are not from Sucre cannot handle it and they got server Food Poisoning, he kept warning me I would get extremely sick in two days.. Haha nobody else agreed saying I had been in Bolivia eating the food long enough to handle it. Had a pretty easy rest of the day, until I went to tighten my U-Bolt that holds my skid plate in place. I being an idiot sat there wrenching it tight, until I snapped it in half and sliced my knuckle up from the bolt exploding off.. hahaha Rorro and I ran around Sucre looking for another U-bolt with no luck, but were told where to find it but it was too late so we would look tomorrow.
Tuesday nothing to crazy helped out at the shop and hung out with everyone, said goodbye to Rorro and he headed off for the Bus station. We were at the shop late hanging out with Ramiro and his son Esteban (which I have been spelling his name Stephen.. haha) whoops sorry buddy. Nicky asked if anyone wanted to have a BBQ at his house, so we all headed out of the shop ran some errands and met up at Nicky's. It was great and Rorro showed up because of a road block he couldn't leave to La Paz. We hung out until 12am and then headed home.
Wednesday I was not feeling so great, haven't felt great since Friday or Saturday. Just feeling super tired, my stomach was fine haha I say this because when I missed lunch with Nicky and told him I was not feeling good and going to bed. He told me he told me so that I would not be able to handle the Chorizo, no no my stomach feels fine I am just exhausted so I headed home and slept for a few hours. Headed back to the shop and just took it easy all day.
Went out to dinner with Robert and Henrry for some Lasagnas, with some nice wine and then I headed home.
Nothing to crazy today, helped out Nicky at the shop in the morning, went to Nicky's for lunch and just relaxed at his house. Then Recca and I ran some errands for his bike getting it ready. The first test ride of my bike had a little ticking but went away, but then it came back again and was getting worse so Nicky wanted to take a look tomorrow morning. Nicky stayed late at the shop for me letting him interview him on a possible Bolivian Motocross article I am attempting to write if I cannot find a small magazine back home to publish at least it will be a nice trial run and learning experience for me.
I met up with Henrry and Robert at Florin for a beer and met Bruce who is riding a '68 Guzzi down from Canada the guy was awesome very funny and had some intense stories. We just hung out sharing stories and talking about places to ride all over the world, he has ridden quite a bit in Asia. I called it a night and headed home.
DAY--288
8/17/2012
I have been hearing a ticking sound coming from my engine and it was getting worse so last night we decided we would open it up and figure it out in the morning. I got to the shop and hung out for a little while, Nicky said we would open it up after lunch. We ran around picking up a ton of parts for an Aussie who just bought a KLR in La Paz, Bolivia and is planning to ride to Mexico and then back. We dropped off two bolts to the welder so he could remake my U-bolt I had broke being an idiot. I left my bike in Nicky's shop checked the key and headed for lunch with Nicky and his family. When I got bike I have no idea how it happened but my key was on and my battery was dead. So we laid the bike down and opened up the bike and checked my Balancer Chain and it was loose so it was tightened up. We did a slow charge on my battery hoping it was fine. While we had the bike on its side I notice on of my welds on my muffler was cracks so I pulled it off and Nicky took it to into his shop and welded it for me. We put it back together using another battery just to make sure it sounded good and it was just my dead battery causing the problems. It started right up and sounded good, Nicky was very happy.
Recca and I grabbed Nicky's car and headed to his Mom's house where we had been staying, I loaded up all my stuff into his car and grabbed a mattress. We drove over to his new apartment which his buddy owns and is letting him stay for a few months while he finishes up his new garage and apartment. Where his new mechanic garage will be, where he will be working on automatic cars since nobody does in Sucre.
We got back to the shop and I grabbed my battery and stuck it in the bike and tested it out, perfect!!! Awesome!!! Sergio, his son Sergio, and his other brother Matti were at the shop working on Sergio jr. new bike which is a 2011 modded out CRF250. Nicky had invited me over to his mother's house for coffee and Sonas.
We locked up the shop and headed to his house to pick up his kids and then go to his mom's house. We arrive and the house was packed, his parents and six out of the seven kids were there with partners and kids. We sat around talking and drinking coffee for a few hours. Nicky busted out his laptop and a few of us watched the new AMA MX 250 class race. I caught a ride with Nicky back to his shop so I could walk home. He wanted to give me a ride back to the city center, I declined due to the fact I wanted to stretch the legs and walk. Nicky then told me not to go my usual way not safe on Friday night; a couple a weeks ago there was an incident with a neighborhood local kid walking home. He told me to go another way, but then insisted for me to catch a ride. I accepted and he drove me toward the center a few blocks away I jumped off of his bike and made my way. There was a concert going on and I ran into Gus, we headed for a few beers. I walked back to our new apartment and slept on the floor.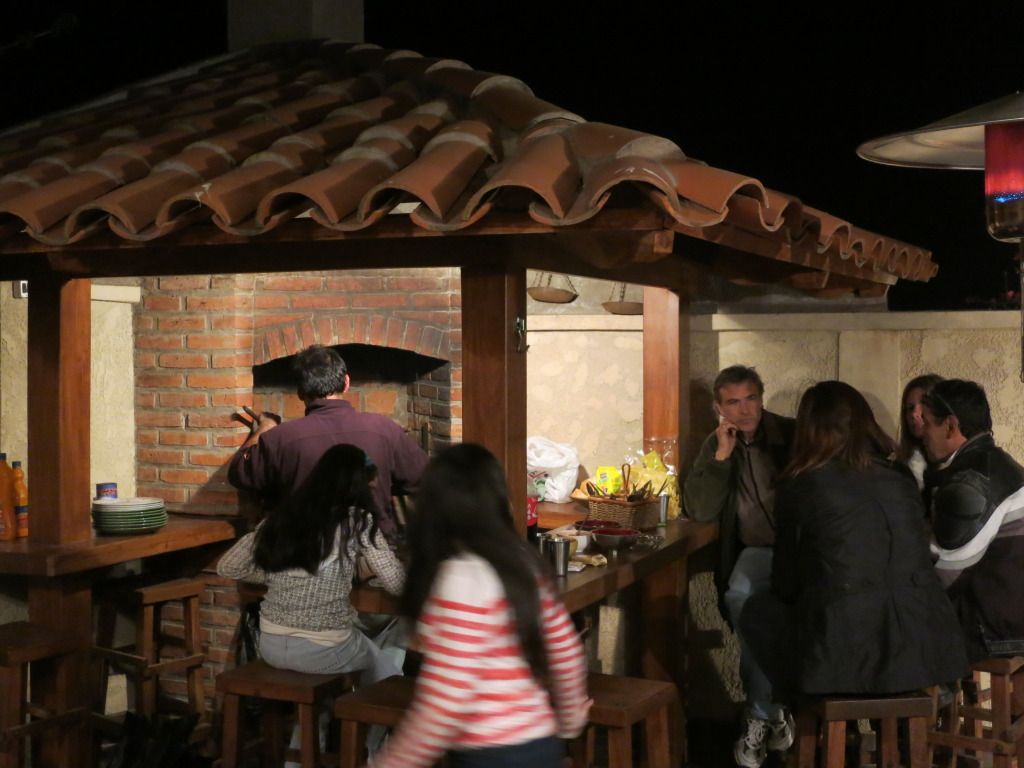 BBQ TIME AT NICKY'S WITH FRIENDS
JUST GETTING STARTED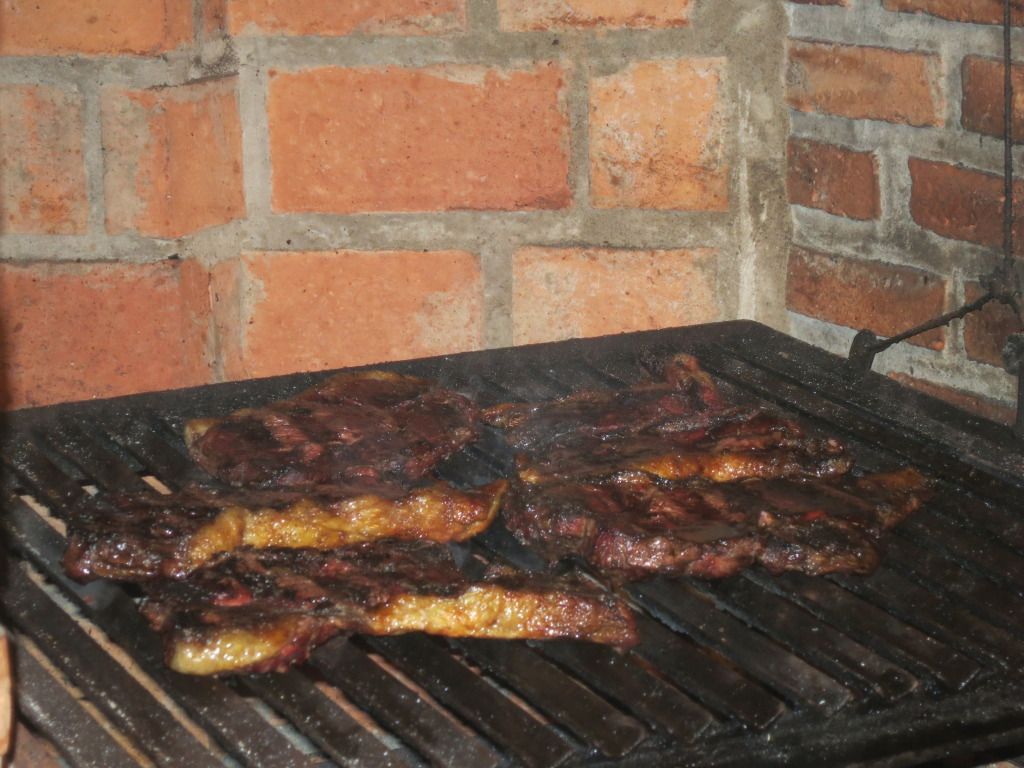 IT'S DINNER TIME!!!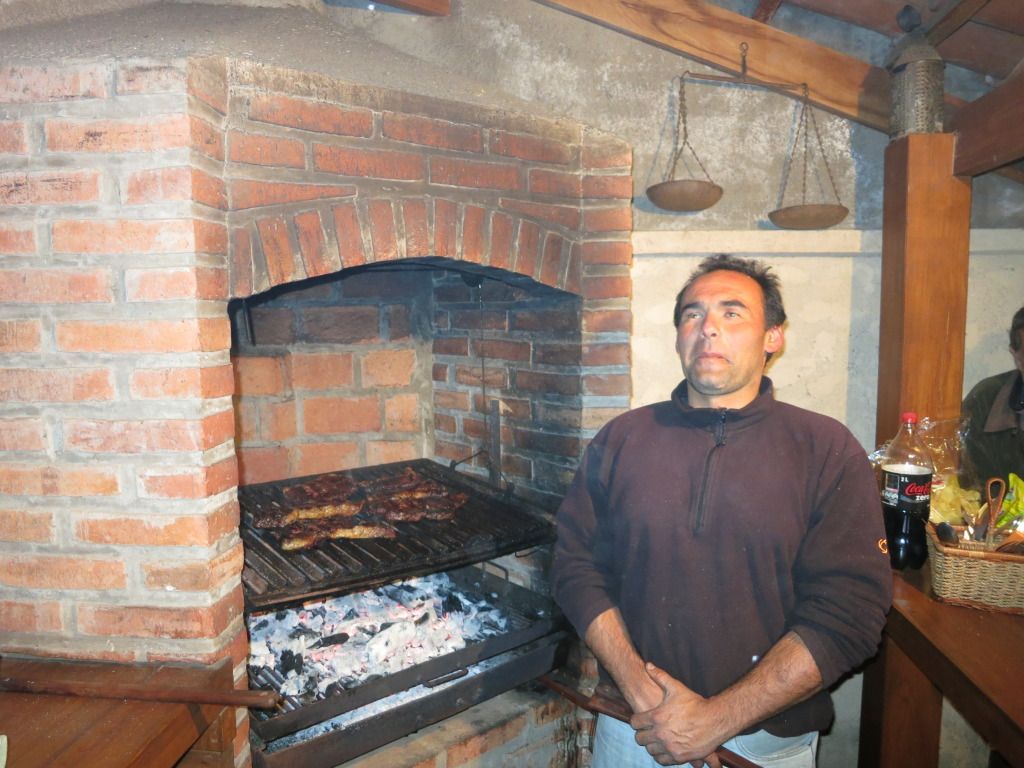 HAHAHA NO CLUE WHATS GOING ON...
LAST FINAL TOUCHES