DAY-313
9/11/2012
I woke up sicker then hell, but it is go time lets ride.
We got a late start due to David trying to figure out some financial problems back home with his flat, something to do with insurance. I had left my bike out locked to the metal cage of the window of the hostel. My first time leaving my bike out on the street, but it worked out. We packed up our gear and filled up with gas. My bike felt pretty good although ever since the rebuild it just hasn't felt like it's self, maybe I am crazy but I do know that bike. It is still spitting out black smoke when I give it heavy gas. I am hoping it is just running rich. It is using oil but not a ton about the same as it did from Bolivia to Salta Argentina. David is riding a Chinese 200cc bike that tops out at about 75 kmh not a big deal since I need to take it easy since I am trying to still break in the bike. All day I would ride ahead a little and then stop take pictures and wait, and so on and so on. We rode about 400+ Kilometers which is the most David has ever ridden and by the end of the day I was having to add quite a bit of oil. We neared a small town and were trying to decide where to camp for the night; we ended up at a motel with a huge secure parking lot and asked if we could camp. For a small fee we were allowed to camp and use the facilities, we threw up our tents and walked into town to find some water and juice. We got back and as we were getting ready to make dinner four bikers rolled in from Brazil on a Yamaha FJ6, Bmw 650, Harley super Glide, and a Honda Flacon XR 400. We talked with them for awhile then settled down to use my camping stove and made pasta mixed with Raman noodles for dinner haha… We also met a nice couple who was driving a Toyota Hilux diesel SUV and who had a heck of a night by hitting a Donkey with their car and wrecking the right front end. They were very nice and we talked for awhile he was a rancher, Cattle rancher.
We crashed out early but I was up all night from being sick, dog fights, outside my tent, roosters at all hours, and a generator that would kick on about 10 feet from the tent. We got up and loaded up quickly said our goodbyes and were off.
DAY-314
9/12/2012
We hit to the road quickly staying on Route 16 which is very long, straight, and quiet boring road. We rode only stopping for food, gas, and for me to add oil….. I was riding and doves were just flying off the road in flocks of hundreds at a time. I was cruising down the road when all of a sudden there was a flutter of feathers in front of me and whammmm something smacked me hard in the helmet. Guessing I killed a bird and I kept on going for a few more miles. I stopped on the road to wait for David and to see if there was any markings yup a bird a wedged its self between my visor and helmet and decapitated it's self, before I could take the helmet of the bird fell to my feet. I of course put it back in place for a nice picture for everyone to see how it died…. Hahira slammed me good, left a nice little head ache. We pressed on and were trying to find the national park of Chaco where there is free camping. We found it but then found out we had to ride and extra 70 kilometers around the park to the entrance. We finally got to the park I had to add more oil and we road 5km into the park to camping area. We got eaten alive by mosquitoes, before setting up camp I made a fire to get rid of some of the skeet's. We hung out talking about the ride and we had a small dinner of soups and headed to bed early.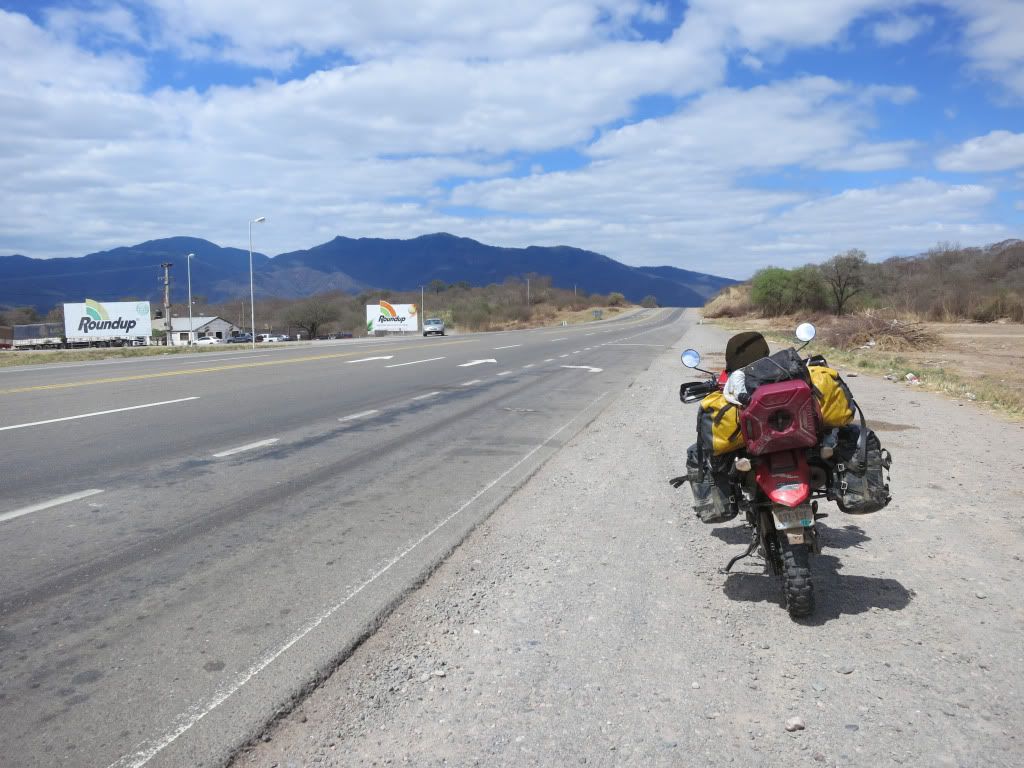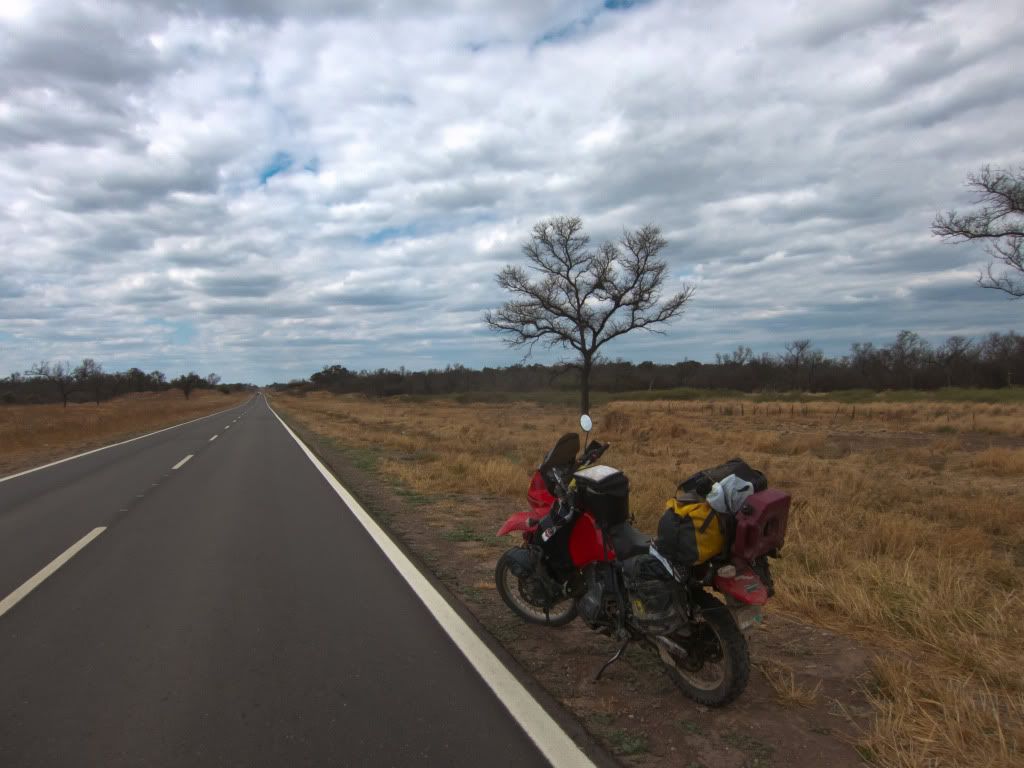 ONE LONG STRAIGHT ROAD.....
ENTERTAINING MYSELF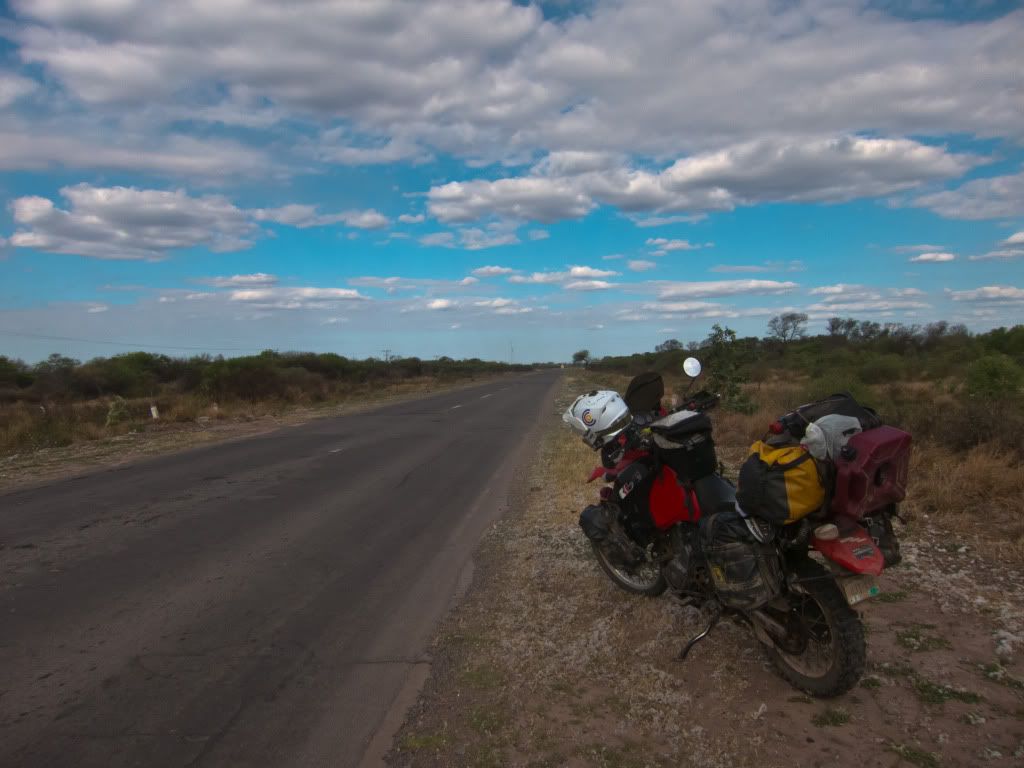 ENCREDIBLE WEATHER, NICE, COOL, AND CLEAR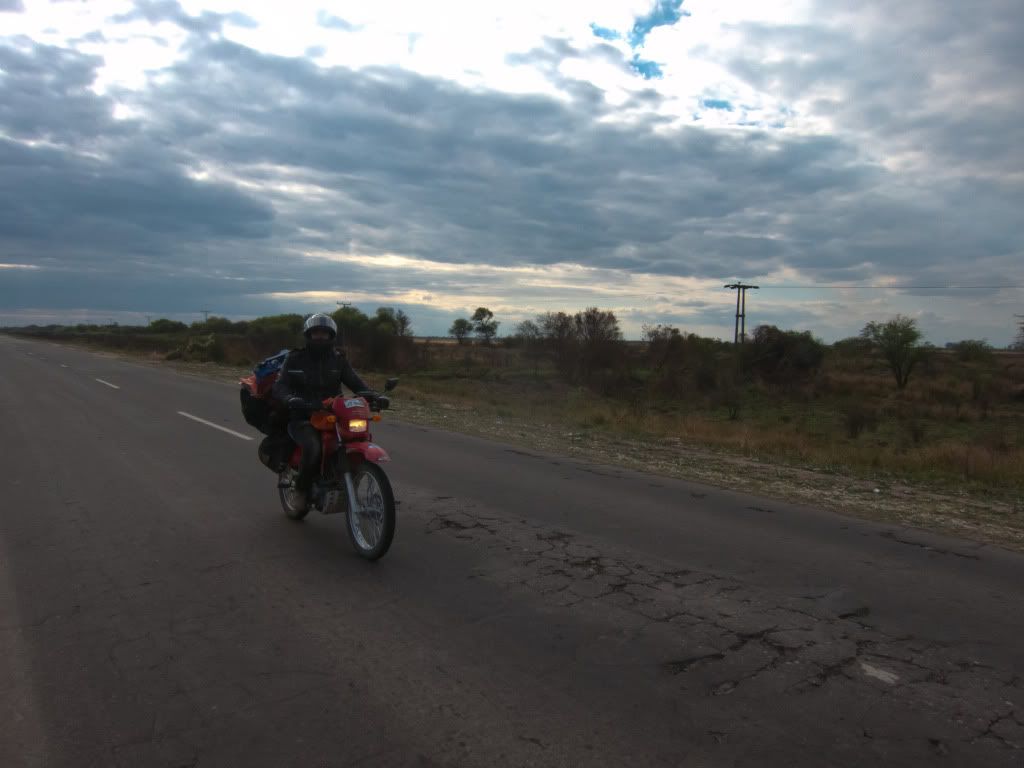 DAVE COMING DOWN THE ROAD AS DUSK IS CREEPING ON US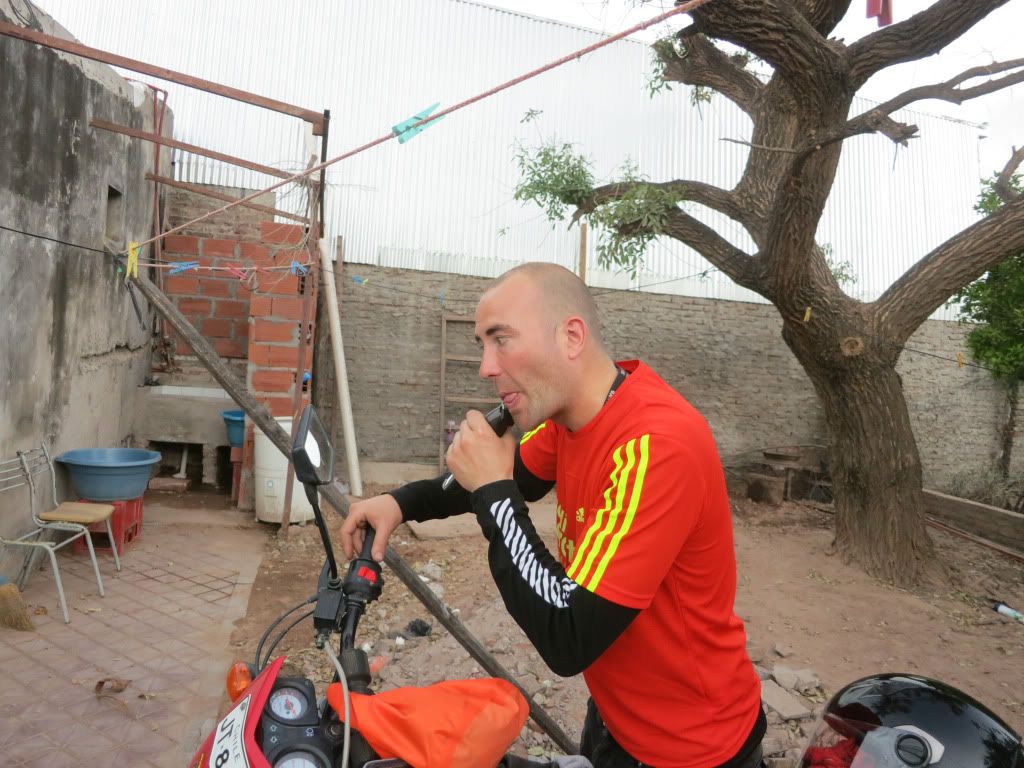 THE ENGLISH COULDN'T HANDLE HIS MUSTACHE ANYMORE... HAHA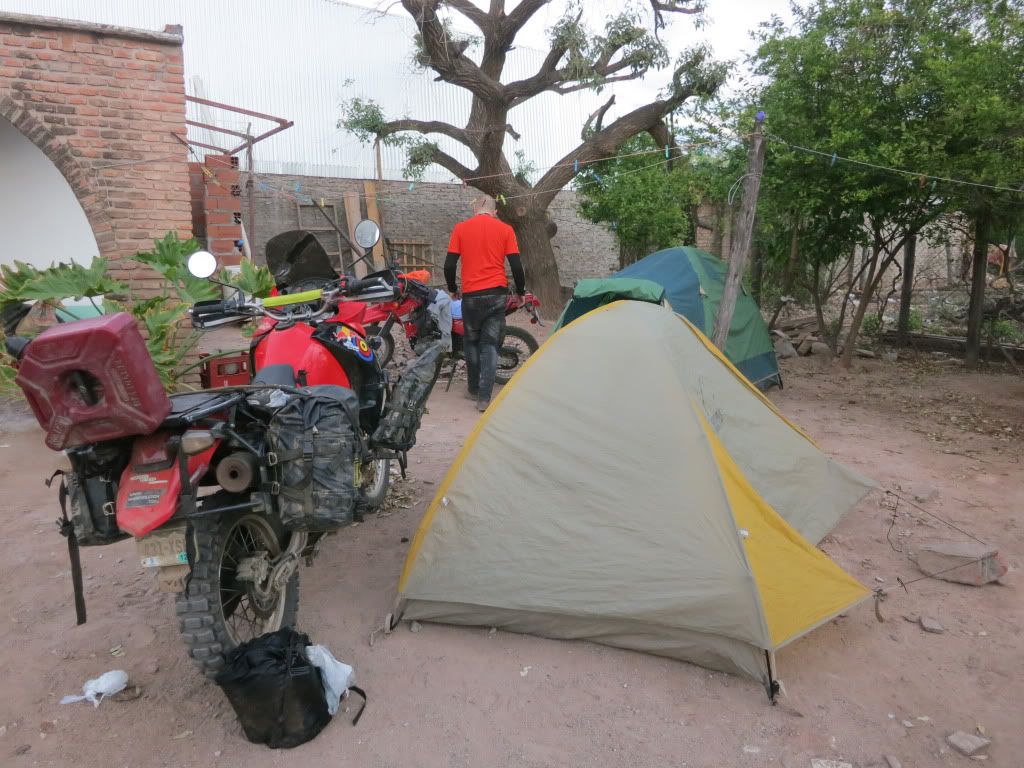 OUR CAMPSPOT ON THE FIRST NIGHT IN THE PARKING LOT OF A HOTEL... HAHA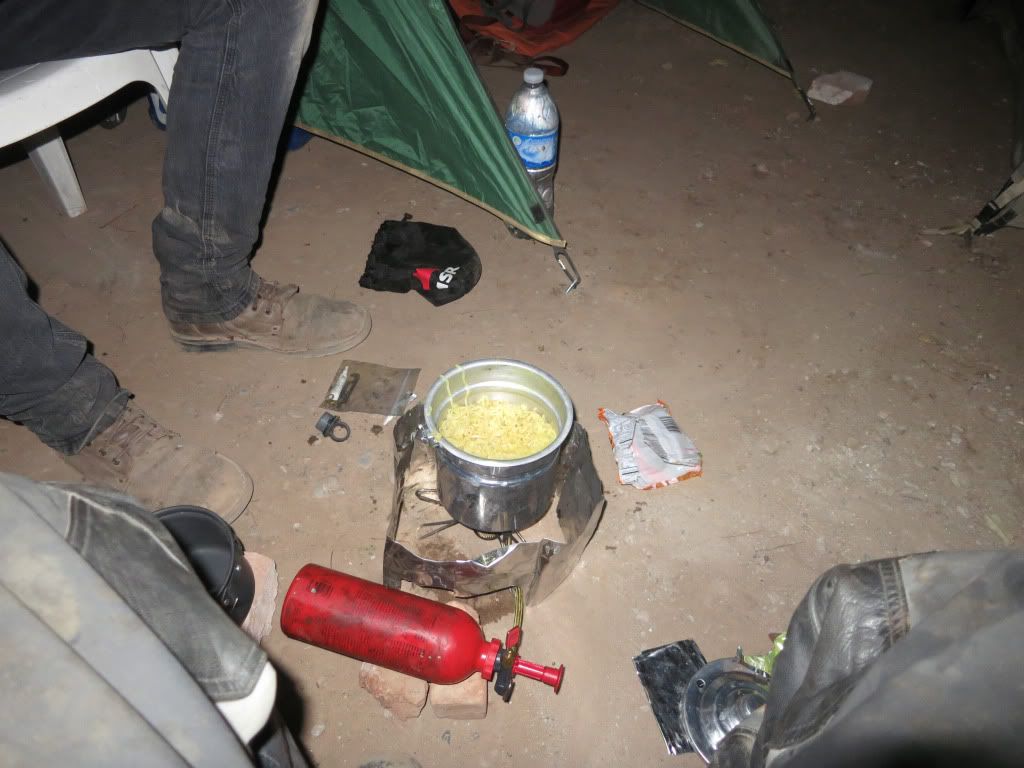 RAMAN NOODLE DINNER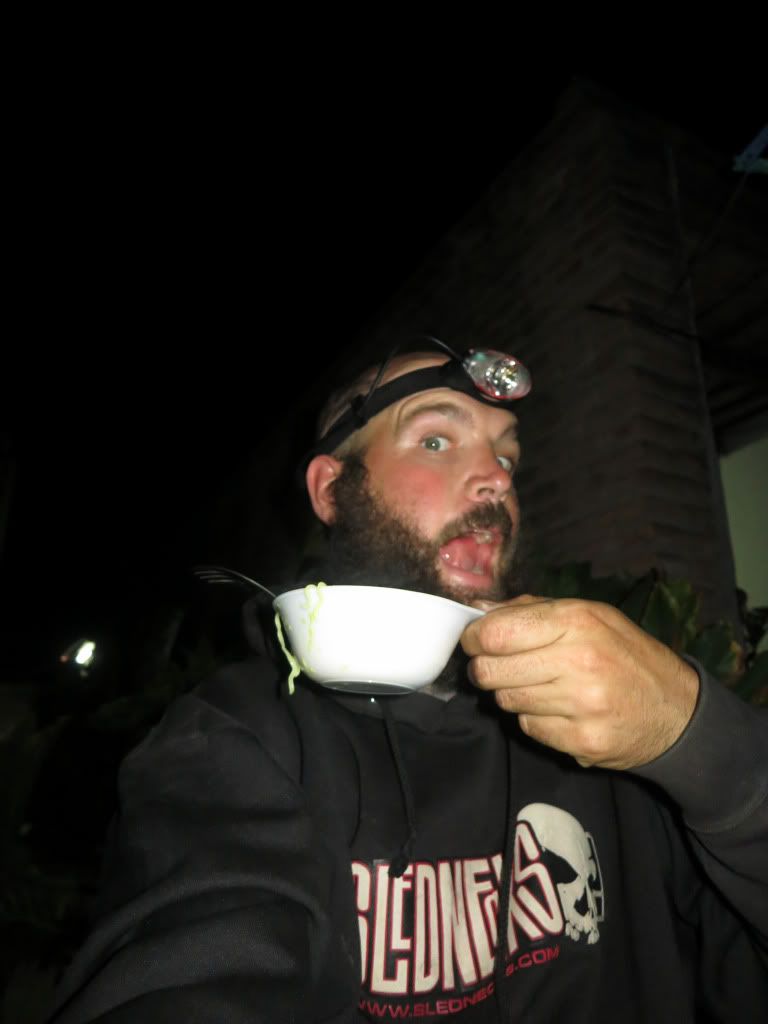 YUM YUM YUM.. KIND OF
FRESH GRAPFRUIT FROM A NICE GUYS TREE...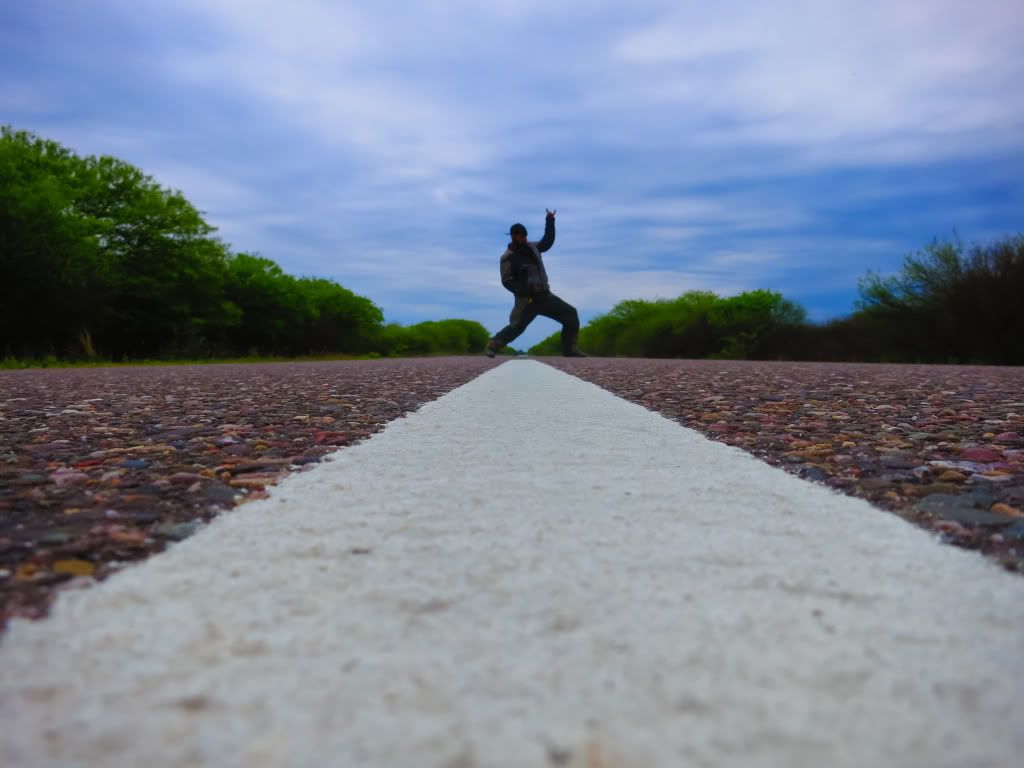 WAY TO MUCH FUN SOLO.... HAHA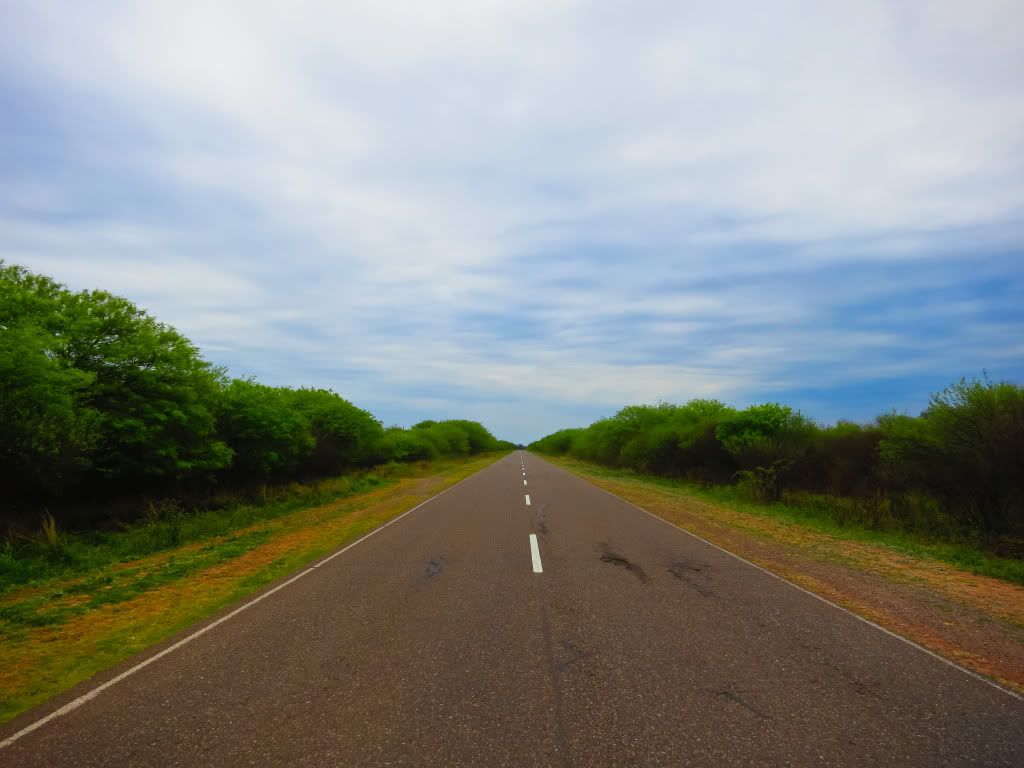 LONG, GREEN, AND STRAIGHT ONE WAY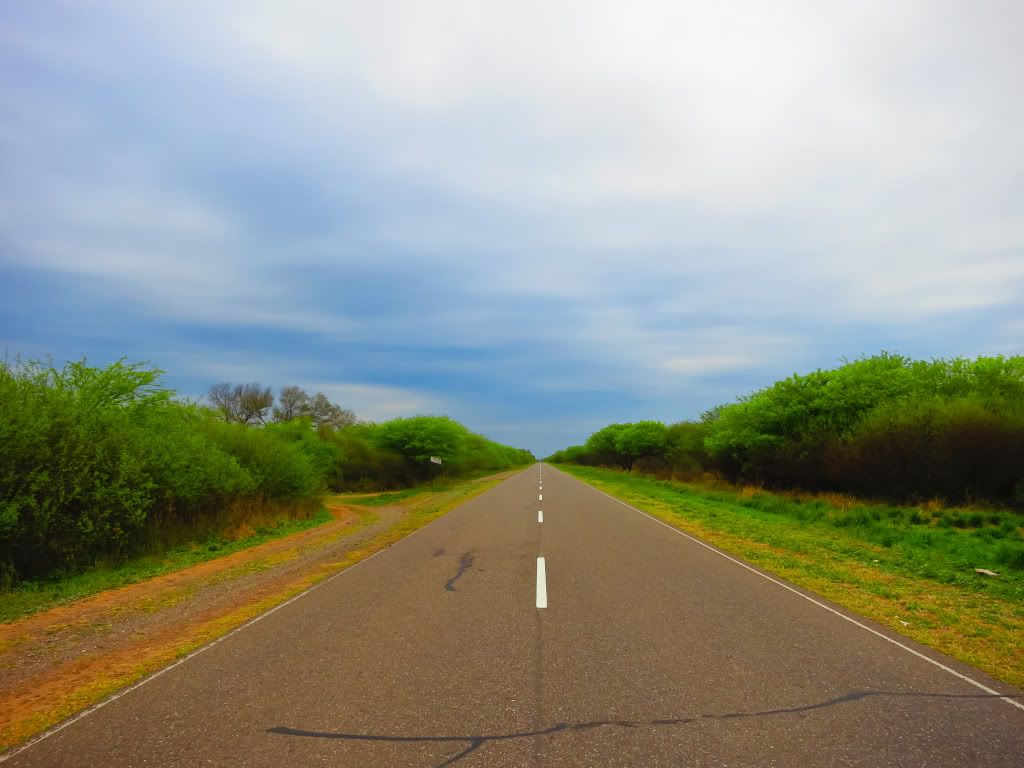 LONG, GREEN, AND STRAIGHT THE OTHER WAY....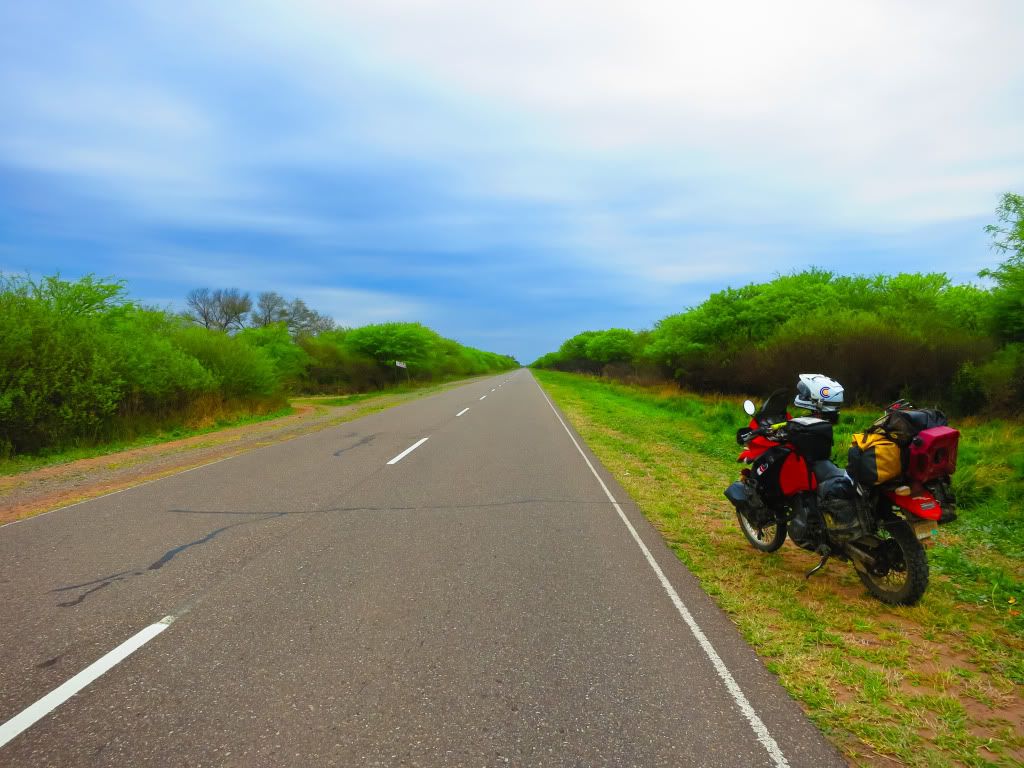 FOR A STRAIGHT, PAVED ROAD IT WAS A NICE ONE AT LEAST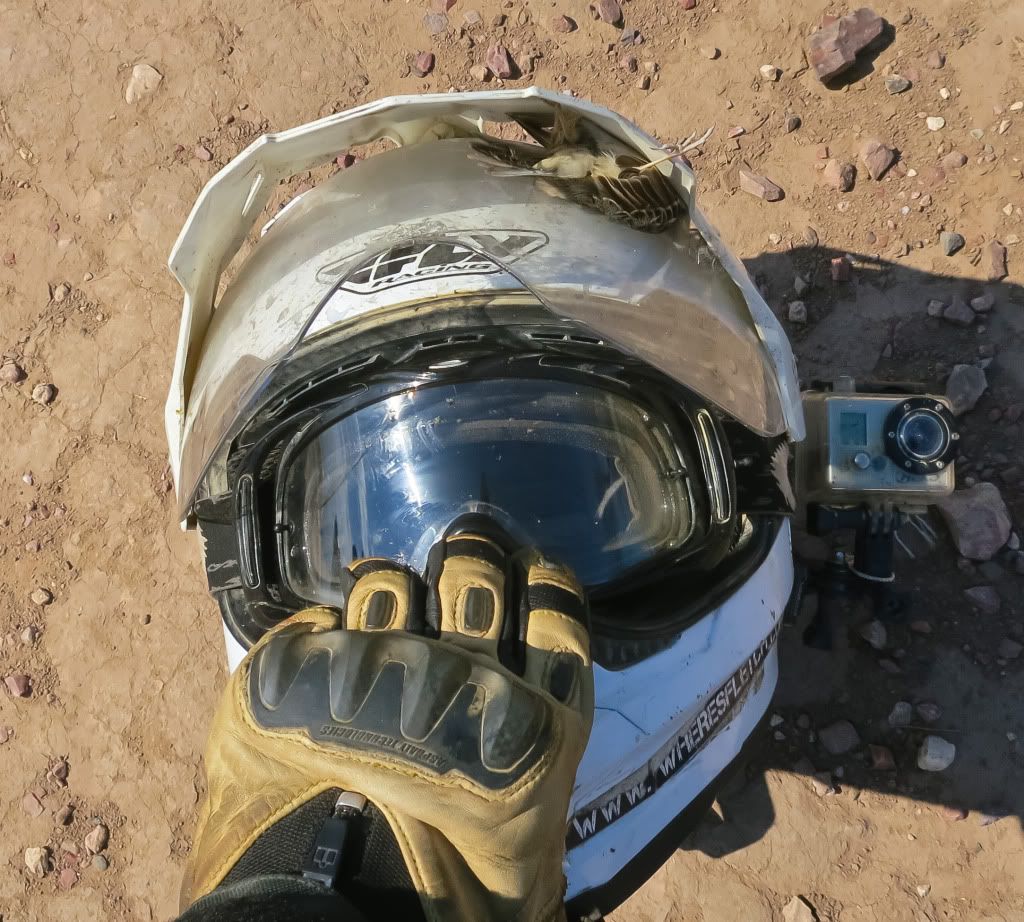 SORRY TWEETIE BIRD... I WON!!!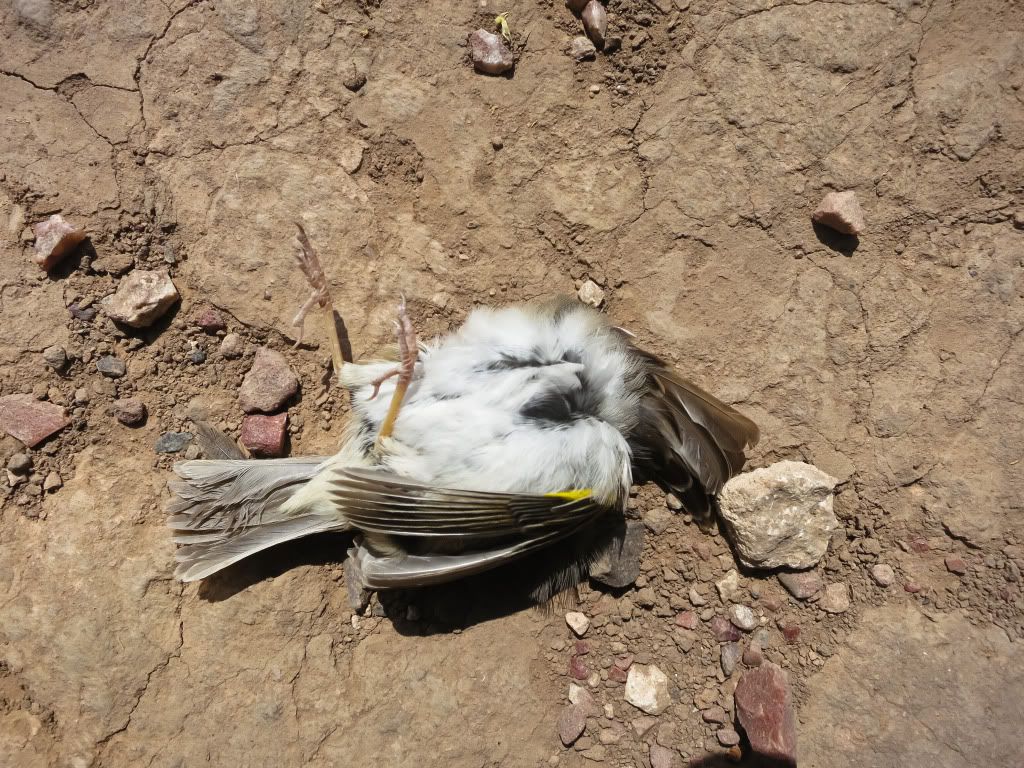 MY PRETTY TWEETIES GOT NO HEAD!!!!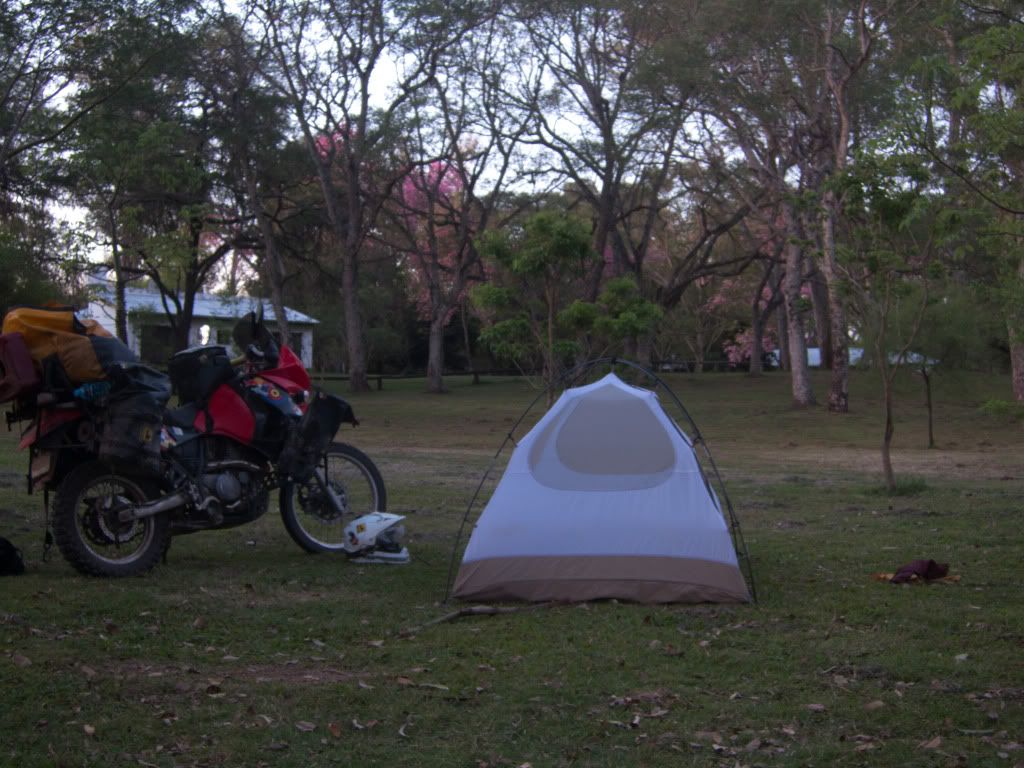 MI CASA AND WIFE.. HAHAHA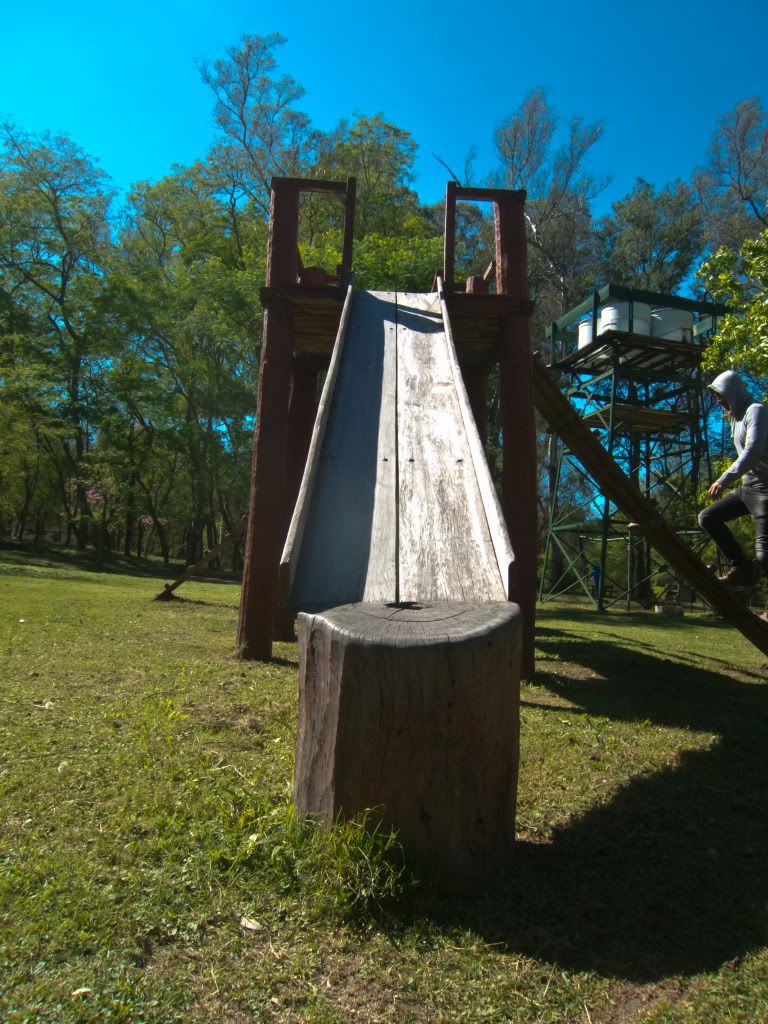 THE WORST SLIDE EVER!!! WOOD SLIDE DOWN TO A NICE STUMP.. HAHA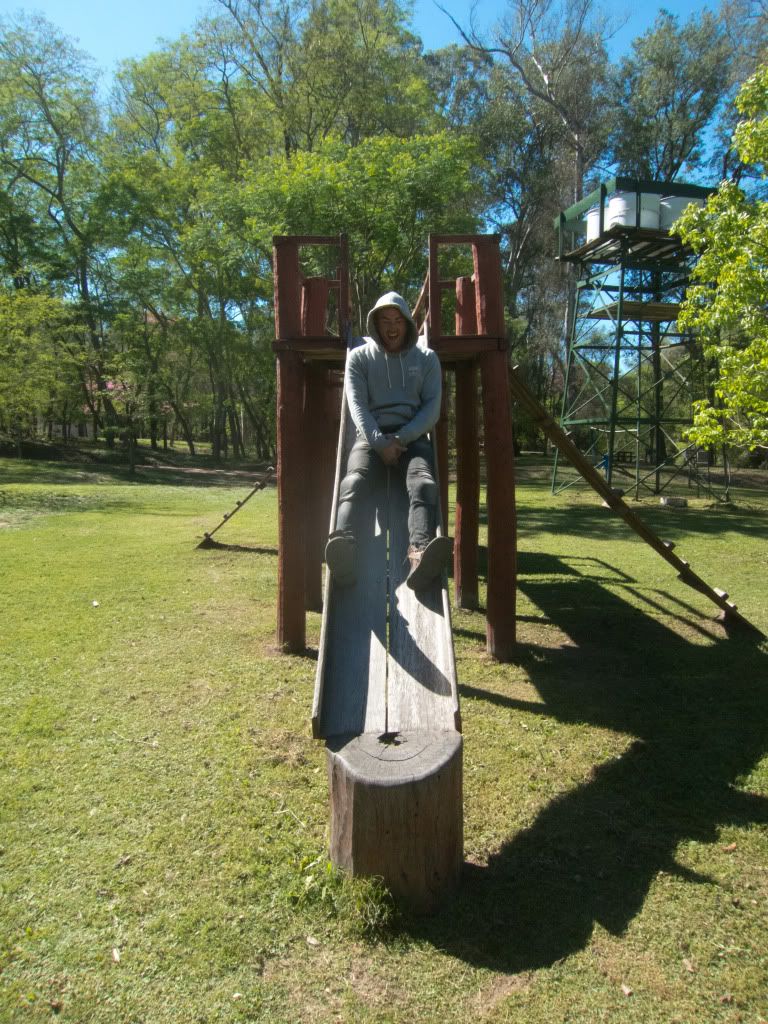 AND HE IS OFF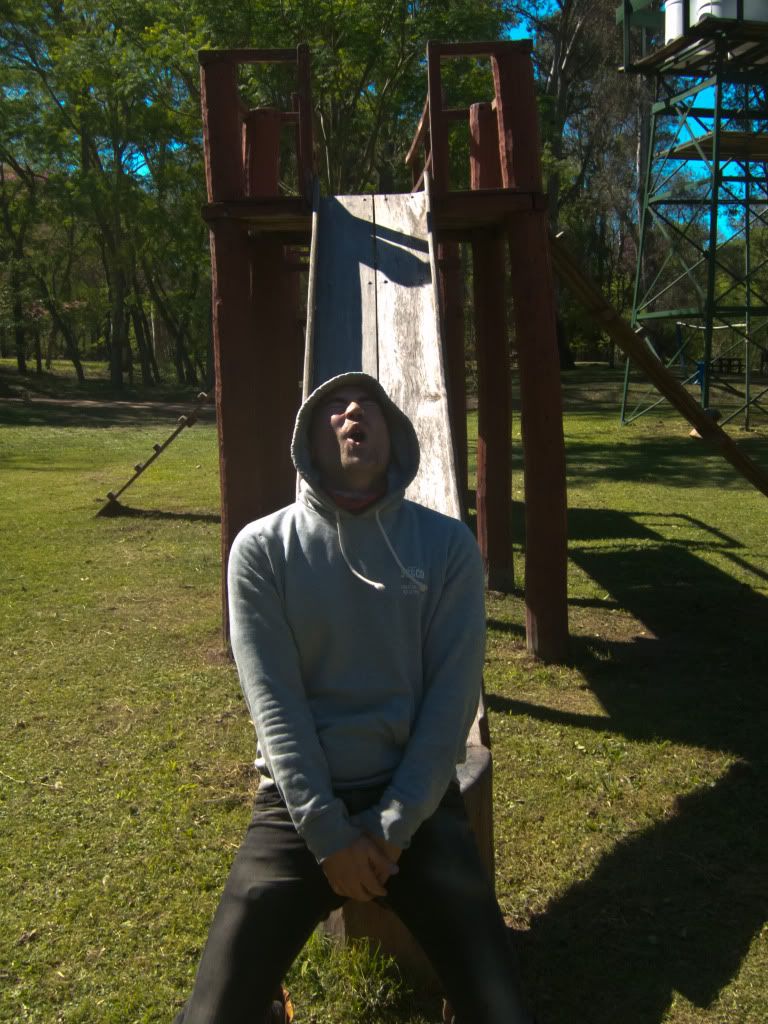 HOW DID THAT FEEL??? HAHAHA