DAY-299
8/28/2012
Well I love adventure and I sure got a fist full of it today!!!! Hahaha
I walked into my room after breakfast and there was a mirror smashed into a hundred pieces on the floor, they cannot be a good sign. Hahaha
We ran around trying to get gasoline at none gringo price.. As we were headed to the gas station Gus swerved around a speed bump jumping into the gutter and on his way he went to the gas station. Gus was getting gas, I notice his tire was just about flat… number two in three days. There was a tire place right next to the gas station and they tore off the tire and we looked over the tire and found a three inch rusty nail sticking through his brand new tire.. we fixed it and was off.
The road to Bermejo border was smooth, fast, and a lot of twisties. We arrived in Bermejo and decided to get lunch and gas before heading for Argentina. We went to the immigration to get checked out of Bolivia they wouldn't give me a break for staying over they wanted 60 bucks, even with all of my documents proving it was not my fault. They said we could go into the next town three km away and get it validated so we did, but they too said no chance. So we headed back and I paid and we checked out of the country. We crossed into Argentina I checked out my papers with Customs and went to get my permit for Argentina. I gave her all of my papers, and she looked at me and asked "where is your Argentina Insurance??" Ugh what? I tried to give her my "fake international insurance" that I have used once or twice.. nope not taking it. She said we could take a taxi to the next town but the office was closed till tomorrow. So we headed back to Bolivia to try and get insurance there. We checked into immigrations told them the problem they said that the insurance office would close soon so we have to go quickly. We got there, nope it takes two days or if you bribe one day but cannot do it till tomorrow. They also were not sure if Gus's paper work would work. He bought his bike off a English guy who bought it and rode it down from the US, he had all of the paper work and he is power of attorney of the bike. So we headed back to the immigrations to get myself checked back into Bolivia to get insurance tomorrow and Gus went back to the border to figure out if he would be allowed in before he bought insurance. I was at immigrations trying to check back in and the head guy came and told me no and to go I was Illegal now in Bolivia!!! Ugh go where>?? Nobody wants me hahahaha Argentina? Nope, Bolivia? Not a chance.. hahaha So I gave up and went to the border and found Gus dealing with a very nasty lady. She told him no and said we couldn't camp their either. So we went towards the Customs, Gus wanted to talk to the head guy. They talked he said he should be fine in the morning with insurance. Then we asked if we could sleep next to the road at the customs at the border of Argentina.. The guy laughed then realized we were not kidding and he said of course over there. So now we have our tents up, beer, canned ravioli, and life is good.
We have free tv!!! When I say that I mean I sat at the customs hanging out kind of talking to a guard when they searched a truck and found a gun!! Haha then there was a small ordeal and they resolved. We were hanging out by our tents when one guy who referred to himself as "Ironman" came over with Local bread and cheese, it was really good. He came back with an unopened bottle of Mendoza, Argentina Wine and more cheese. We hung out with the customs officers and one cop just having a few drinks with them and just talking away until 1am. I was exhausted and headed back to the tent, they cut one of the flood lights for us and I passed out quickly. Kind of weird getting up in the middle of the night to walk up the customs road to piss on a tree at the border hahaha.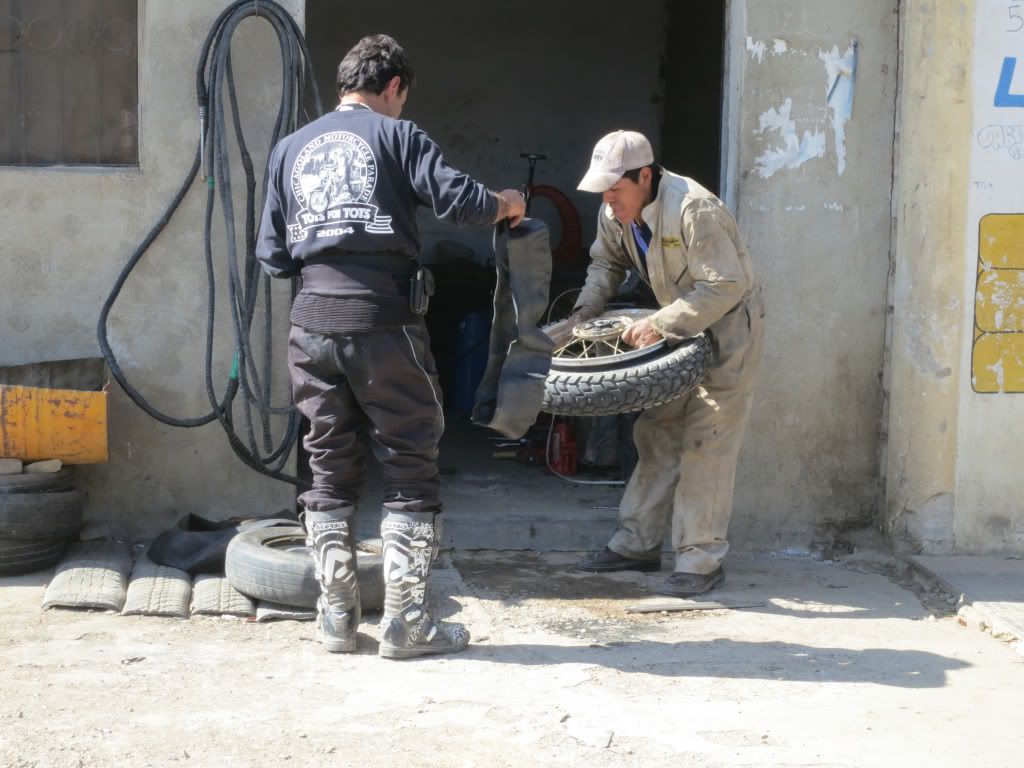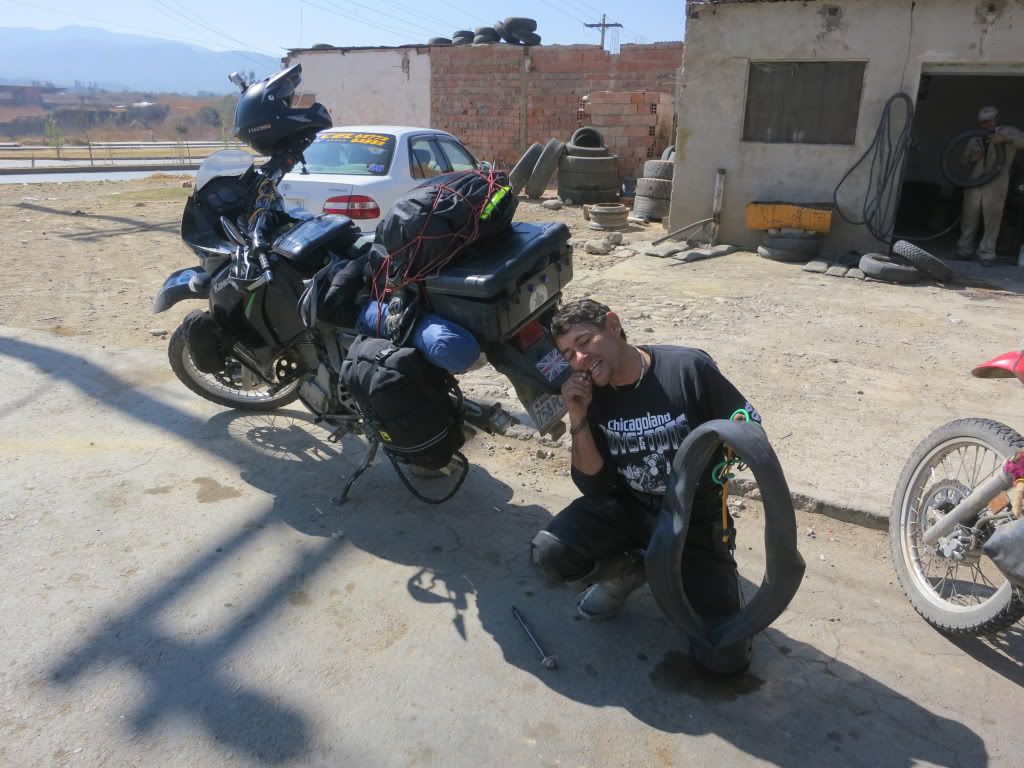 FLAT NUMBER TWO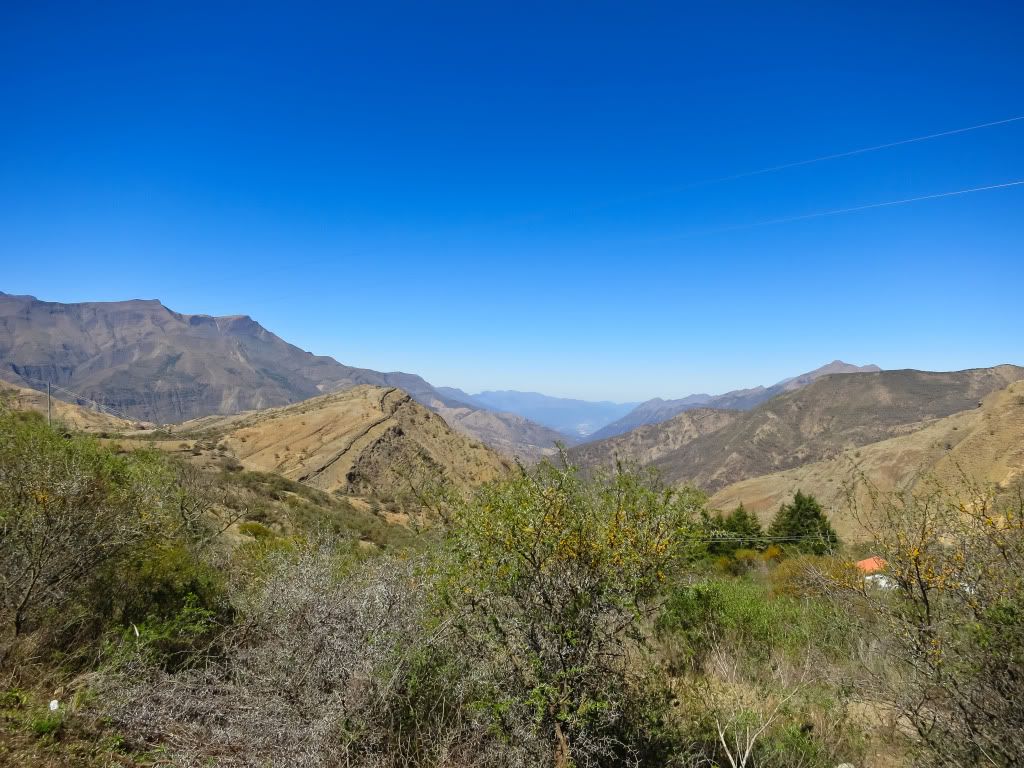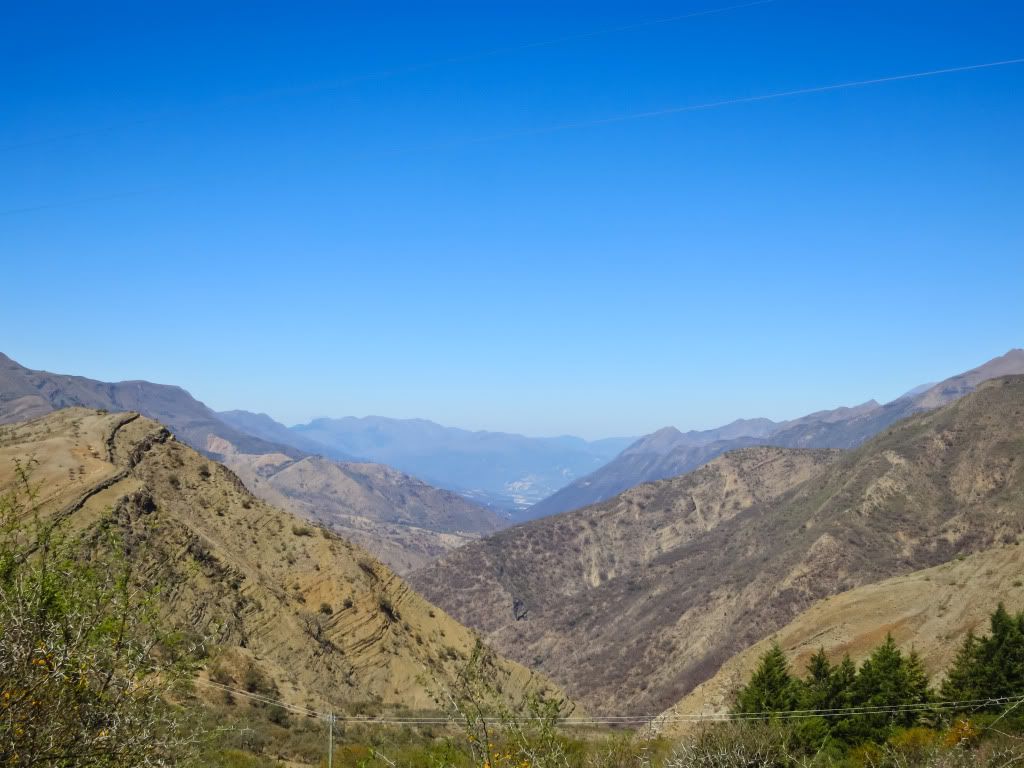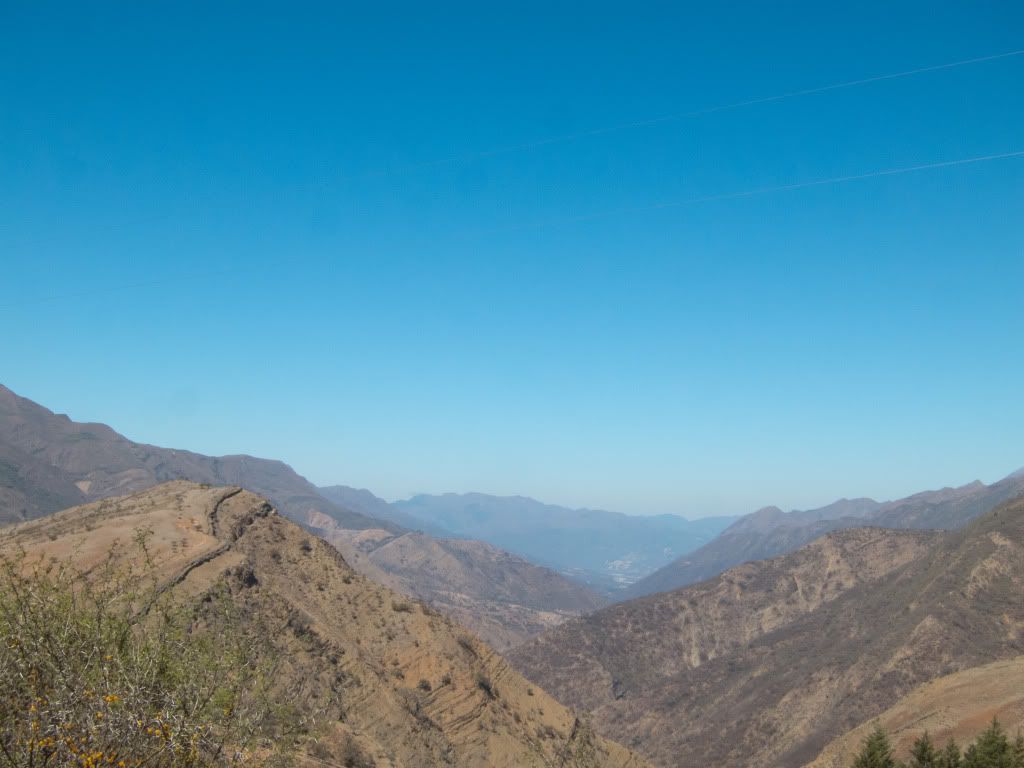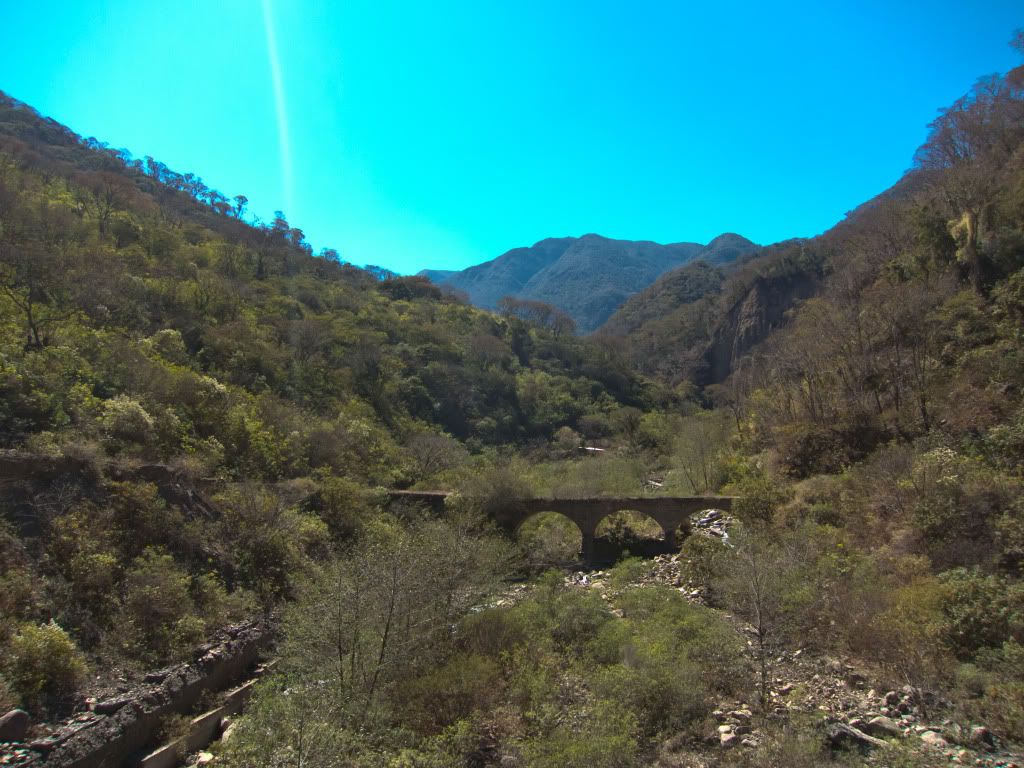 VIEWS ON THE WAY TOWARD THE BORDER
ON THE BRIDGE IN BETWEEN BOLIVIA AND ARGENTINA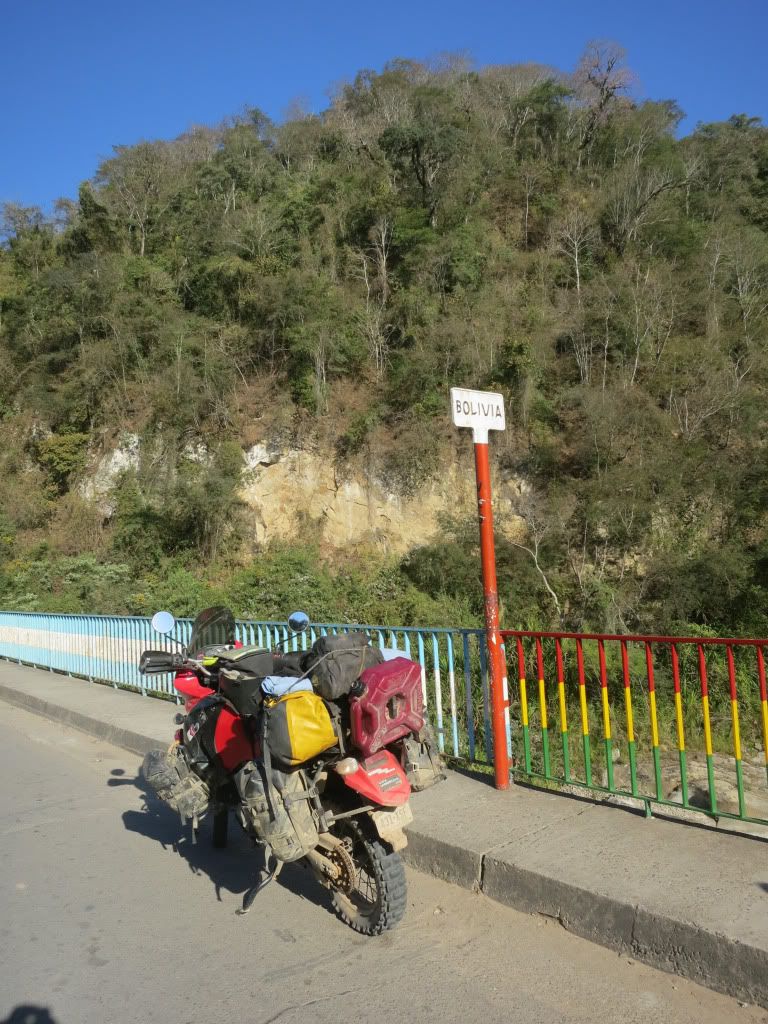 BOLIVIA SIDE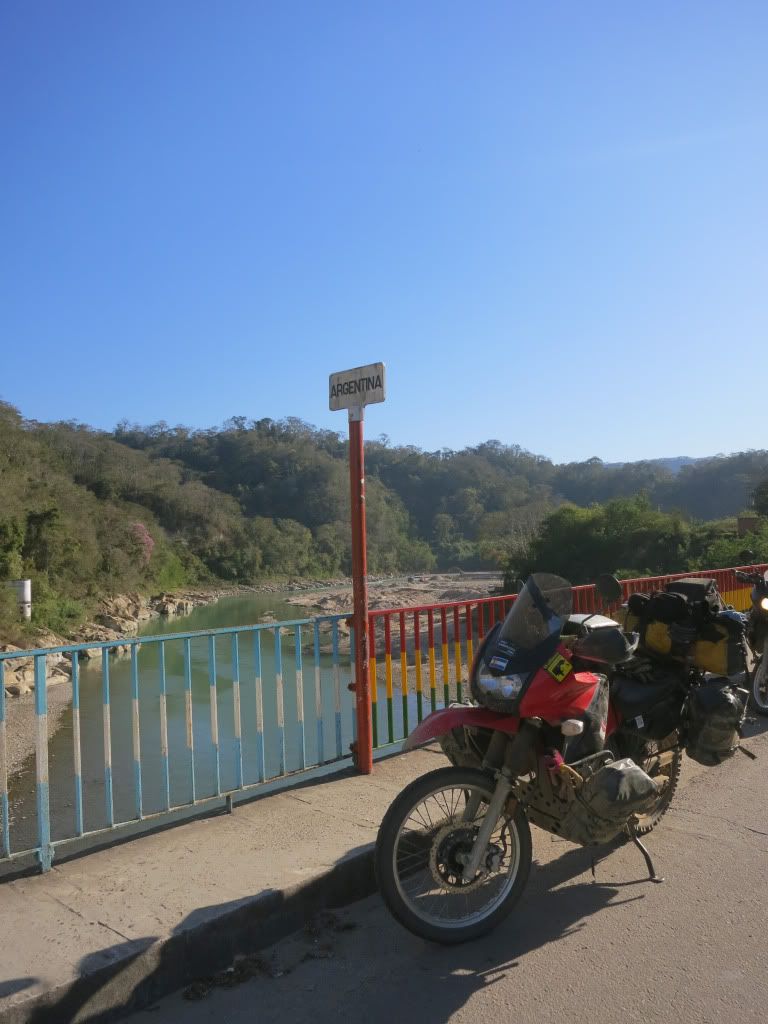 ARGENTINA SIDE
CAMP SPOT AT CUSTOMS
LONG EXPOSURE NIGHT SHOT AT THE BORDER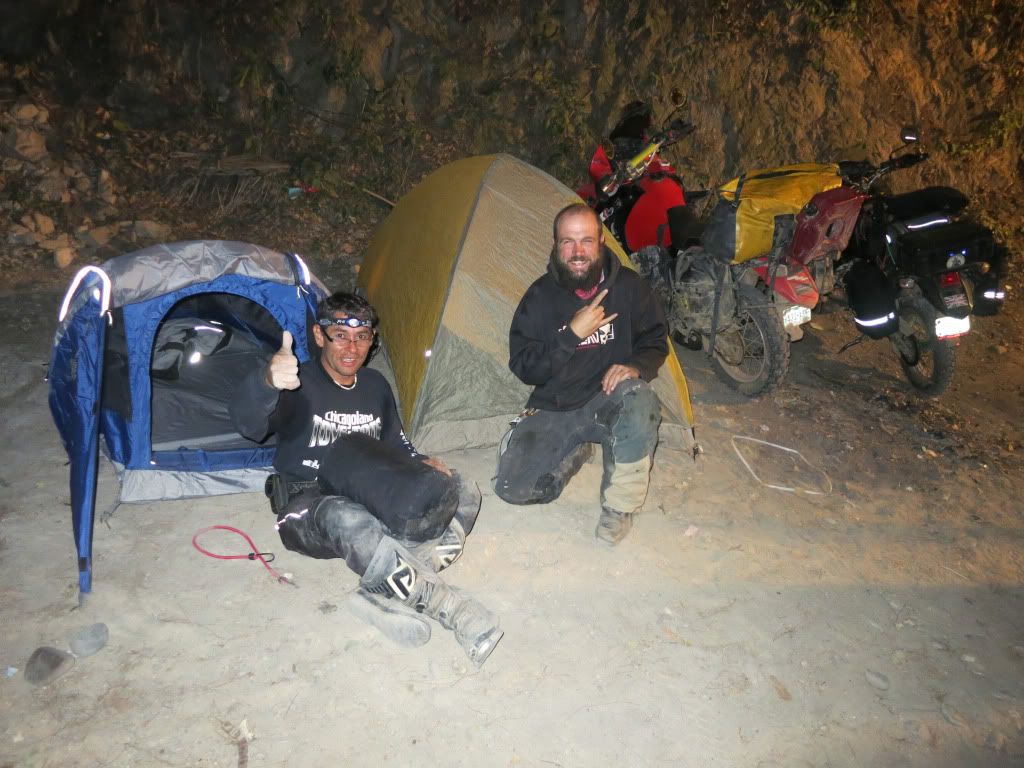 STOKED TO HAVE A PLACE TO SLEEP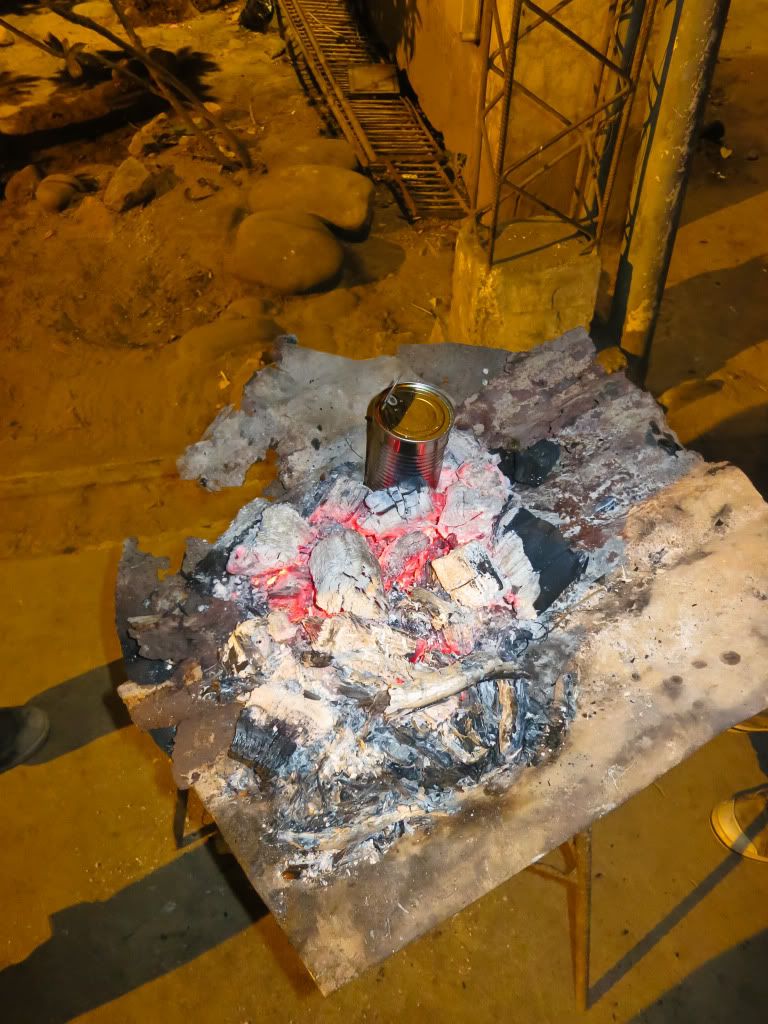 MY CANNED DINNER
THE WINE, CHEESE, AND BREAD THEY GAVE ME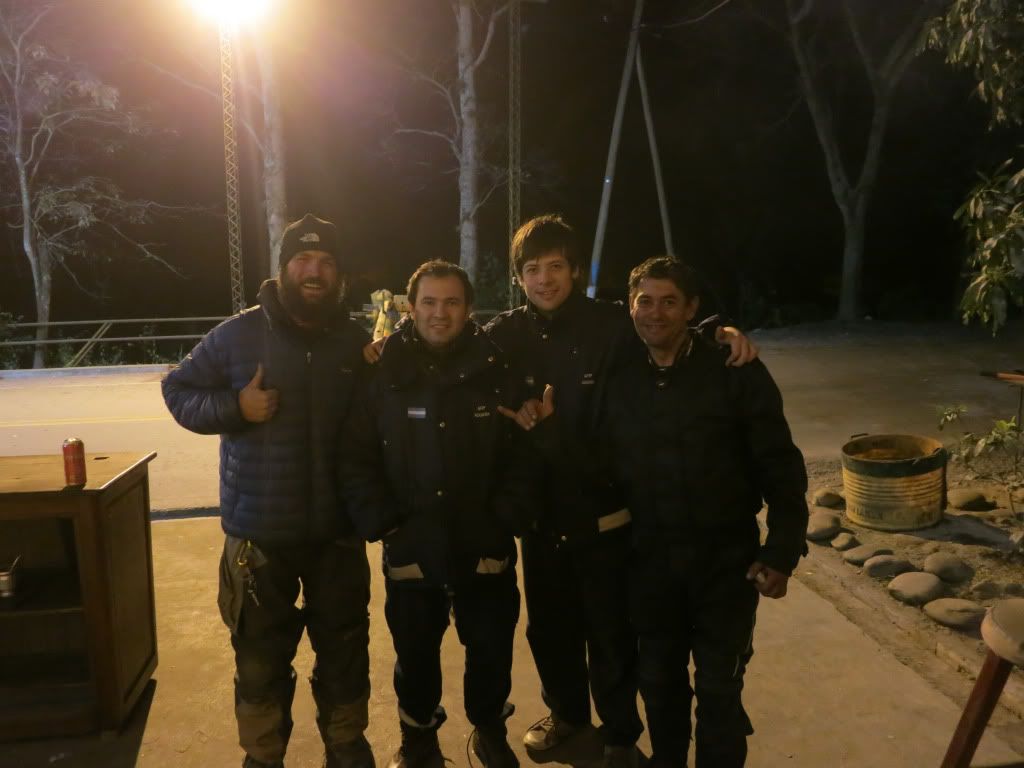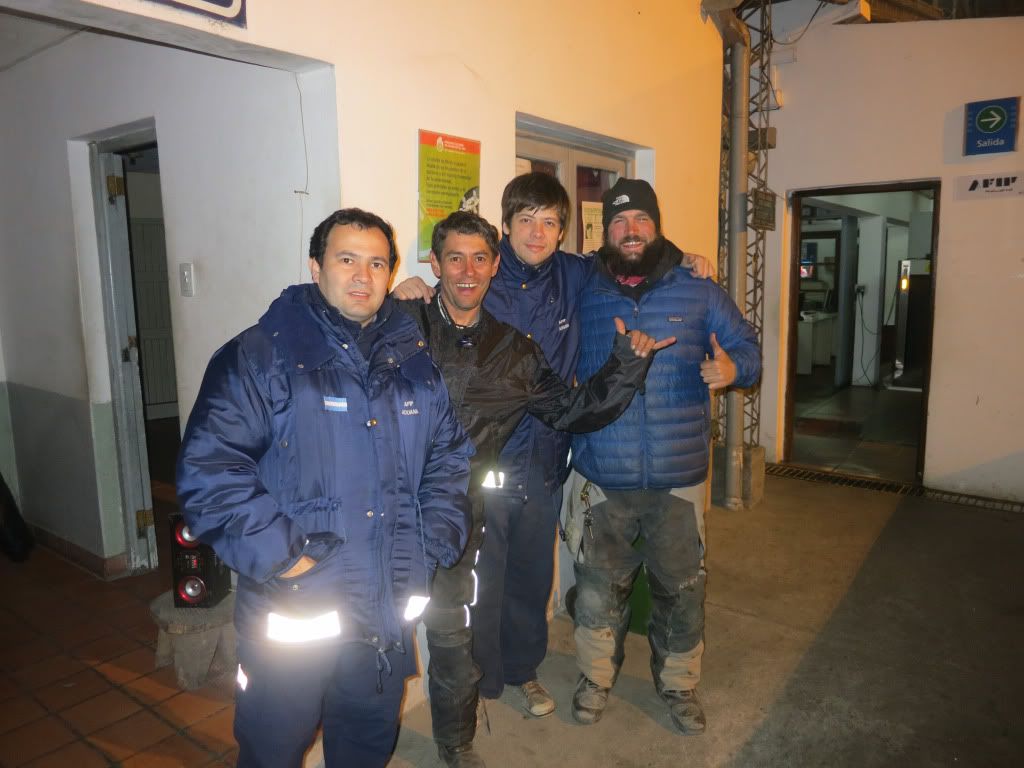 MY NEW CUSTOM'S FRIENDS
DAY-300
8/29/12
Woke up quickly and packed up our tents and bikes, then headed back to Bolivia. Begged at the border and they finally let me go back in as an illegal to figure out insurance. We had to wait 3 hours for the insurance to get finished and then headed for the border one more time. After another hour of jumping through hoops we were finally allowed to go through. Finally!!!! I couldn't fly been keeping the RPM'S low since I am still breaking in the bike and that was hard because the scenery was very nice but the road was straight and boring!!!
Came upon a police check point, asked me where I was from told him the US and he then said pull over to the dirt. He checked my passport, was impressed by my adventure, and was sent on my way. We came upon a road block where the locals had flipped over two semi's blocking the road and using the flag as a rope. They let us pass without a problem just no cars. We came upon a lot of traffic so just like normal we were passing them on the double yellow, I saw a police check point so I snuck back into the traffic, Gus did not and he was flying toward them passing cars. When I arrived at the check point Gus was pulled over talking to one cop, and I gave the thumbs up to another cop and he just nodded so I kept going. As I passed the cop and Gus just stared at me.. weird but oh well. I went another mile and stopped and waited for 15 minutes. Gus came up laughing saying that they wanted me to stop and I just kept going, I never saw any indications of them wanting me to stop!! He said one cop wanted to chase but the other cop said no need he will come back looking for his friend.. Well after I didn't come back they gave Gus a break and let him go without a ticket which would have been 60 bucks!!! He said he told my story as if it was his and they were impressed and told him never to pass cars on double yellow again. Haha
We made our way into Salta and after 30 minutes of riding around found a nice cheap place with safe parking. Went out for some cheap food and a beer and went to bed exhausted from the past few days of dealing with border patrol… They sure do make things a lot harder then need be.. haha
I have noticed a big change in myself over the past ten months.. no matter what Happens I am in the same situation and have a choice I can get pissed off and ruin my day not changing or helping the situation or I can just laugh and let what happens happen and as of now that is working a lot better than when I used to get so anger over nothing..

HEADED TO SALTA, SUNS DROPPING QUICK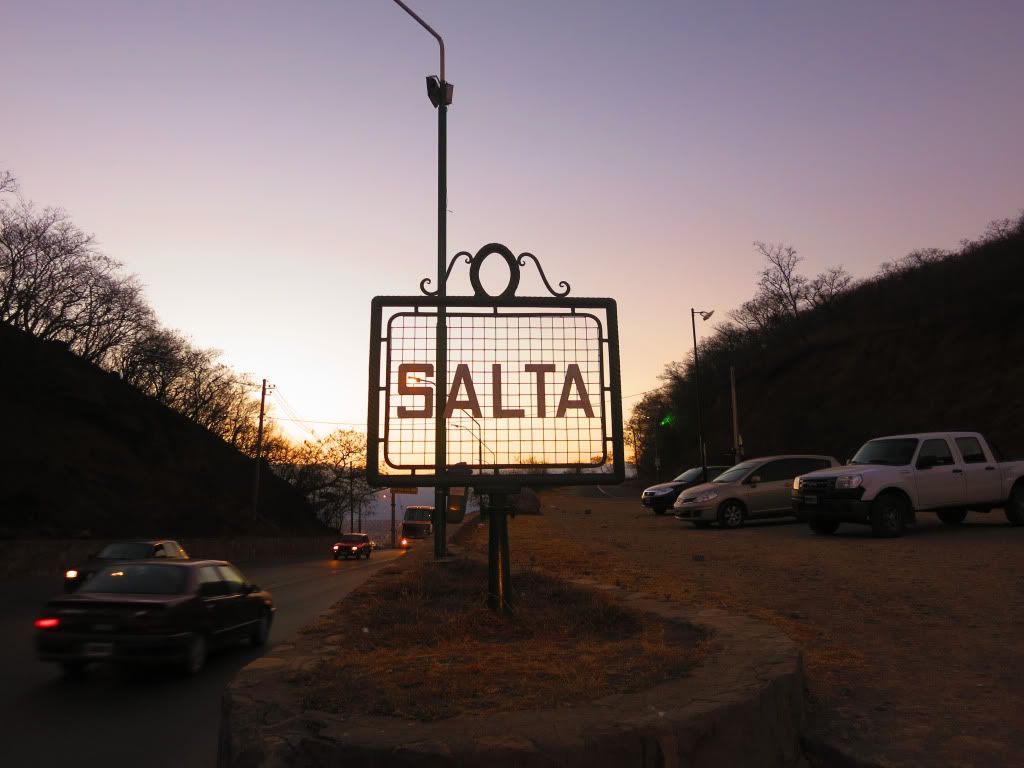 WELCOME TO SALTA, ARGENTINA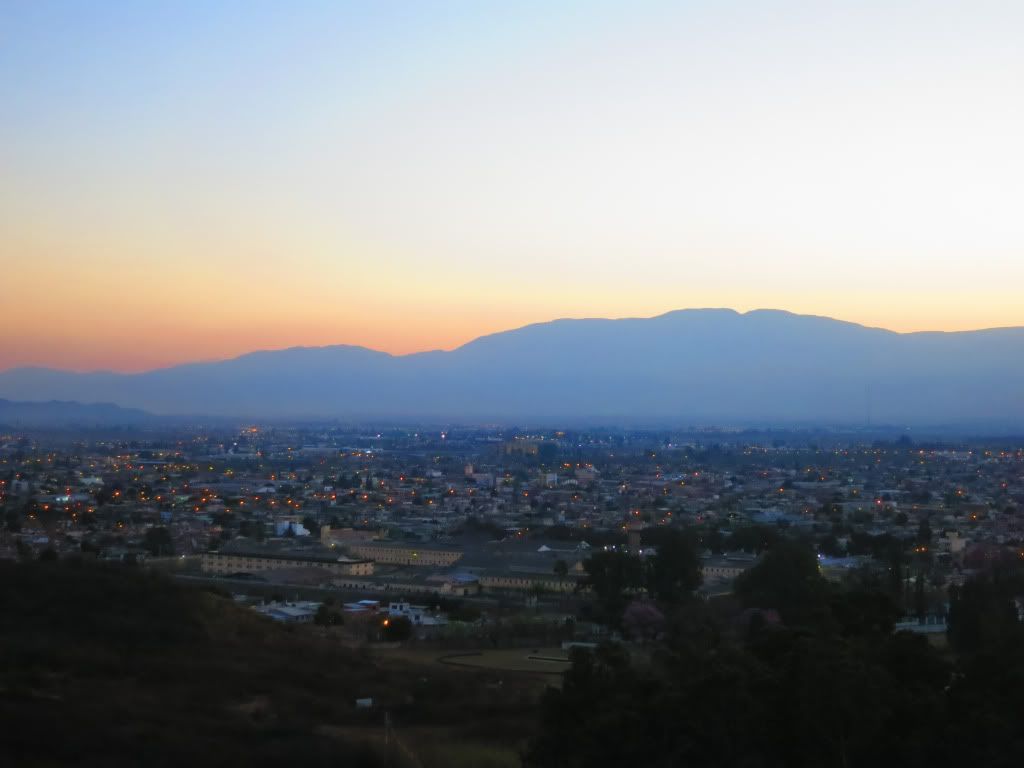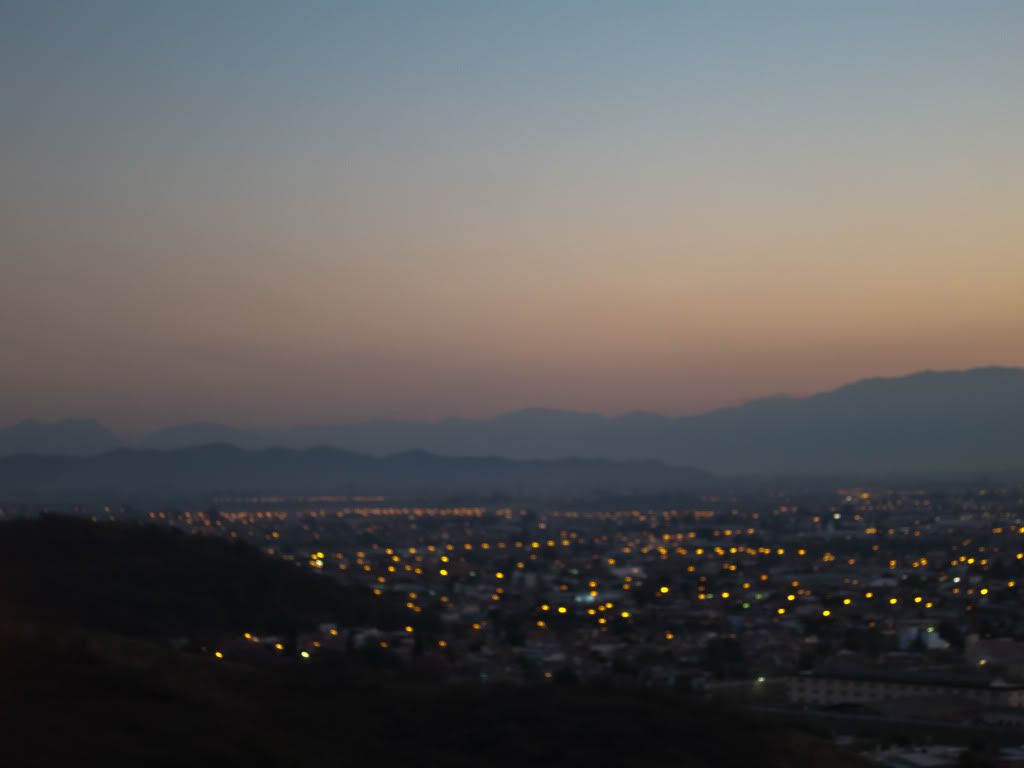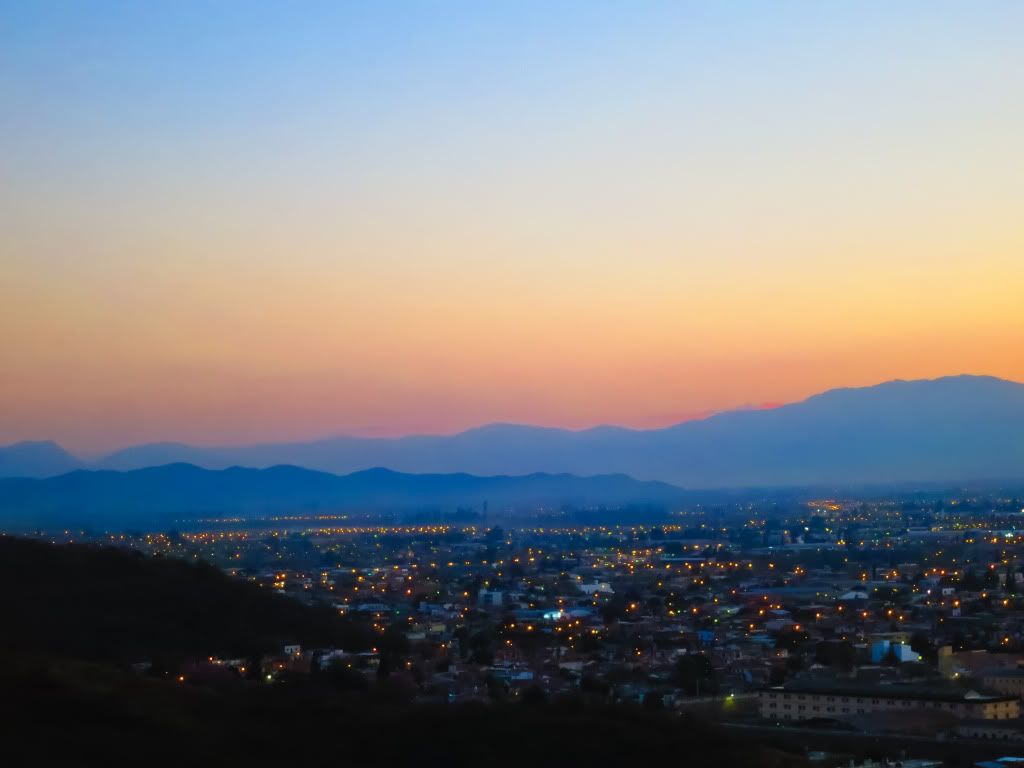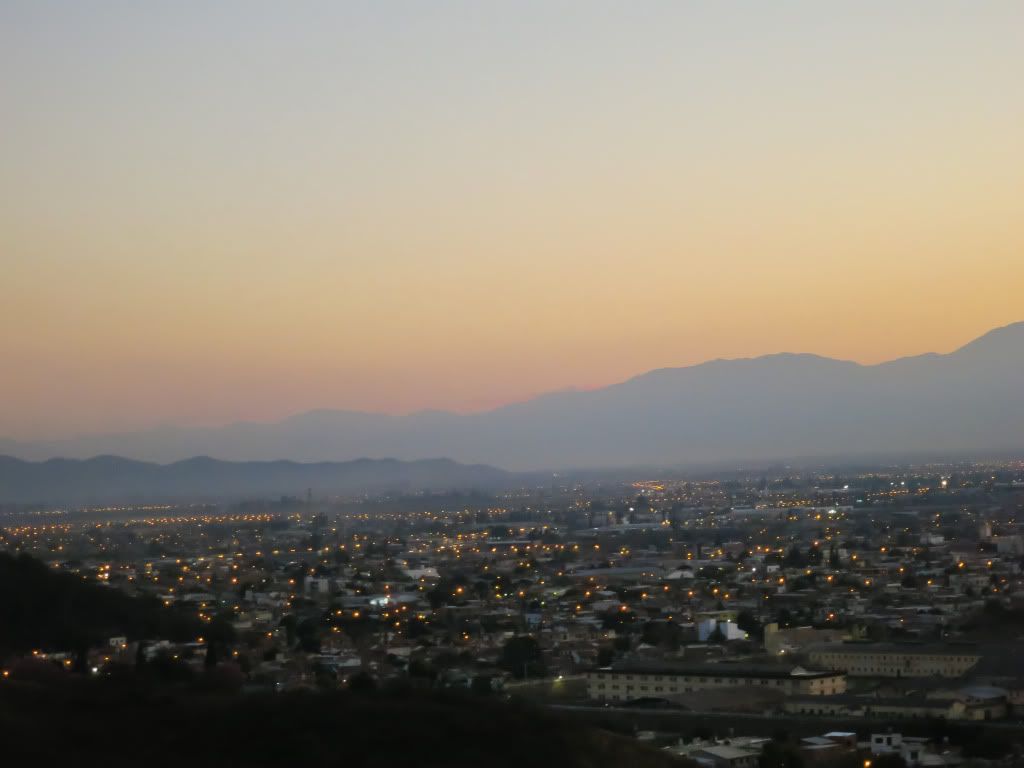 SALTA, ARGENTINA

THANKS FOR FOLLOWING ON THE ROAD AGAIN AND I AM SO STOKED!!!!
__________________
]When in doubt THROTTLE OUT!