DAY-237-238
6/29-30/2012
Woke up this morning on a mission to get my bike checked out and my compression, hoping it wasn't my top end. Although from everything I had read about KLR 2009's I wouldn't be surprised. I did some research and found a highly recommended shop on Horizons Unlimited. Also I had heard of another shop that did a lot of work with big bikes like mine. We went to Breakfast said good bye to Ian and cleaned one of my air filters to let it dry. I got directions and headed off for the shop that was recommended by the HUB, it took me forever to find it. When I finally found it, it looked nothing like the description on online which was of a three store huge shop. Instead I found a small apartment set up with a courtyard with two bikes stripped down with two 14 years old boys working in the dirt. I talked to the owner who spoke perfect English; he walked out to my bike and revved it up. The tailpipe was smoky he said no need for compression test you need a new top end and it will take awhile and patience. I said thank you and headed for the next shop, where I found 30 plus bikes in a nice work shop, a few big bikes, and a couple beautiful 450f's motocross bikes. I talked with the owner he was very knowledgeable and awesome. I left the bike and grabbed him my manual so he could get the correct readings for my compression test and valves.

We had dinner and a chill night, Nick has been sick with the pooops.
I walked back to the shop and talked with the owner this morning. So knowing the history of my bike and that some of the 2009 models did not have correctly seated rings we started there he did a compression check and was low so he opened it up. What had happened was that because of my clogged air filter and having to use my back up I pulled the dusty into my engine thus screwing up my rings and pistons. New top end is needed, also he needs to adjust my valves and my timing chain is half stretched out will need a new one in a little while might as well get done now in Bolivia where labor is cheap. We went over a few other things and his buddy is building a stronger back rack so I can hold my gas tank on correctly without it breaking, he is also welding my side rack that broke while doing the route.
I have been planning on doing a full top end when I make it to either Chile or Argentina, because I have one of those 09' KLR that the rings were not seated correctly from the factory. I have been using about a quart of oil every thousand miles since I left CO. Now I have no choice, but the upside is it will be much cheaper than Argentina or Chile. He is positive and thinks I will get the parts by Weds and have the bike back together by mid day Thursday, so I can go ride it for 300km or so, making sure she is good and then change the oil. I will go up and help him rebuild it so I can learn from him. If all goes well then on Friday I will ride straight to where Nick is and do the salt flats and lagoon crossing to San Pedro with him, because he is heading out Saturday morning due to his permit screw up he has to be out of Bolivia by the 12th. So Fingers Crossed!!! No matter what happens I have just been smiling and laughing have to love the adventure of it all!!!
AT THE SHOP!!
BIKES EVERYWHERE!!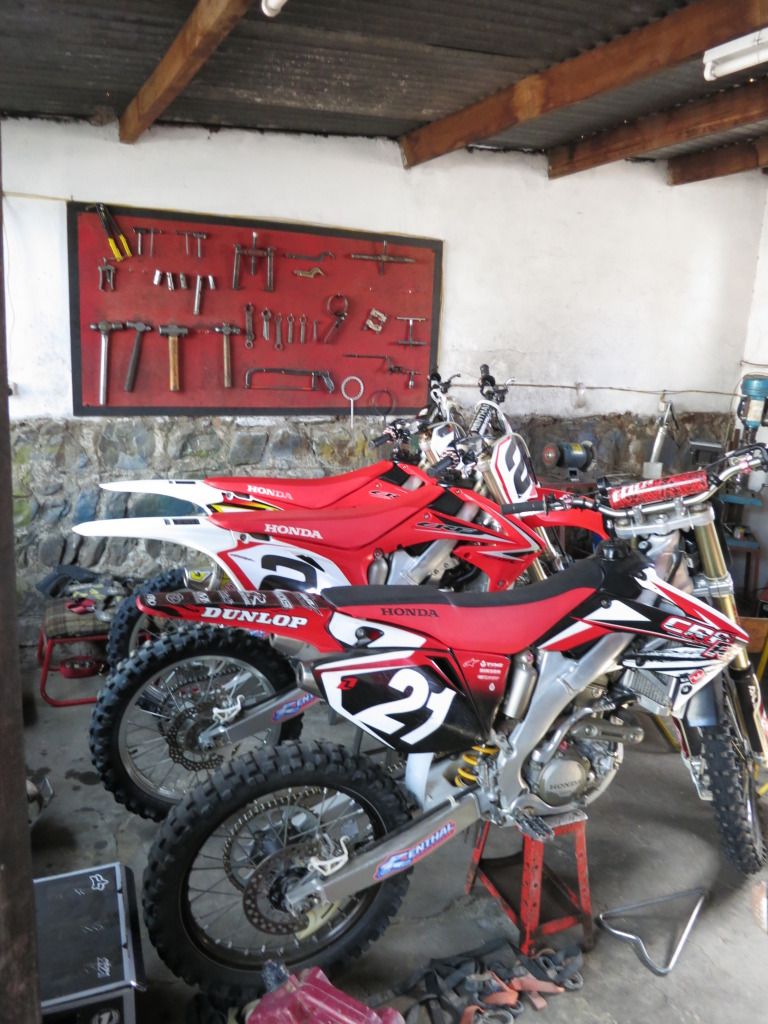 I'LL TRADE YOU MY KLR FOR ONE OF YOUR CRF'S!!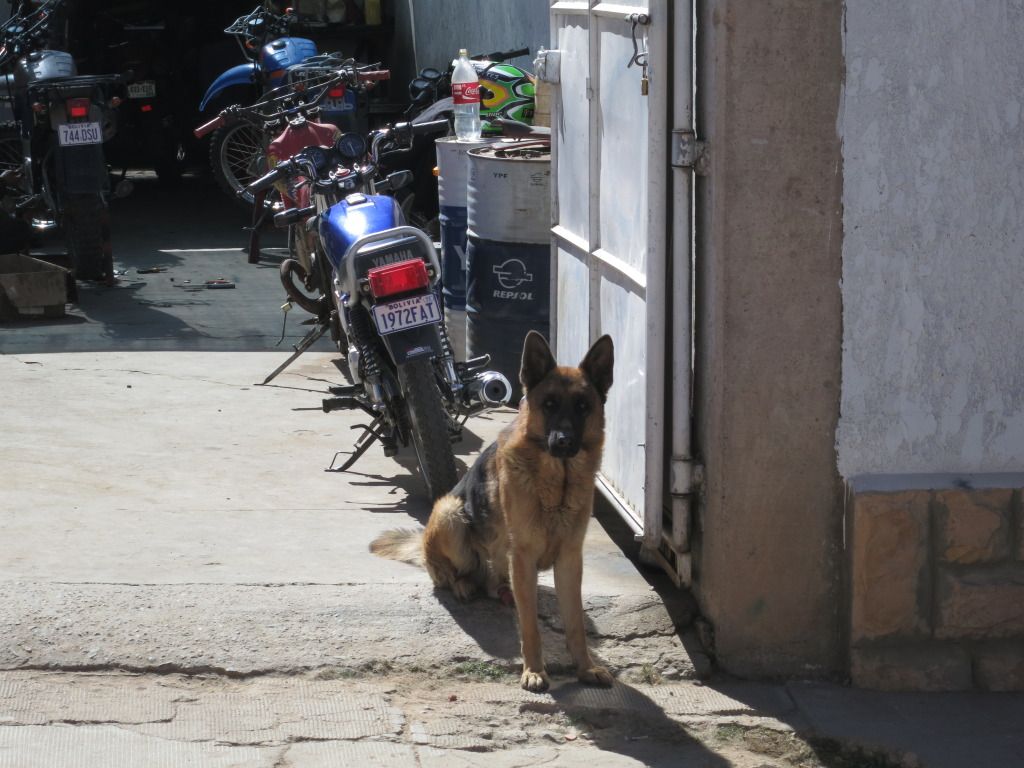 THE GAURD DOG WHO IS ADDICTED TO SUGAR, HE WILL FOLLOW YOU AND JUMP ON YOU IF YOU HAVE A BOTTLE OF COKE.. KIND OF SCARY AT FIRST..HAHA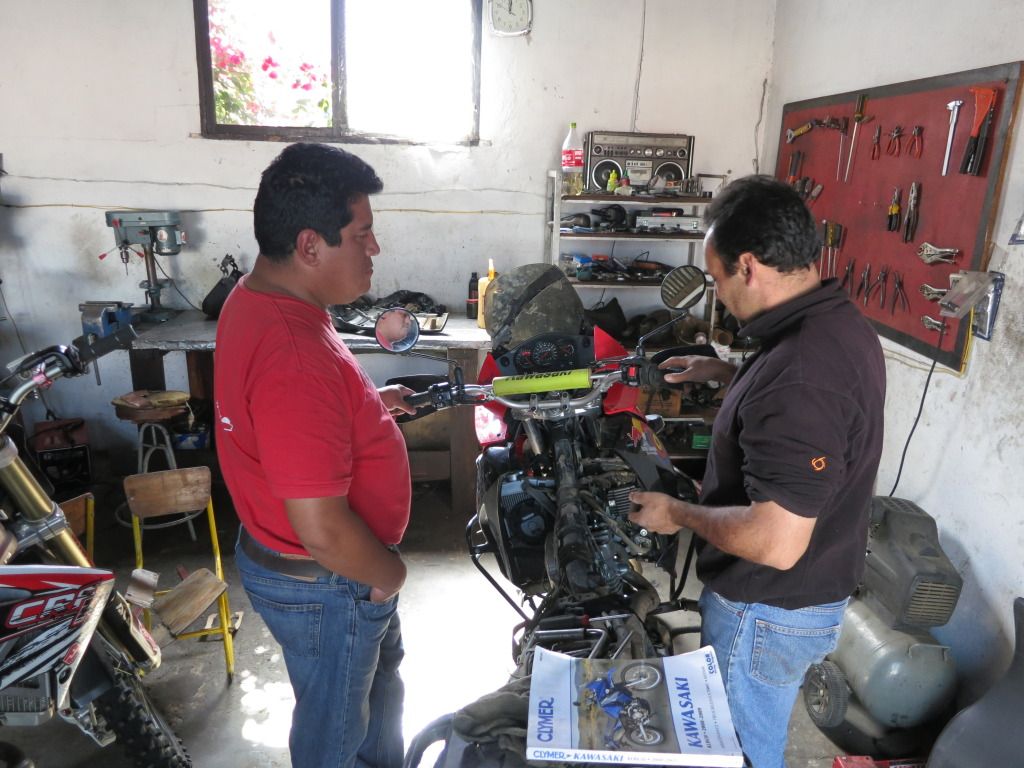 ANIMAL DOWN!!!!
BLOWN TOP END!!!!!
Will have more updates when I find out more on Monday about the Animal!!
Thanks for following my adventures!!
Fletch