DAY-227-231
6/16-20/2012
I woke up not feeling that awesome so I decided to sleep and start going through my stuff seeing where I can drop weight. I met up with Nick for dinner and was introduced to Ian from England who has been riding a 2006 F650GS for the past three years through AK, Canada, US, Mexico, Central America, and now South America. I talked with my school on Monday and decided I would do 3 more hours hitting a total of 50 hrs and was able to get my money back for the last ten hours. After my last class I met up with Nick and Ian to go find a few moto parts and some gear. I needed a new tire and wanted to pick up a knobby for the rear. I have been carrying that CST Tire since Nicaragua, which I bought because my Kenda was worse than bald. Although I made it to Costa Rica to buy Pirelli's so I never needed it. So back to present Ian needed a back tire and he is mostly riding all pavement so I offered him my tire for 20 bucks to take it off my hands for good. He was stoked and I was stoked win win. On Tuesday we headed off for Death Road all together, we grabbed gas at gringo price (triple the Bolivian price).
We headed up out of La Paz toward the start of the Death road. As we rode up higher the sky went from perfect blue bird day to riding in a misty cloud. We got stopped once for a license check and another by military wanting to search our bags but all they did was look in my tank bag. We got to the top hitting 4800 meters and then started to drop down passing Mtn Bikes. We got into a small town where we had to buy a permit to ride the death road. We headed up toward the turn off found it quickly and started making our way slipping past tons of Mtn Bike tours and their chase vehicles. Unfortunately the road was all clouded in and rainy so we couldn't see much and not a lot of opportunities for pictures. We didn't take the short cut that the tours do back to the main road, we rode the death road all the way till the town of Coroico where we had Lunch. The road was not as gnarly as you might think there is no traffic and it is smooth just with a hug drop off to the left hand side. We took the main road back to La Paz.
At dinner we decided that we would take care of a few last things and all head out together on Thursday for Sucre. We decided on taking hwy 6th to get to Sucre and after Nick and Ian did some reading online they read on the HUB that it was now paved and Ian wanted to join us, he didn't want dirt but since it was paved he wanted to ride with us. Nick and I were a little bummed because we did want dirt and I was told by my teacher that it was dirt on hwy 6th to Sucre.
On Wednesday I found a tire and Nick found new A-Star gloves, I also picked up a much smaller camping pot kit so I was stoked. We decided to meet in the morning to head out around 9:30 am for breakfast and get on the road by 11:30am.
THE CREW, NICK, IAN, AND THEN MY BIKE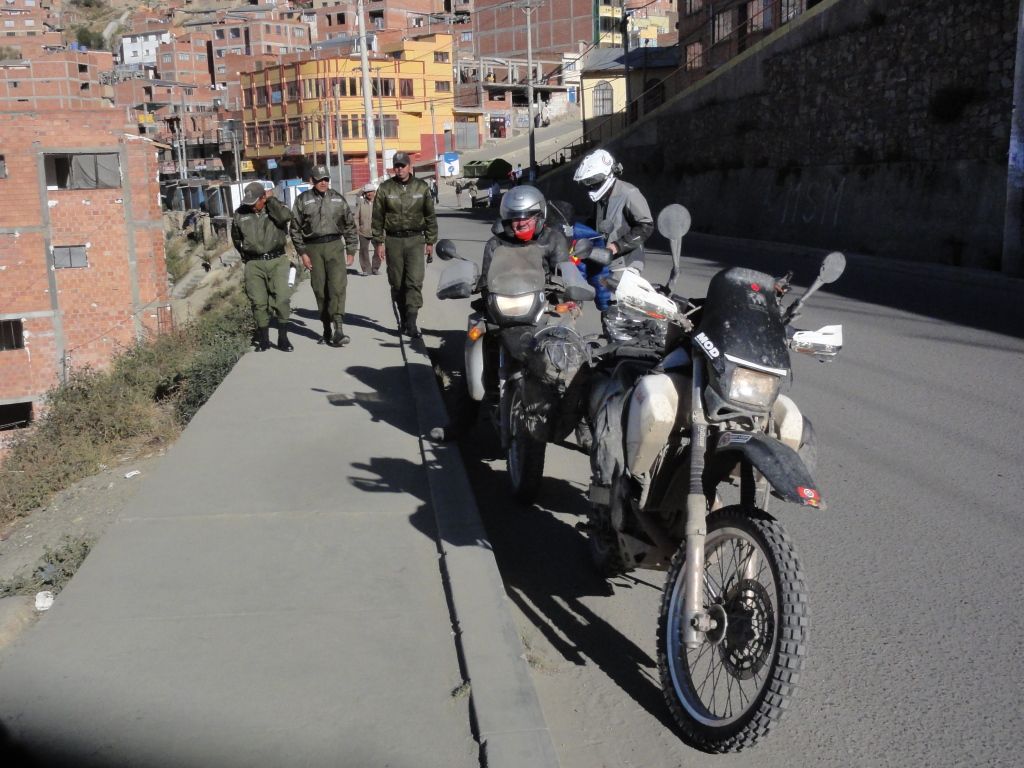 COPS RUN!!!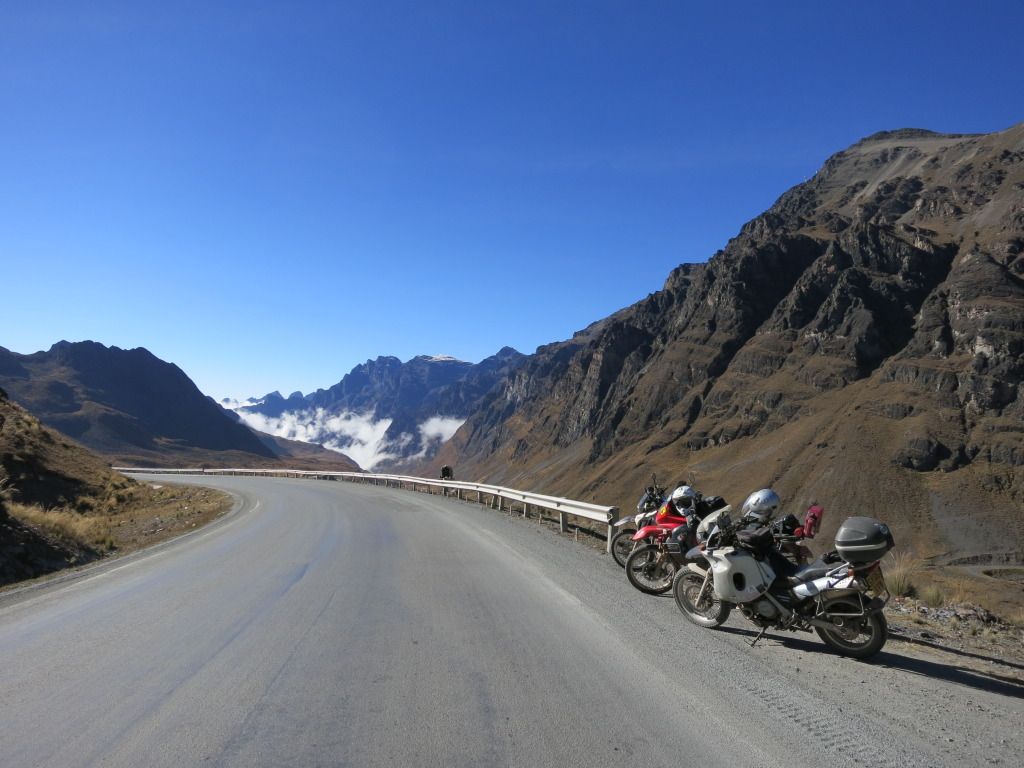 MAKING OUR WAY TO THE START OF THE "DEATH ROAD"
NICE BREAK ON THE EDGE OF THE ROAD
MAKING OUR WAY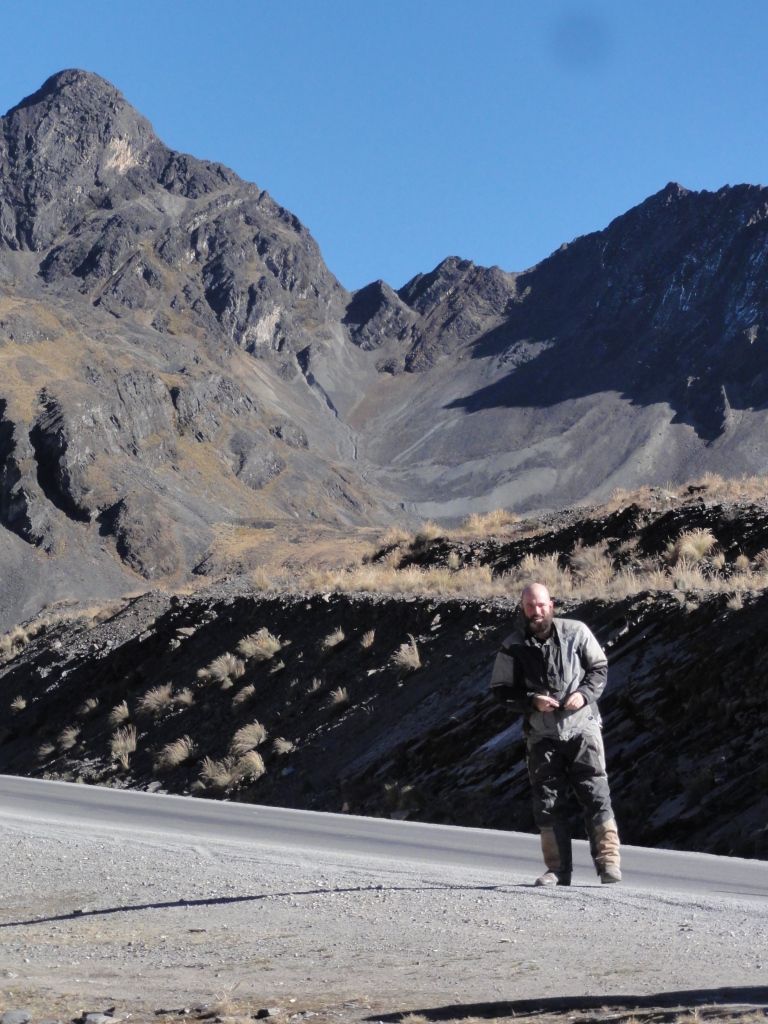 WHAT YA LOOKING AT?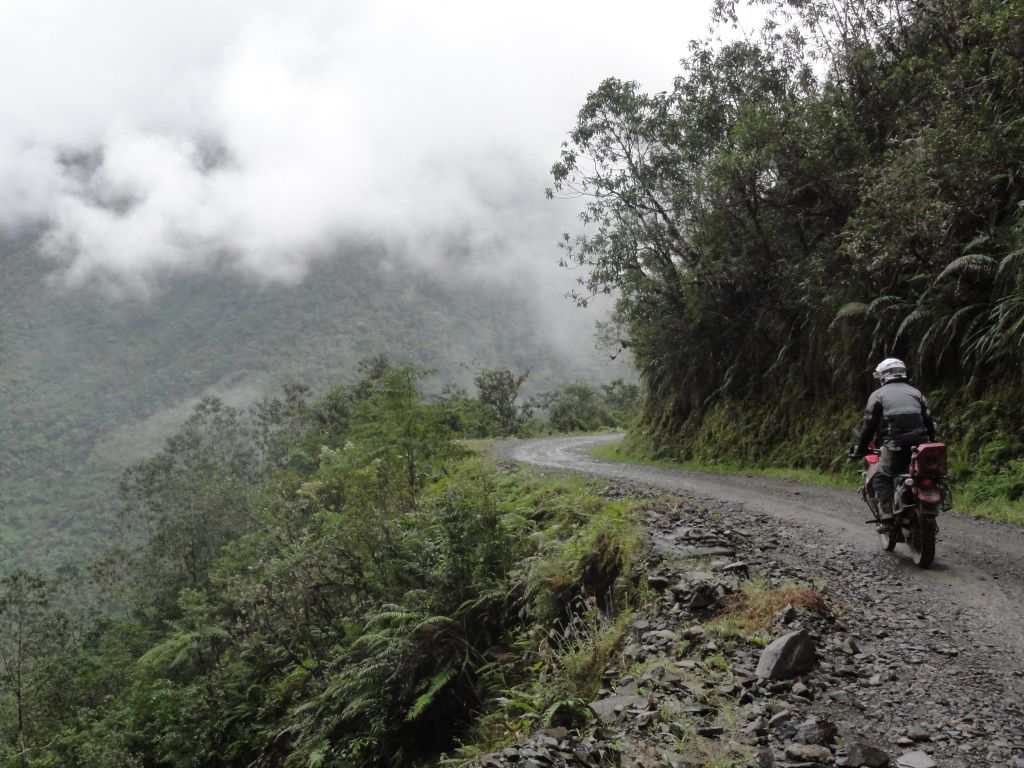 I'M SHREDDING THE DEATH ROAD!!!!
LUNCH TIME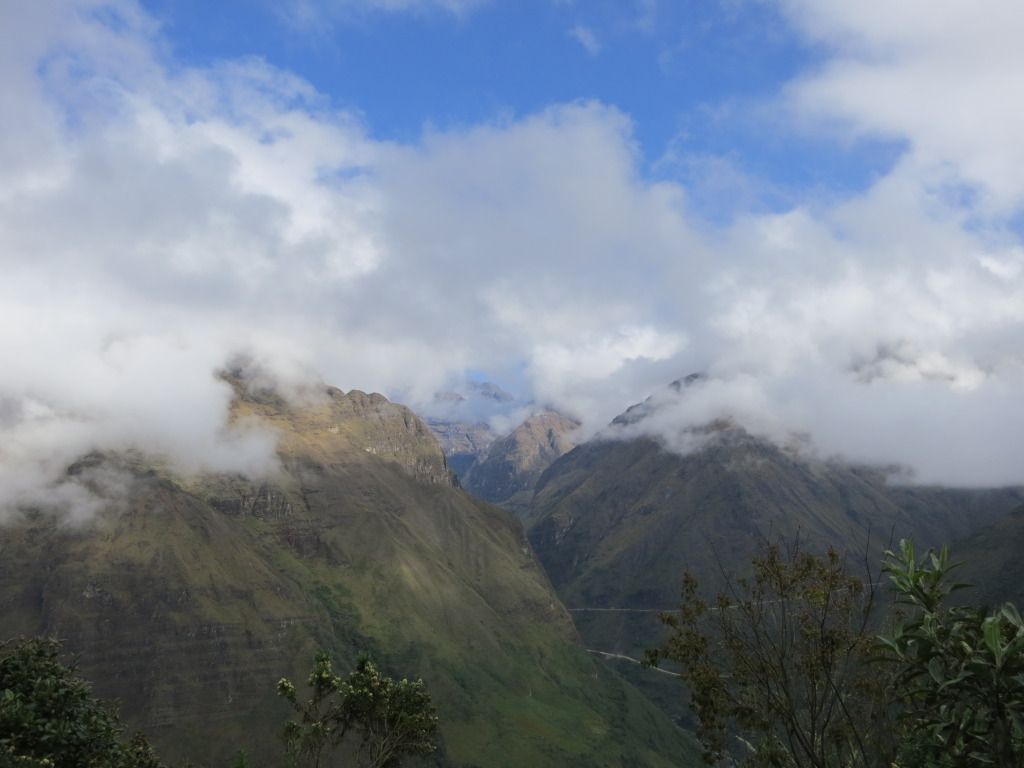 VIEWS ALONG THE RIDE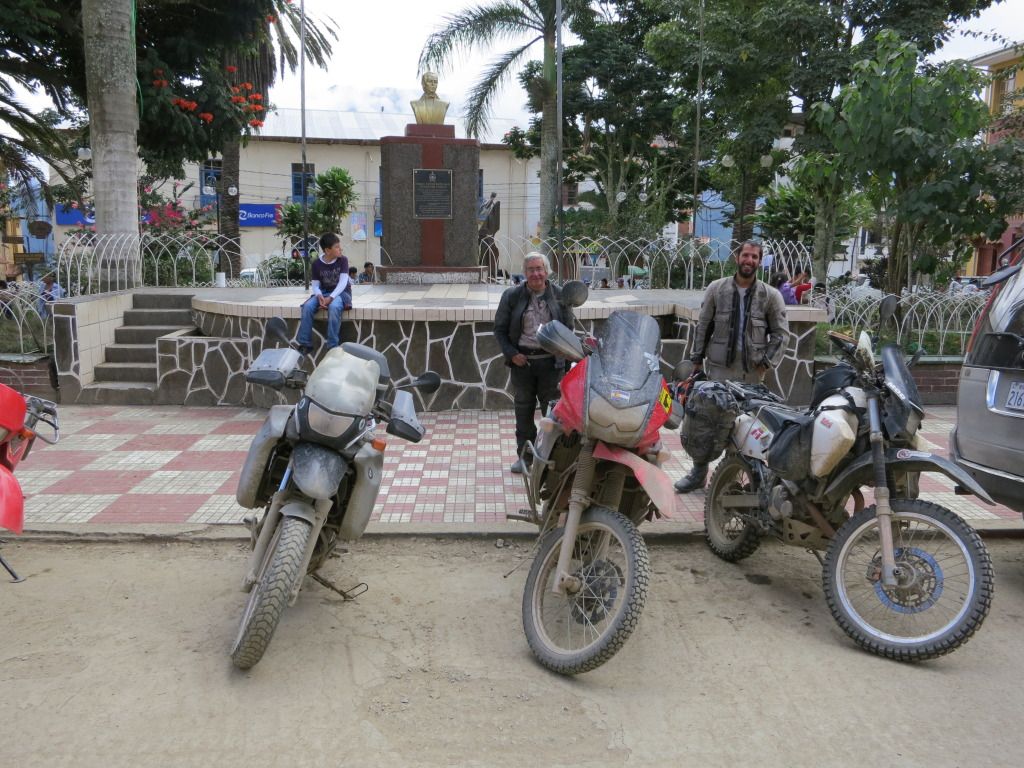 MISTY DAY OF RIDING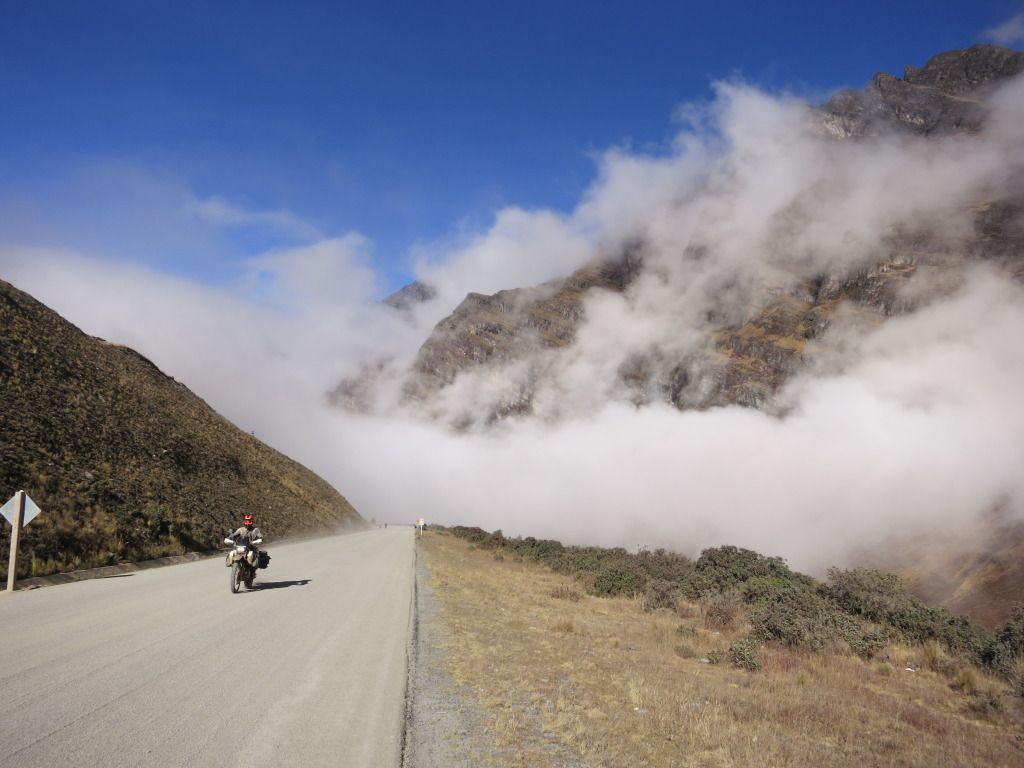 NICK RIDING THROUGH THE CLOUDS
NICK CHECKING OUT AMAZING BOLIVIAN VIEWS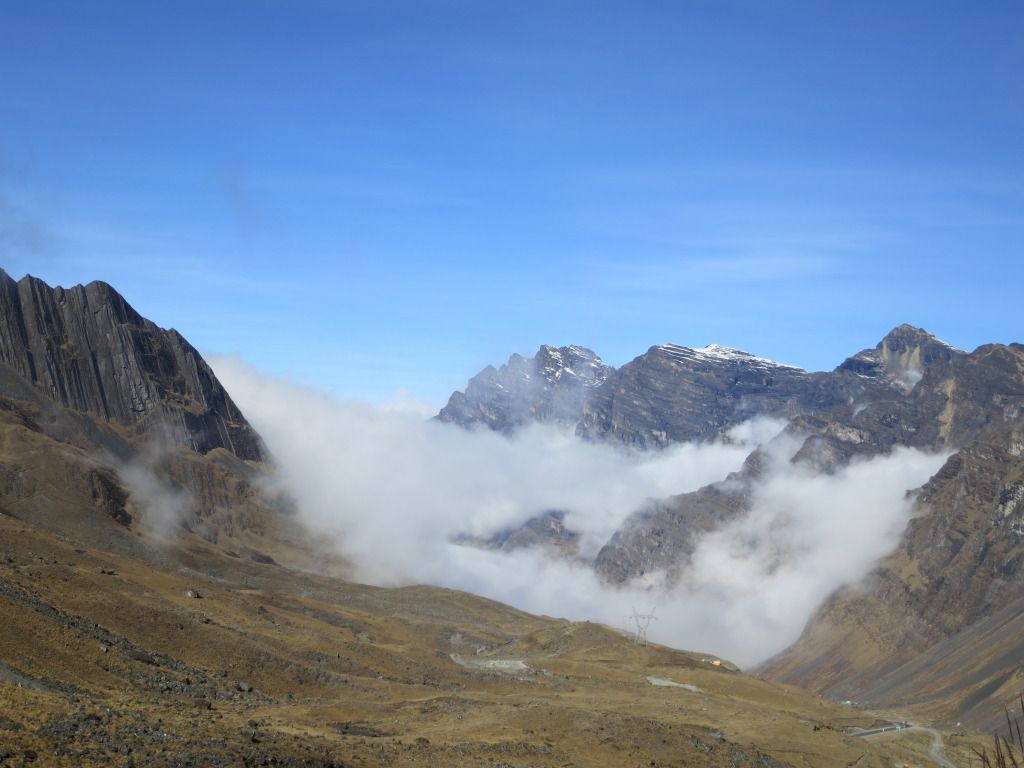 SUCH AN AMAZING COUNTRY!!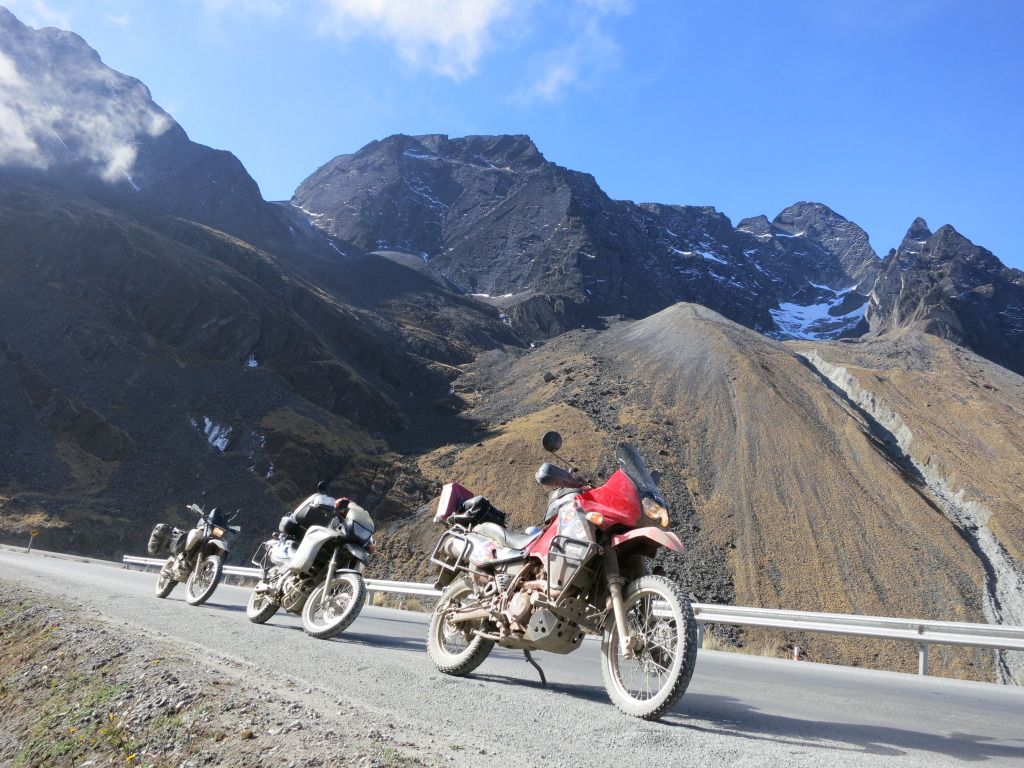 ON THE WAY HOME, MY FAVORITE OF THE BIKES