Last week and going away party in Chile
DAY 446-453
1/21-27/2012
BAM BAM BAM!!!! Got my Letter today to go to the post office and pay for my package!! But it is to late to go now so I will go first thing in the morning then take the train right from their out to the Race Tech guy.
So in the morning we headed out to the post office, Ivan came to help me out. The person who sent the package told me they would not claim full price so I would not get taxed so much… Well what they actually did, was claimed the package for only $20 value but then left the original invoice inside so when they opened the package to check it out they saw the invoice and taxed the hell out of me over 30% Hahaha but that is okay I got my package and it worked out perfectly that I had worked a lot over the weekend so Ivan could go to the beach so he had just given me a 100 dollar tip for helping out so that covered my taxes I was pumped at the end. I jumped on the train and made it out to the shop to find the place closed for lunch. So I just sat at the gate saying "HOLA Ignacio" the third time is the charm he came out smiling. I handed him the package and we went through it making sure everything was there. I then negotiated a good price with him for the rear Race-Tech shock he had at his work... then we put my new spring on it as well as the front new springs and valves. I headed back into town stopping by my friend's house for a few hours before work.
Since Nick has been here I have been cooking up some good dinners. A guy Dani who is from Switzerland and is on a '09 KLR just riding through South America is finishing up his ride now and trying to sell the bike. He came over and we ate a massive Veggie Pasta Dinner.
Wednesday I went over to Maca's house for dinner, I do not know about where you guys live but where I am from we do not have Sushi Delivery, especially sushi delivery via Moto's!!! We were having a few beers and she suggested getting some Sushi yeah sounds good where do we have to go, how far is it, are the questions I asked… She just looked at me and laughed... "No no we just order it and they deliver it". Sweet!! That's new to me. Hahaha The sushi has been really really good and pretty damn cheap here in Santiago.
Thursday my friend Andrew from England showed up, he is doing a RTW as well. He started in UK and rode the West Coast of Africa to South Africa, and then he shipped to Argentina. We met in August in Salta; we will now ride together to Patagonia in the upcoming week or so. He arrived late to me making a massive amount of Burritos with some good ol' Beer.
Friday I jumped on the back of Andrews's bike and headed to Ignacio's shop and picked up my bike. Oh man let me tell you what a damn blast!!!! So so so much fun, it is running the best it has ever run since I have owned it super super stoked.
TONIGHT SATURDAY 26TH IS MY GOING AWAY BBQ.
I invited my friends, Nati, Maida, Maca, Dani, and a bunch others. My buddy David who you may remember I traveled with through Northern Argentina for three weeks on the shitty Chinese 200cc bike. He just finished 6 months over 21,000km on the bike through 4 countries.
He arrived at 6pm just in time for a few shots of Whiskey and then we all got together about 16+ of us at 8pm for a good night of food and booze. It was an awesome goodbye party, all good friends, 40 chorizo's, 18lbs of steak, tons of beer, many bottles of rum, Pisco, and JW Black. We all hung out at the hostel till 2am drinking and then headed out to go dancing.
You know it is a good night when nobody remembers too much and someone passed out on the sidewalk. Then carried home by a girl to then be dragged up the stairs to his bed... It may or may not have been Andrew…
I said Goodbye to Maca on Sunday although I will see her again when I come back in a month or two before shipping to OZ. All day Sunday was packing, going through my crap, and just being hangover with everyone at the hostel. I walked Nick to the train station, his Latin American Ride is over and now he is onto NZ to work and ride. He left on the 27th of January and I met him one year ago in Panama. Hell of a dude and I wish him the best cannot wait to meet up again and ride with him in NZ or Oz in a year or so…. You can follow his Adventure at
www.roadtriprambling.tumblr.com
This has been an awesome time living in Santiago, working at the Hostel, making life long new friends, drinking way too much, and just enjoying every minute of it. I will miss this and all my new friends a lot; but on the contrary I am very ready to get on the road again!!! But it is nice to know I have friends and a great place to sleep when I come back to Santiago before I ship out to Australia.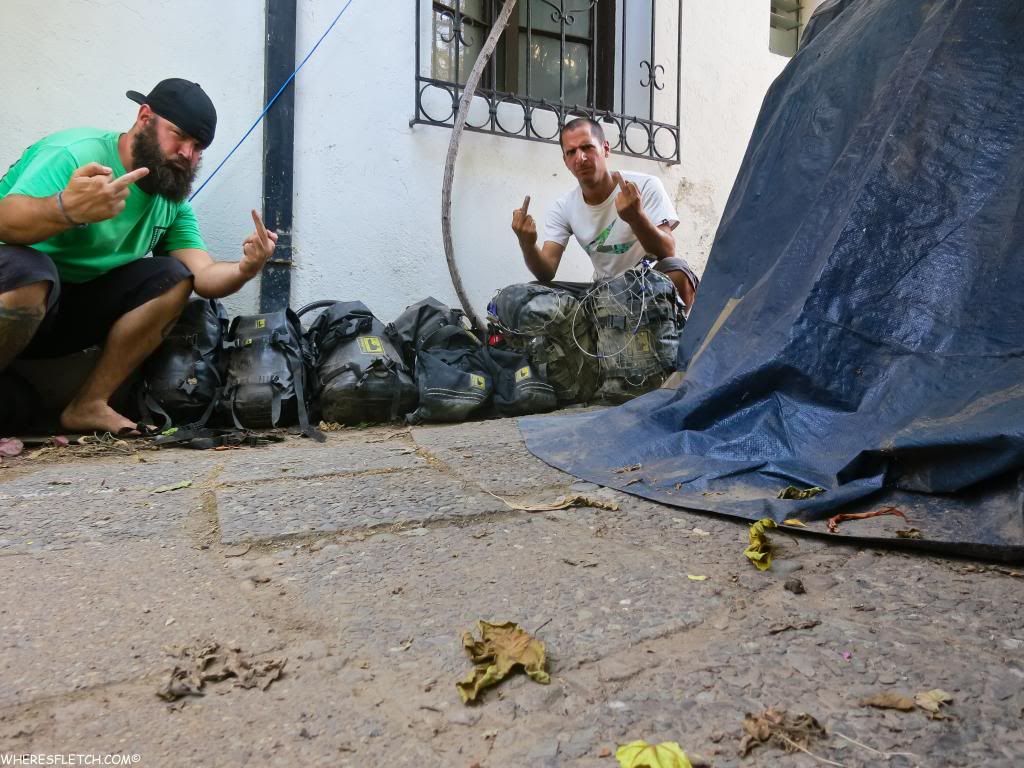 NICK AND I AGREE "IF YOU DON'T LIKE WOLFMAN LUGGAGE, THAN F#$@ YOU!!!" HAHAHA JUST KIDDING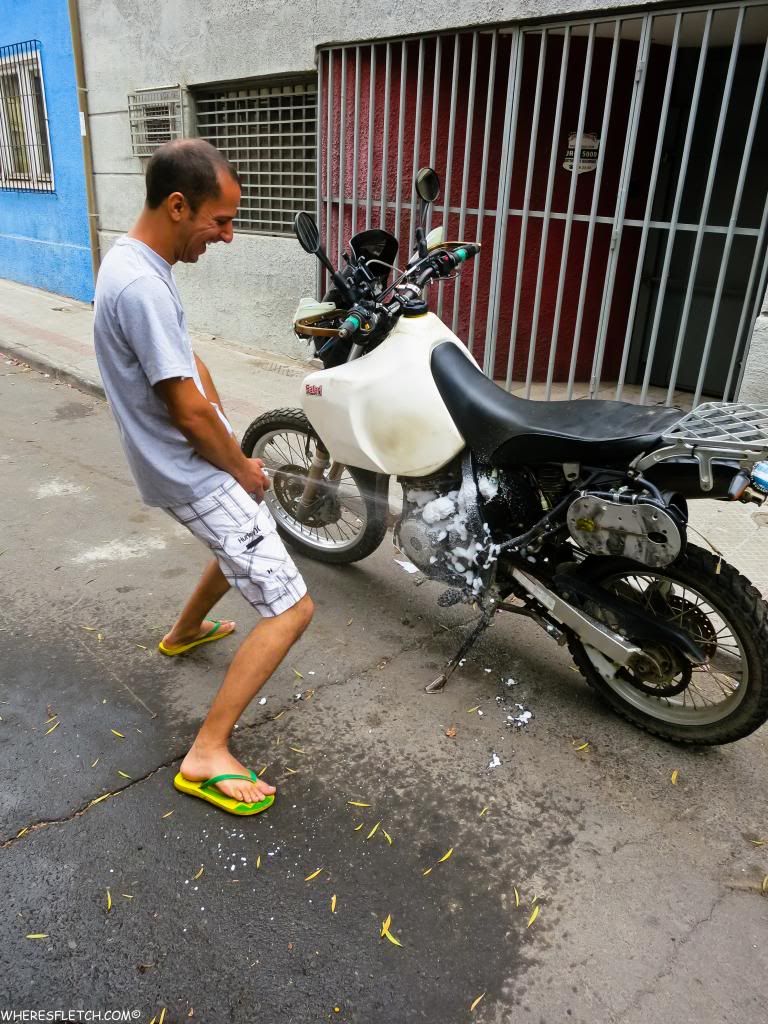 WHAT DO YOU MEAN WE ARE NOT MATURE!!! HAHA
NICK CLEANING HIS BIKE WITH A TOOTHBRUSH FOR NZ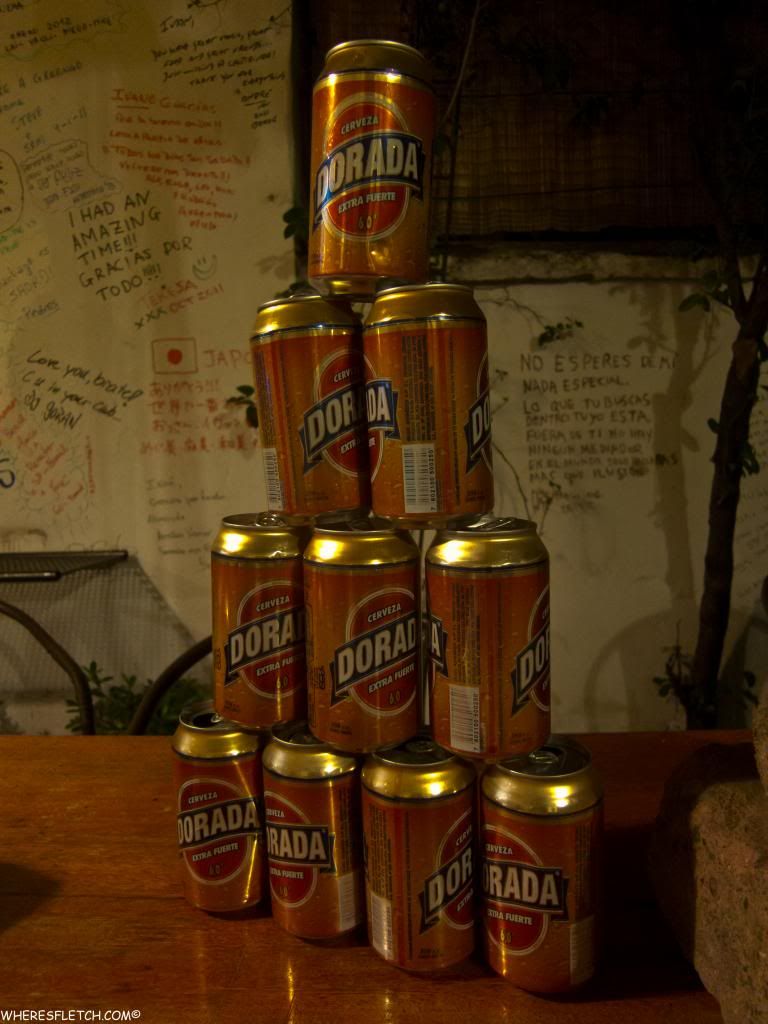 WHEN LOOKING FOR BEER ON THE ROAD, I LOOK FOR THE CHEAPEST WITH THE HIGHEST ALCOHOL PERCENTAGE.. CHILE=DORADA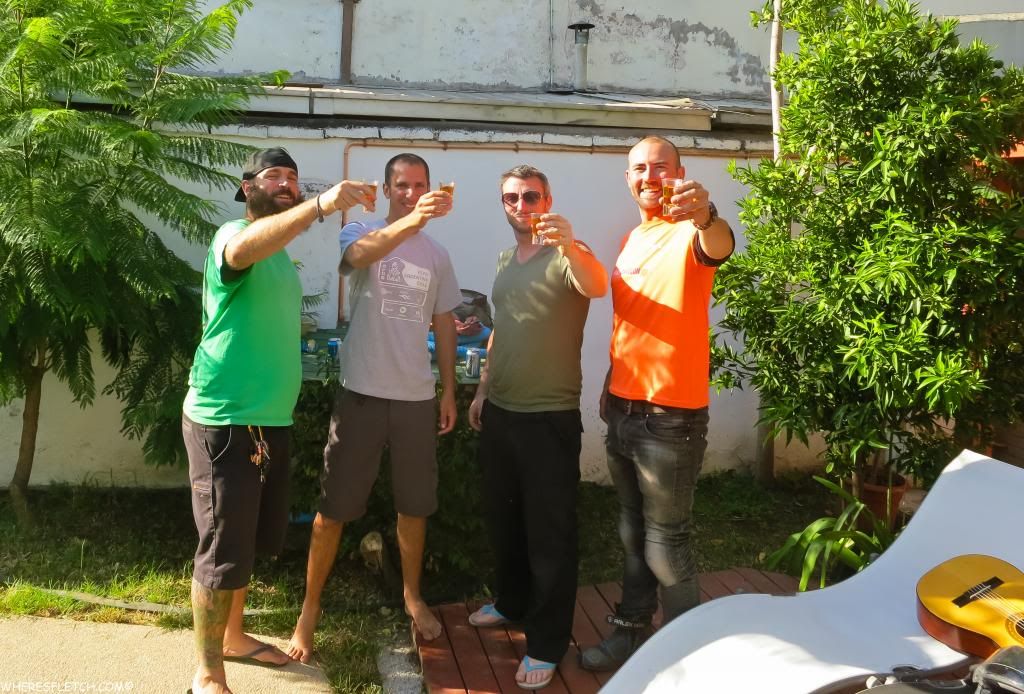 MAD GNARLY BIKER DUDES WITH WHISKEY!!! HAHAHAHA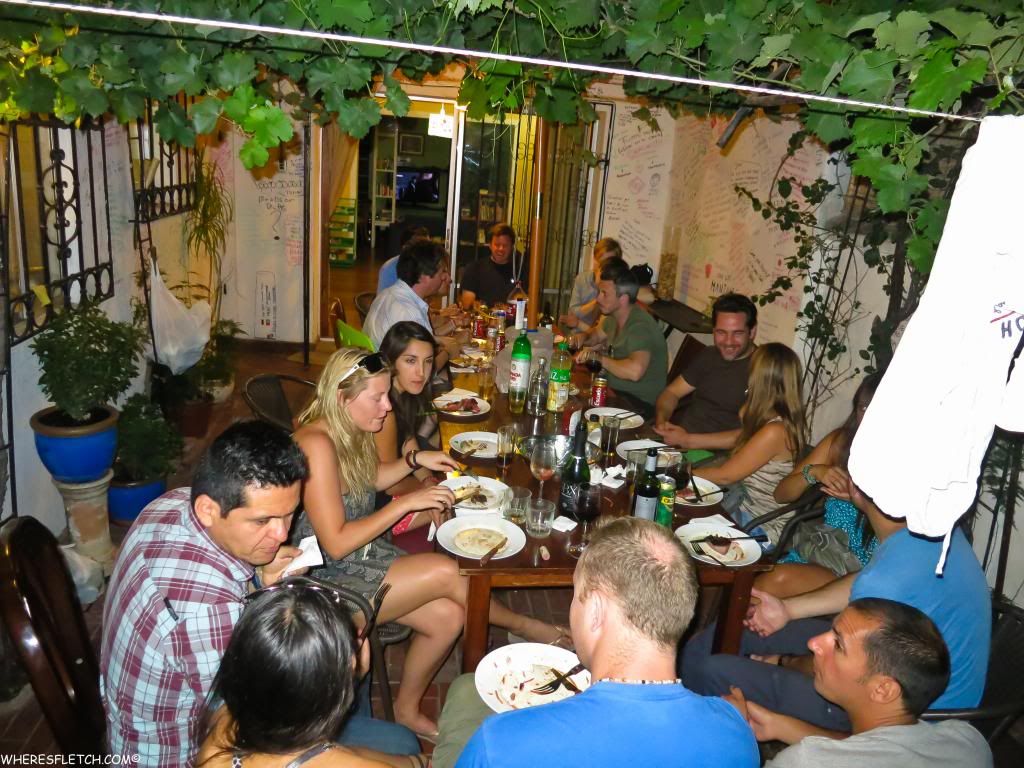 ASADO
WINNING!!!!! MY NEW BEST FRIENDS IN SANTIAGO!!!! THANK YOU COUCHSURFERS!! HAHA
MORE NEW FRIENDS IN SANTIAGO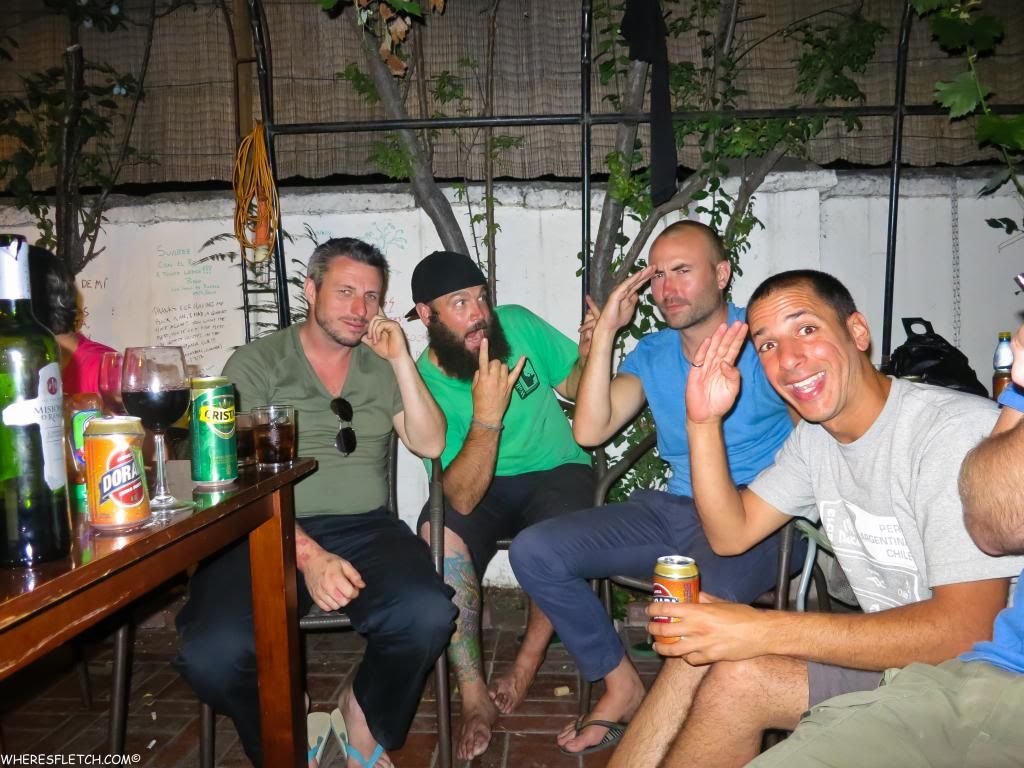 NO CLUE WHAT WERE DOING... THIS IS WHEN THINGS MAY HAVE STARTED TO GO DOWN HILL.. HAHA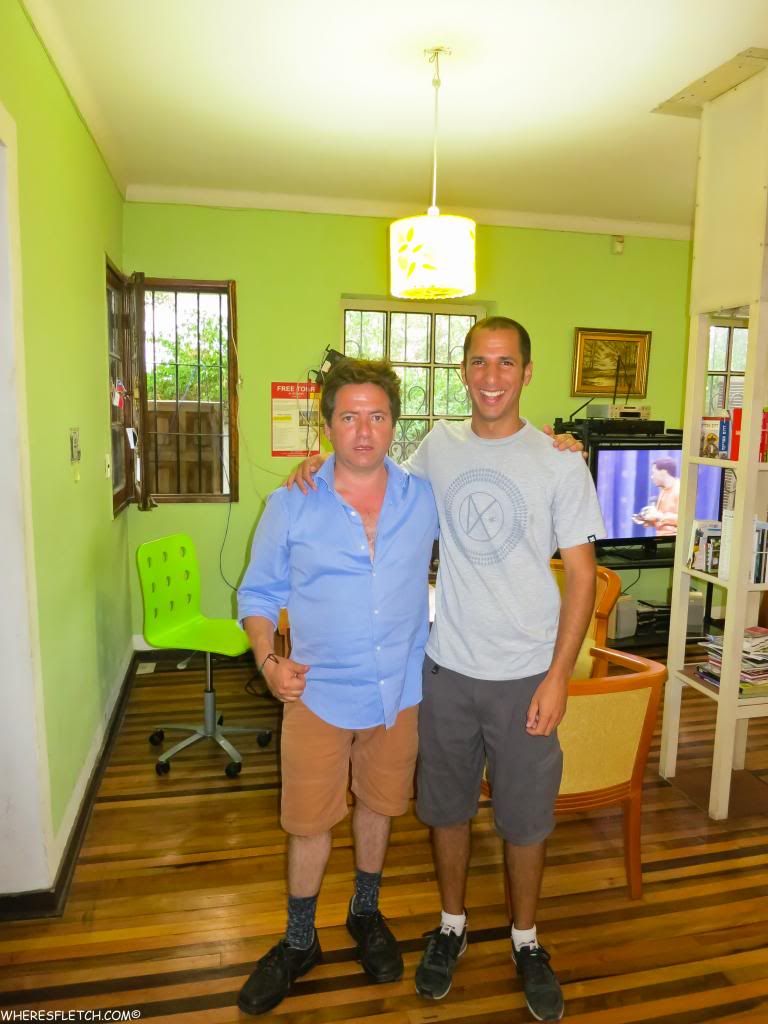 NICK AND IVAN ON HIS WAY OUT TO THE AIRPORT TO CATCH A PLANE TO NZ!!
SEE YA SOON NICK IT HAS BEEN A FUCKING AWESOME EPIC ADVENTURE EVERYTIME WE GET TOGETHER .. CAN'T WAIT TO SHRED WITH YOU ON A DIFFERENT CONTINENT IN A YEAR OR SO..ENJOY NZ BROTHA!!!
LIFE IS GOOD BIKE IS READY TO SHRED.. AND WE ARE OFF SOUTH ANDREW AND I ON THE 30TH OF JANUARY!!! SUPER STOKED!!!! WILL MISS SANTIAGO BUT DEFIANTLY NEED TO GET RIDING AND CAMPING THROUGH PATAGONIA SO SO SO STOKED ON LIFE!!! BEST CHOICE I HAVE EVER MADE WAS TO SELLING EVERYTHING I OWN, QUIT MY JOB, AND JUST GO FOR IT!!!