DAY-129-131
3/12,13,14/2012
Had to quickly scramble around fixing a shipping screw up, they never emailed me to tell me they did not have one of my parts I needed so I canceled the order. I called the direct machinist for a doohickey and riser links, and then ordered spring and chain set from another website. After sitting around on a rainy day I decided to order a pressure suit, a few crowbar lenses, and solid raingear. Everything shipped quickly and should be in Florida ready to ship to me cheaply by Friday morning, except my order from Happy-Trails which is taking forever and I am not impressed with them. I went through my luggage and organized and got rid of everything I didn't need. I met up with a friend Dave from OZ, we ran around the city a little bit together. I have just been taking it easy doing research for everything I need to do for a carnet and trying to change my travel insurance.
The 14th was a pretty relaxing day ran around with Dave, I woke up from a nap around 7pm or so just in time to meet Marc and his friend from Brazil who were headed out to a huge rival football match between Cali A team and Cali's B team (America "Red Devils") The taxi driver was not willing to take us right to the stadium to dangerous he said…ugh what did you just say? Okay... he then went on to give us detail directions on what to do and where to sit and so on so we wouldn't get our asses kicked…. Ugh maybe this is not the best idea... haha We then got out of the cab and headed for the madness; there were cops and riot police everywhere. We bought some fake tickets off of the street for 13 bucks each and headed for the "Red Devils" side. We had to wait in line for 10 minutes while everyone got patted down; I was worried about my camera second thought on that one. As I got into get patted he gave a horrible not comforting pat down and told me to give up my belt! Oh well it's just a belt sucks that I have had this Volcom belt for 8 years but I can always get another one. I walked into the stadium heart pounding not knowing what to expect. We were all nervous getting out of the taxi, tickets, line up, pat down, but all relaxed and started getting into the mood once we grabbed our seats.
We were on the second level; behind each of the goals sat all of the fans. I mean they were packed into three levels thousands of them all in Red or Green, they are so loud and crazy they separate them with the length of the field. They sung and battled back and forth the whole game singing louder and louder, dropping huge flags and so on. The first half to be honest was sloppy and crappy football. The second half was faster pace and the Red Devils scored a beauty of a header. The crowd went mad so loud and amazing. With ten minutes to go in the game and looking like the Red Devils had won it was time to get the hell out of there. We had been instructed by locals to leave ten minutes early safer and get in a cab and get out of there. I also realize we are the only gringos in these tens of thousands of fans. As we leave tons of locals who do not want any trouble are running out of the stadium and down the streets. We get to the streets and there are cops and riot patrol everywhere. We quickly find a cab and get going, there are mass amount of people strolling around getting rowdier and rowdier as we leave the area.
It was truly an awesome experience to have, the atmosphere and vibe at and around the game was tremendous. I am so stoked that I went and that we had no problems. Such a great night, got back had a few beers with the Brazilians and talked about riding around Brazil… (Hmmm maybe I should take an extra month and ride though Brazil at least the south).
GETTING CLOSE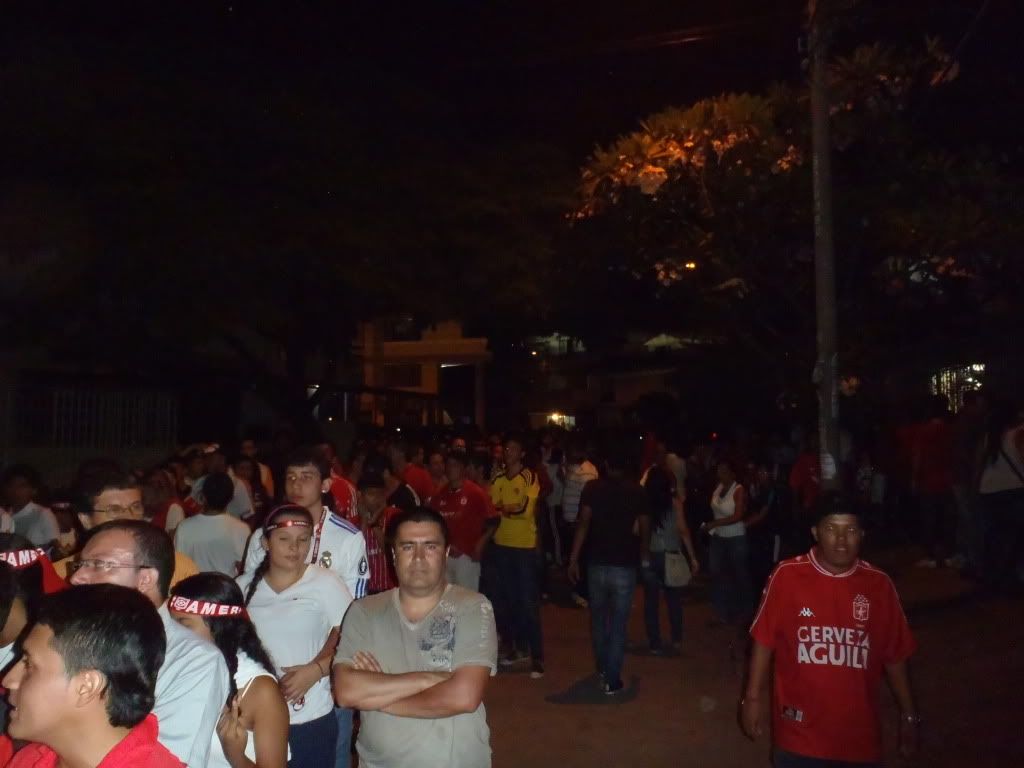 LINE UP
"RED DEVILS CROWD"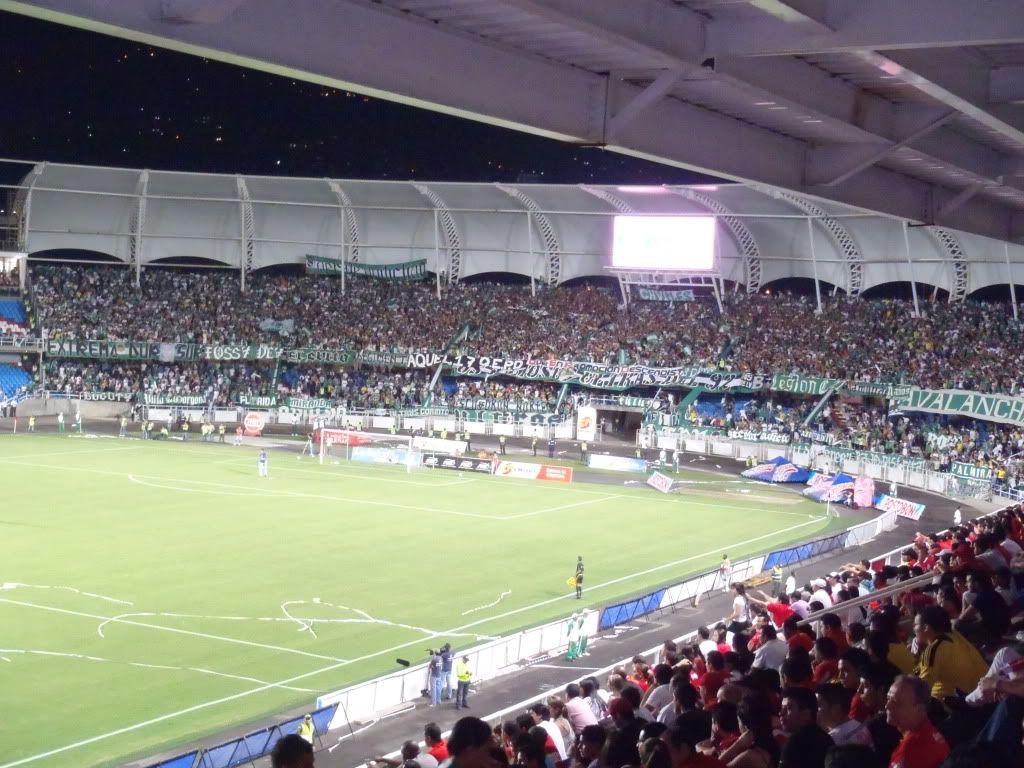 CALI'S CROWD...BOOOO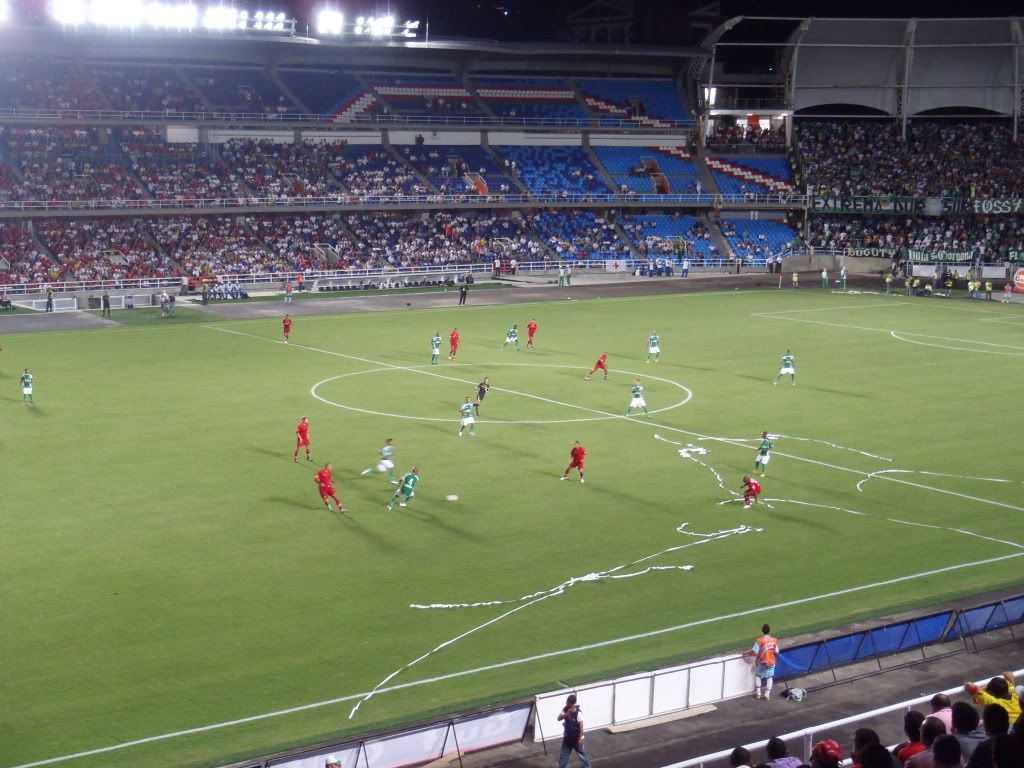 THE FIELD.. TP GETTING THROWN
FRIENDS FROM BRAZIL
DAVE FROM AUSIE
FOOTBALL YIPPPPEEEEEEE!
(THEY DON'T SERVE BEER, I SEE WHY)
THEY WERE WEARING HELMETS TAKING THE ATHLETE OFF THE FIELD.. HAHA
CALI CALI CALI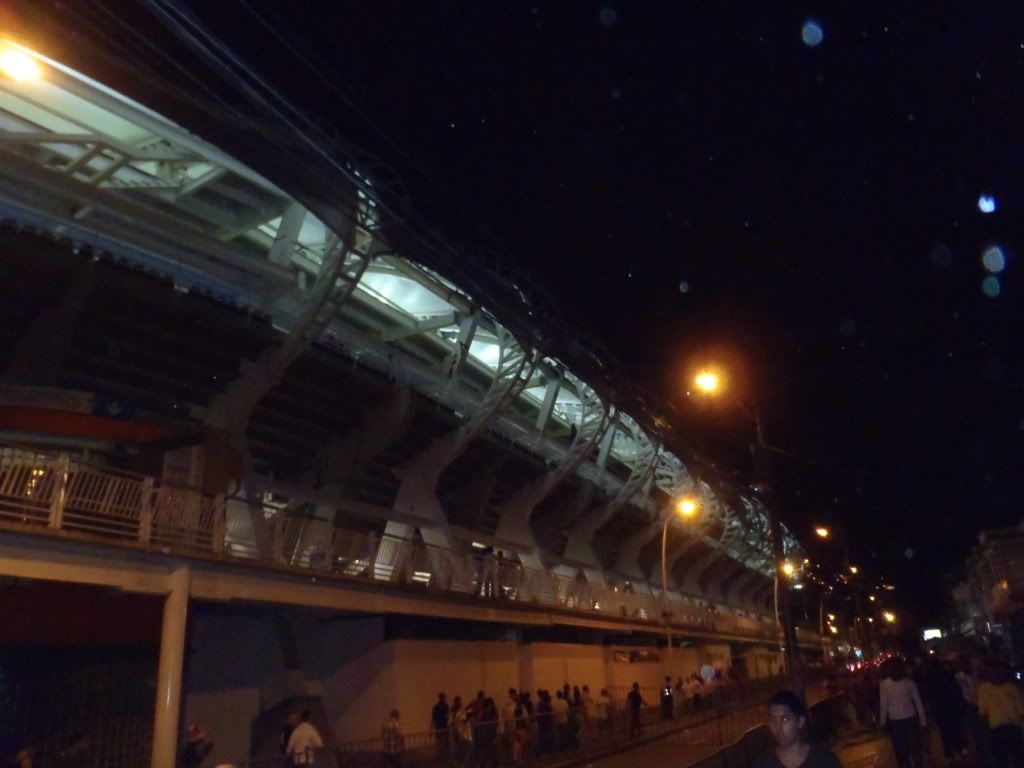 QUICKLY LEAVING THE STADIUM
GETTING READY FOR A RIOT, COP ON LEFT WEARING ALL PLASTIC!