DAY 382-385
11/18-21/2012
MENDOZA
Mendoza was nice, not my all time favorite but still very nice place. I stayed for 5 nights, I walked around a lot just taking in all of the nice parks, plaza's, and markets. But I was ready to get back into the mountains and to go to Chile. Met some nice people had a few beers, I did decide not to do a wine tour, one very expensive but also I have done them before so not a lot of interest.
I did a lot of catching up this week on my writing and picture editing. Cooked up a few good meals and had some good whiskey. Planned out my route down to Patagonia taking the Chilean side as far as possible, and then cutting over to Route 40.
DAY-386
11/22/2012
THANKSGIVING!!!
Let's shred for Chile!!
The bike all day was dogging with no power on the climb up toward the border, but was not using any coolant do to how cold it was but still burning oil. As well as the suspension going which I will have to get rebuilt again in Chile before I make my run for Patagonia, my Clutch may need to be changed out do to kept skipping, super not to stoked on the bike or all of the work and money I just spent for nothing in BA.. But that's traveling and letting random mechanics work on the bike, but that's what I get for not knowing enough about my bike. Although I have learned a lot but still have oh so much to learn ahahaha
Okay enough griping today's riding even with the bike not running awesome still had me smiling and the heart screaming "fuck yeah!!!" So nice to be back in the mountains oh how much I have missed them!! I started riding in and they were small but I was stopping for pictures and the higher I went the larger they got. I stopped at the base for gas and talked with a couple if nice Argentinean BMW and Harley guys before heading on. I passed an old Sled (Snowmobile) and had to turn around for a picture then decided to stop for some food and to take a break. The road was awesome super twisty with incredible views and massive tunnels some over 2 miles.
I pull up to the border and there was a massive lineup of cars waiting, so of course I rode passed all of them toward the front of the line. I jumped off the bike and walked up to the police asking where I can park and where to go to get the show on the road. The police were actually really helpful and awesome, they told me to skip through and go and park in the back area. So I walked back to my bike and the guy who I had just passed gave me a thumbs up and waved; but as I got back to the bike there was a guy standing there checking it out. I smiled and said hi… You always run into people wanting to chat and find out your story... yeah not in this case......... (This is the first time this happened to me)..
"Do you think your special" –Old Man
"Ugh what"
"What gives you the right to skip in front of everyone, just because you're on the bike?"
"Yes and I just got waved through by the cops, So obviously it is not a big deal"
"Oh so you're just going to go and skip more people?"
"Yes yes I am, have a good one, great talk"- haha
"Figures so common of you guys"
So then I headed in and a police gave me a walking escort to a safe parking area for me to leave the bike and do my paper work. I walked in and was standing in a massive line; a guy who had helped me outside walked up grabbed me and told me to follow him. We skipped the line; he gave me some papers to fill out, and then walked me into the auto area where there were no lines. As I was standing there filling out the paper the old man was back!!!
"You think you can just skip everyone!" Old man
I was over him at this point...
"Whatever you say"
"You think your special"
"The cop gave me permission, go yell at someone else"
"You guys think you can drive however you want just because you're in Latin America, would you drive like this in Colorado?
"Yes"
And then he turned to the immigration officer and told him I had skipped the line out side
"The police waved me through go yelled at them"
He then walked and whispered something else into his ear and walked away... Just in time to walk outside and watch 5 other bikers skip the line and park their bikes and walk inside, he walked away pissed... hahaha
I filled out my paper work and smashed through quickly, walked outside to get checked out. (I had been warned they x-ray all of your bags and so on) I was a little worried since I have my full Knife kit, Bear spray bottles, and a bunch of muscle relaxers from y friends Sister who is a doctor (due to an old injury flaring up.
The first lady walked up asked me to open all my bags and show her everything. You serious all of them? Then we opened my tank bag, she moved my hat and then pointed at my duffle, I opened that she saw my dirty boxers on top and said I was good to go… hahaha
The next guy came up and shook my hand looked over the bike asked a few questions, and then asked about my stuffed animal. Animal from the Muppets that is Zip tied to the front crash bar. He said I was all done, but then caught his eyes on my other crash bar that has Rabbit ears zip tied on that Pablo gave me for good luck. He asked if I had the rest of the Rabbit in my bag?? I thought he was joking, he was not. I told him they were good luck; oh cool I need you to take those off. I cut them off and went to hand them to him... ugh no thanks he pointed at the lady who had done the first search, she put out her hand with her head turn.. hahah not stoked I put them in her hand and she walked to the trash barely holding them..
I was off again and was so stoked pulled off at the first ski area took a few pics and then headed down. There was this one section of 30 switch backs broken off in two stages dropping over 1000meters or so. 3,000ft or so. So much fun and smooth, the views were incredible. I love the mountains it is just where I belong I think. The rest of the ride was smooth, until I pulled into a toll booth with no Chilean money. They would not take Argentinean peso, they would take a US dollar I didn't have one. So I just sat there arguing with the lady, the guy behind was nice of enough to offer and pay my toll. I pulled off at the next stop to find an ATM. As I pulled into Santiago my direction I got off line were wrong, I also asked a cop and after a long time of explaining they realized I had no idea, so they told me to follow. They kicked their lights on and we headed off, got me on the right road and waved me through. I stopped after awhile after I had passed through Santiago. Finally after a phone call and a lot of driving in circles I was (A) wishing I wasn't such a bad ass/ idiot and used a GPS hahahah (B) new better Spanish I finally found it with a quick riding down a sidewalk and going the wrong way on a street I made it to an awesome Hostel with safe huge amount of parking for bikes called Ventana Sur Hostel, also one of the cheapest one's in Santiago. On a top note also just got voted tope three hostel in South America by hostel bookers.
I had been lost in Santiago for almost two hours haha.. Pulled in met great people and walked to the grocery store to find something Thanksgivingish. I bought a chicken, can of corn, beer, and M&M'S haha
Happy TURKEYDAY EVERYONE!!!!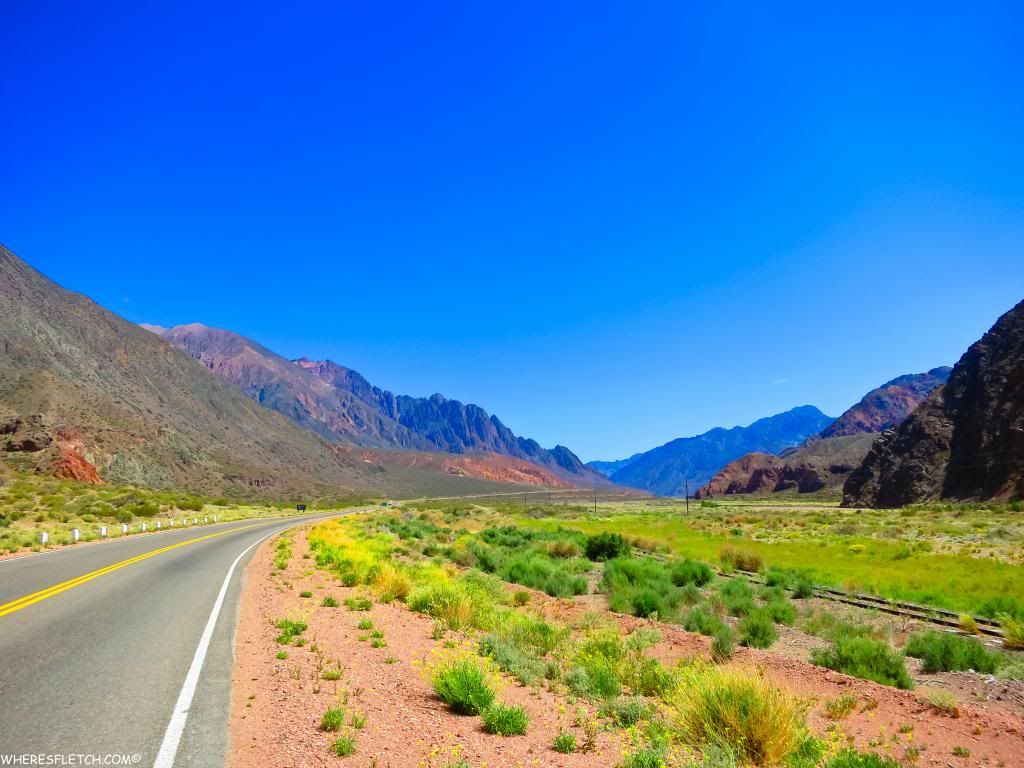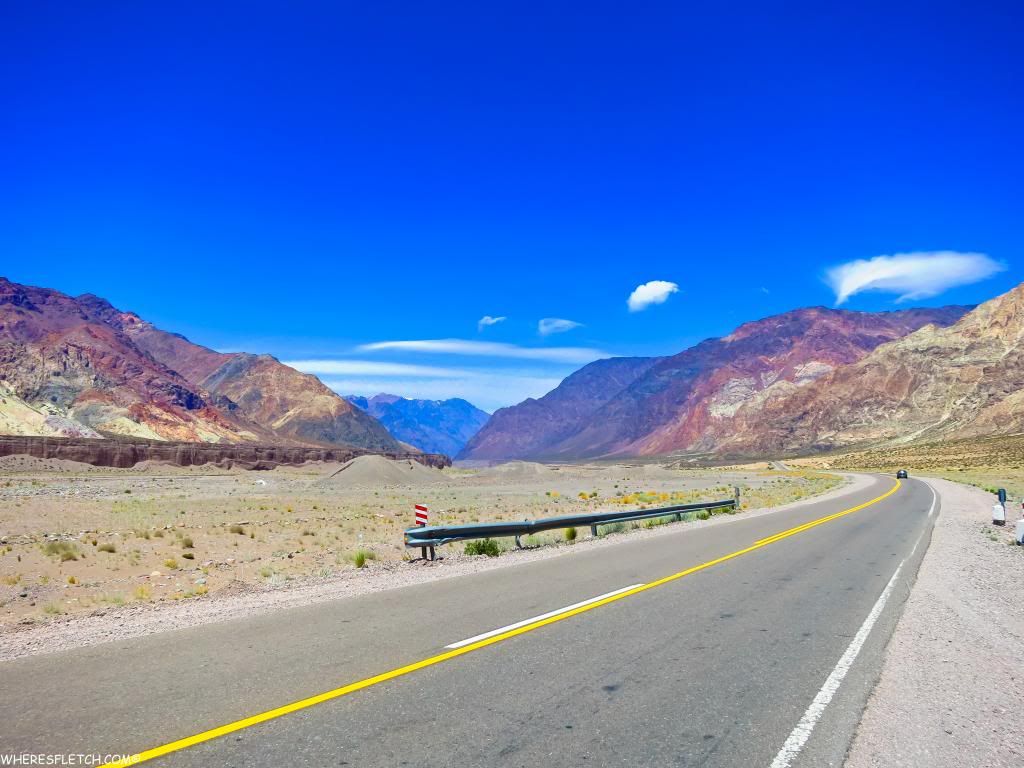 HEADING INTO THE ANDES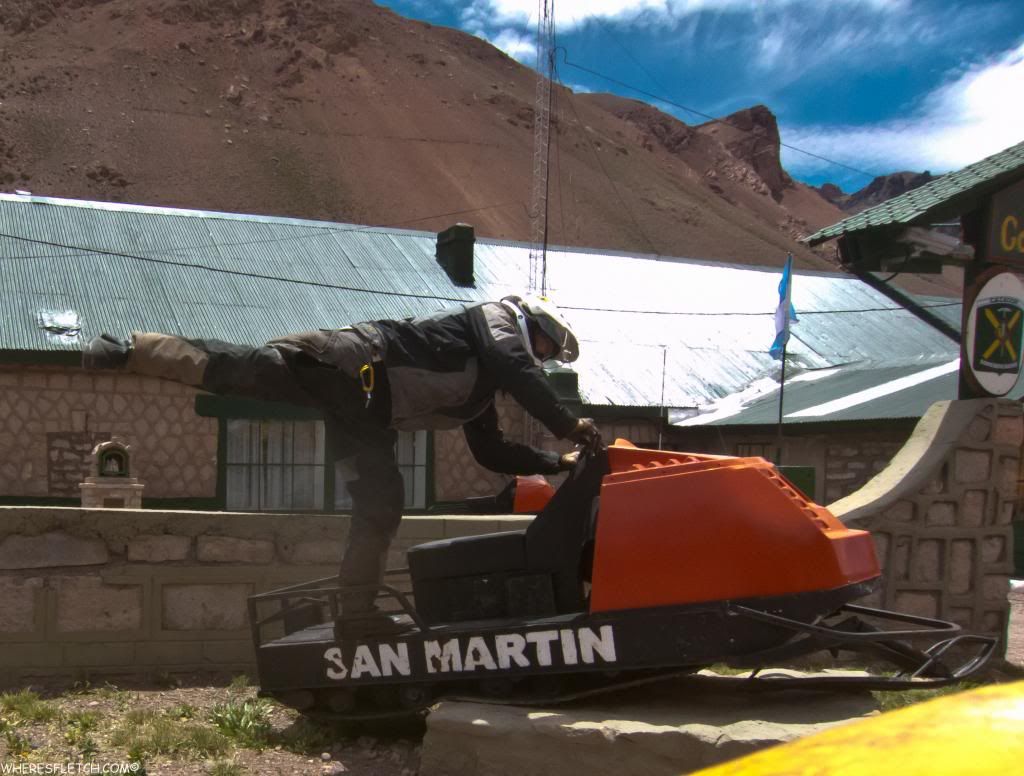 THROWING DOWN A SIDEHILL ON NEXT YEARS POLARIS RMK PRO FOR MY CB HOMIES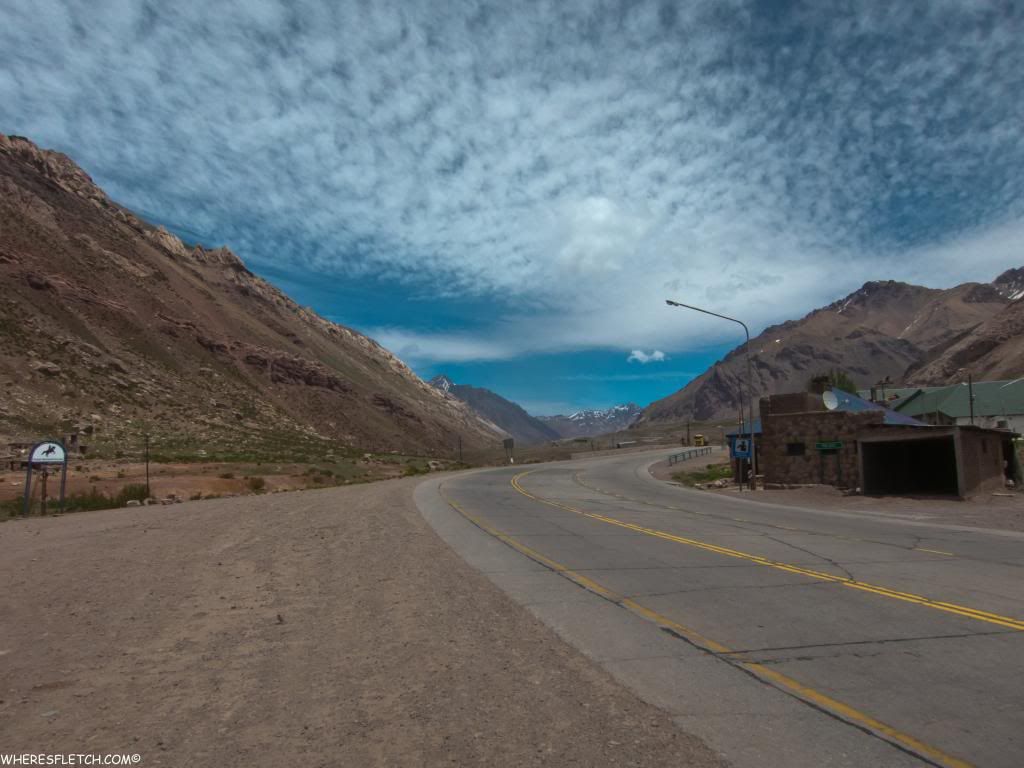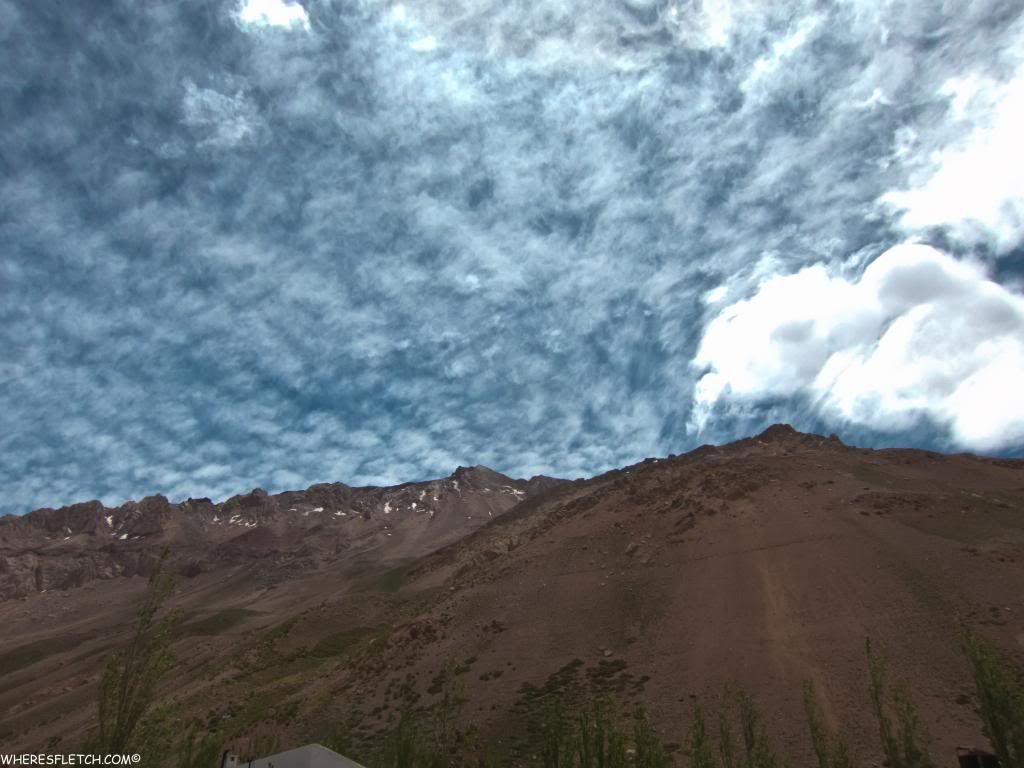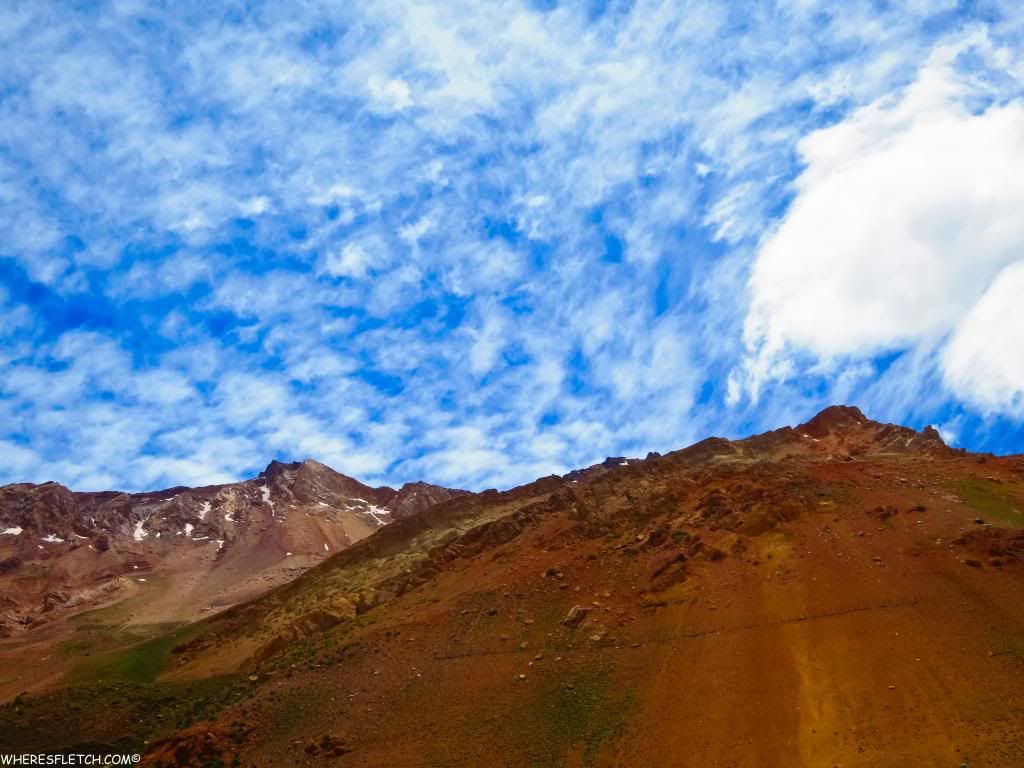 RAD CLOUDS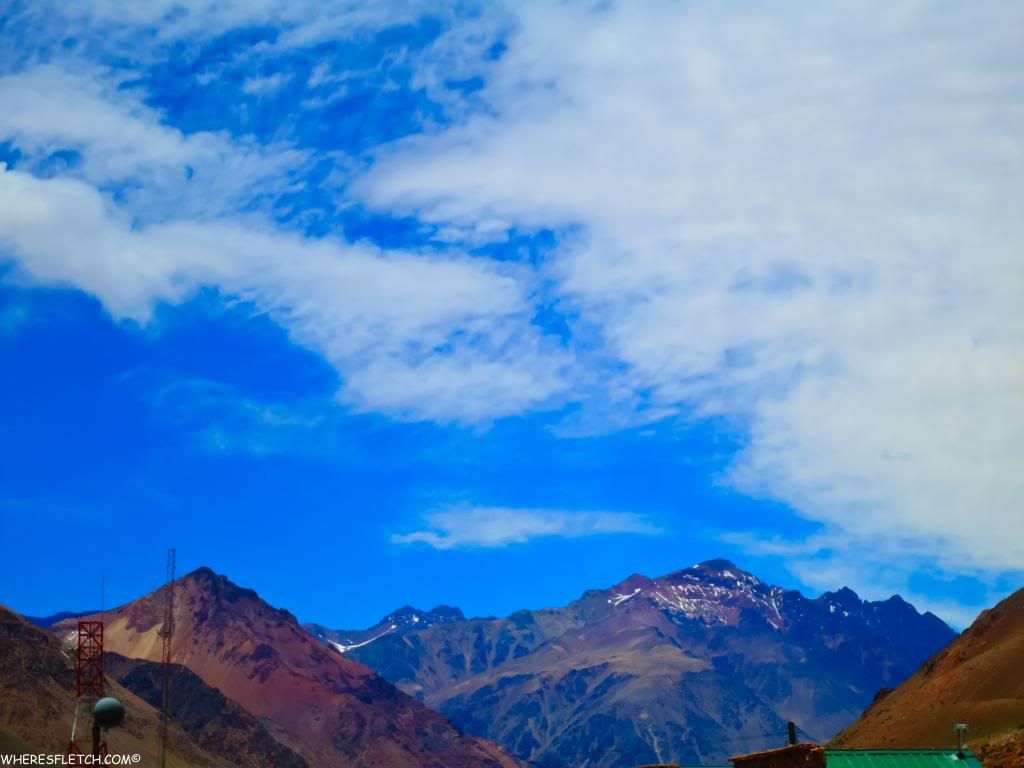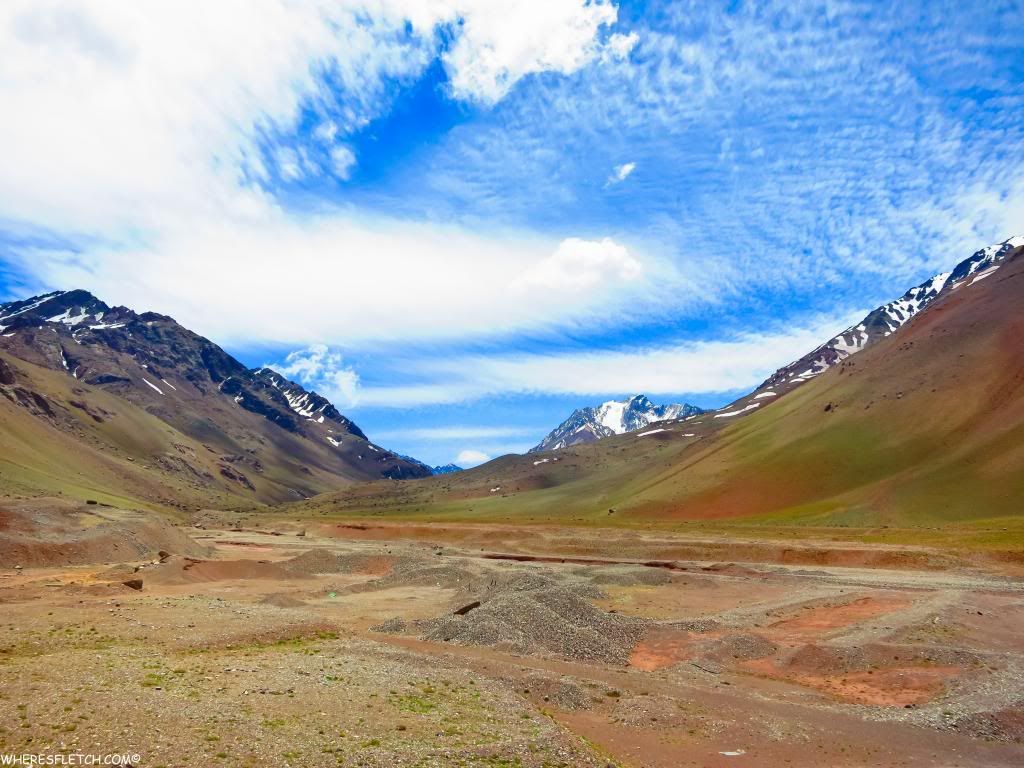 START OF THE ANDES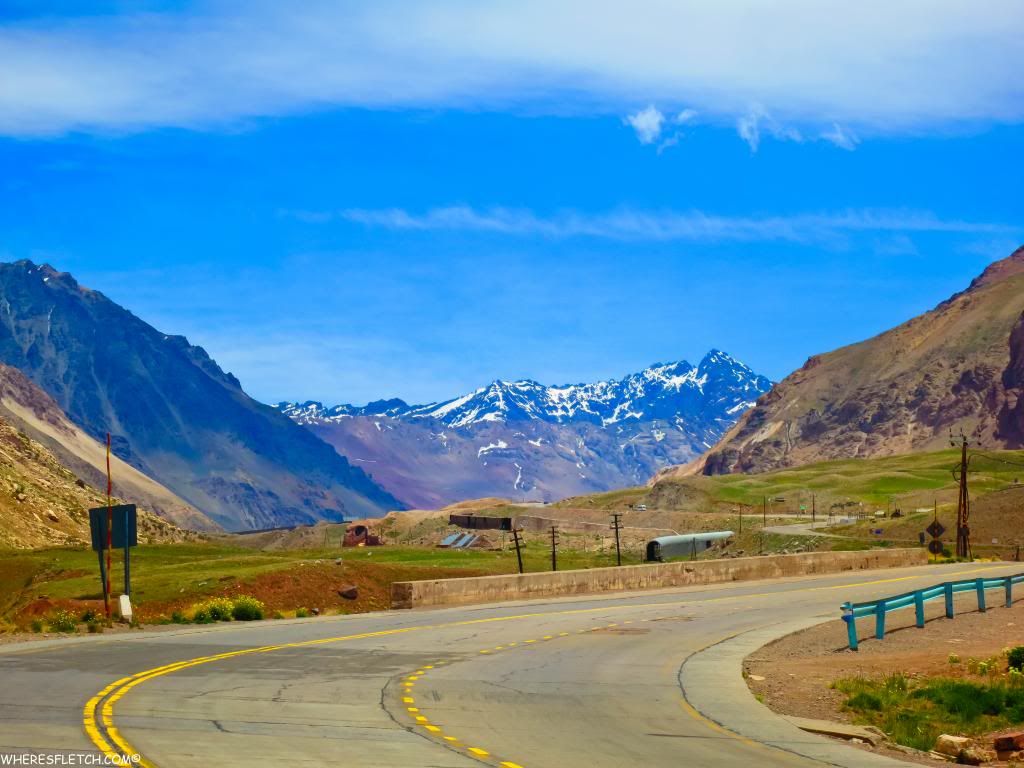 INCREDIBLE VIEWS ON THIS SMOOTH ROAD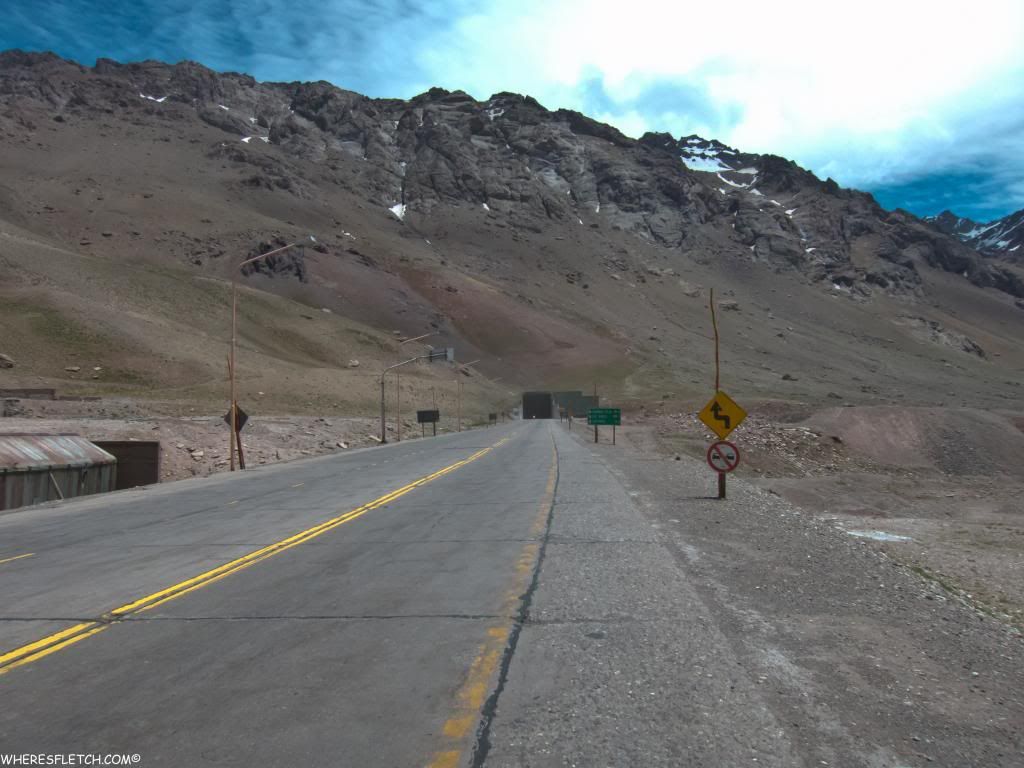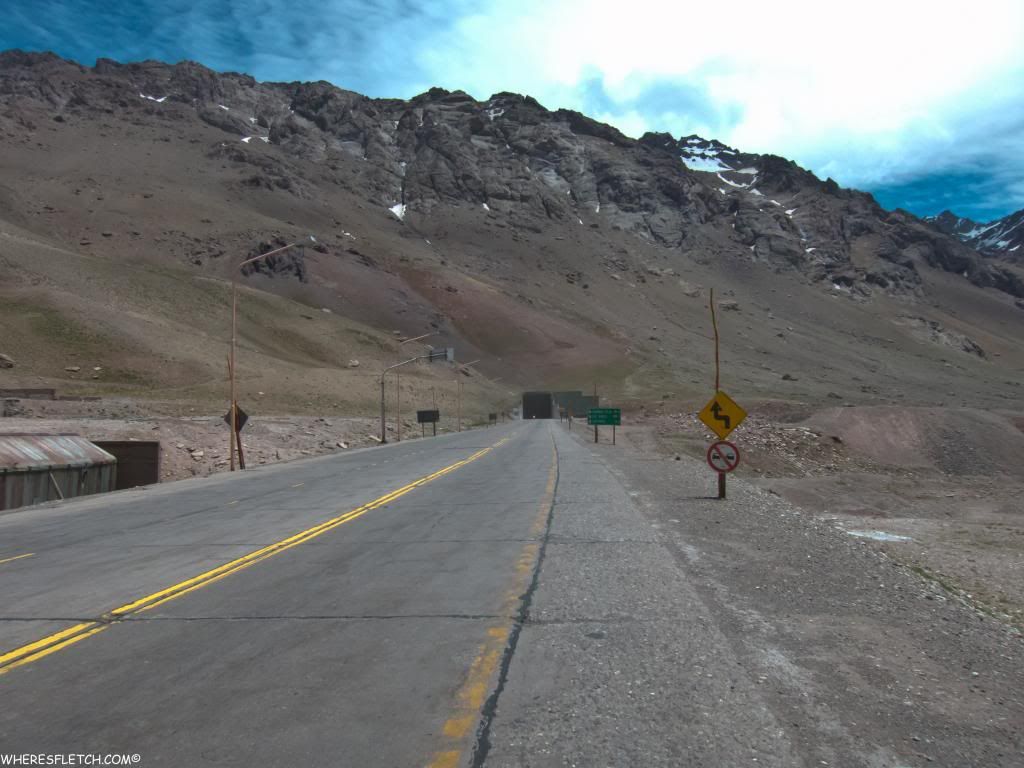 CHILE IS ON THE OTHER SIDE OF THIS 2+MILE TUNNEL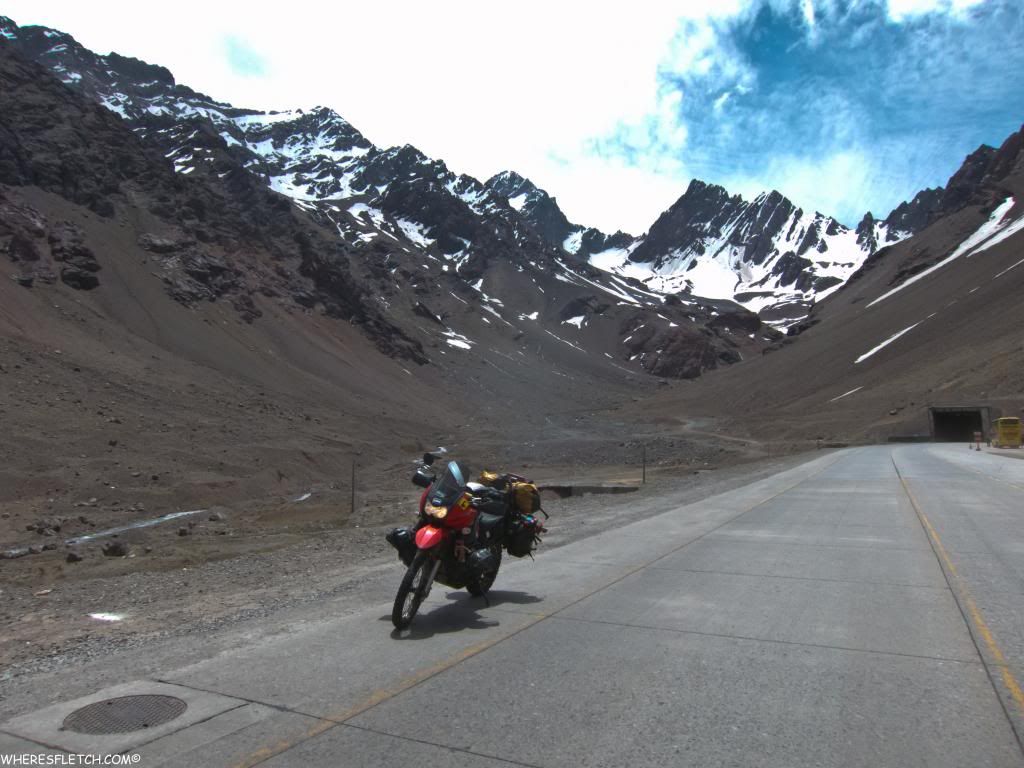 ON THE OTHER SIDE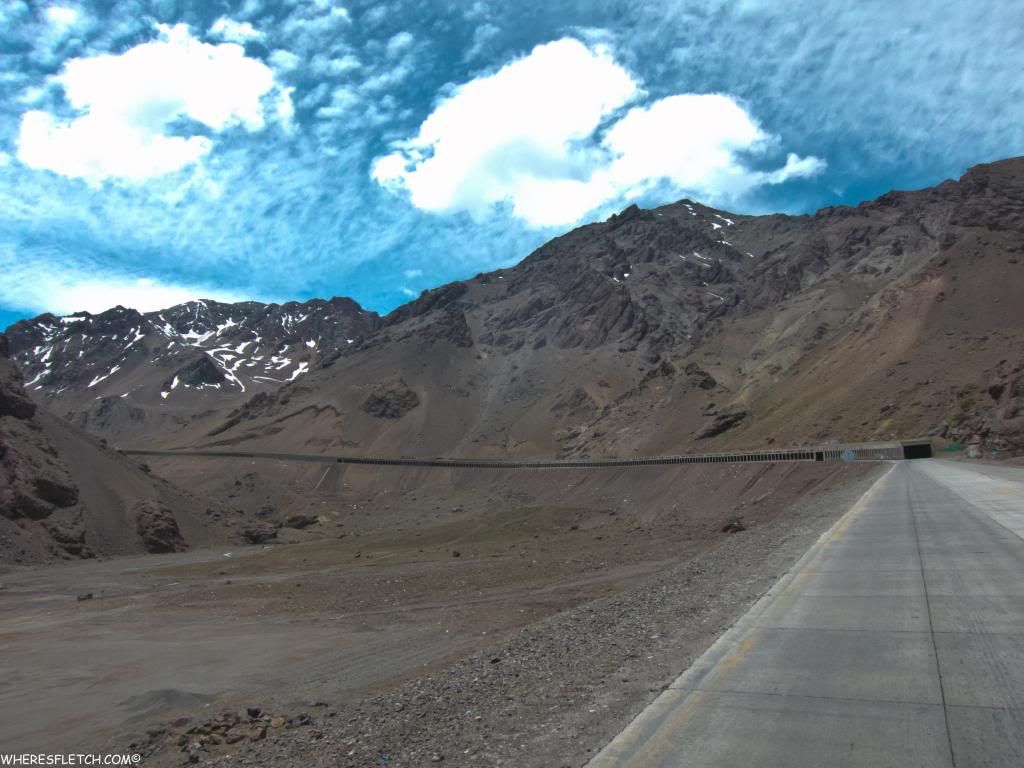 AVALANCHE TUNNEL
WELCOME TO COUNTRY 14 WITH ME.. THANKS FOR RIDING ALONG!!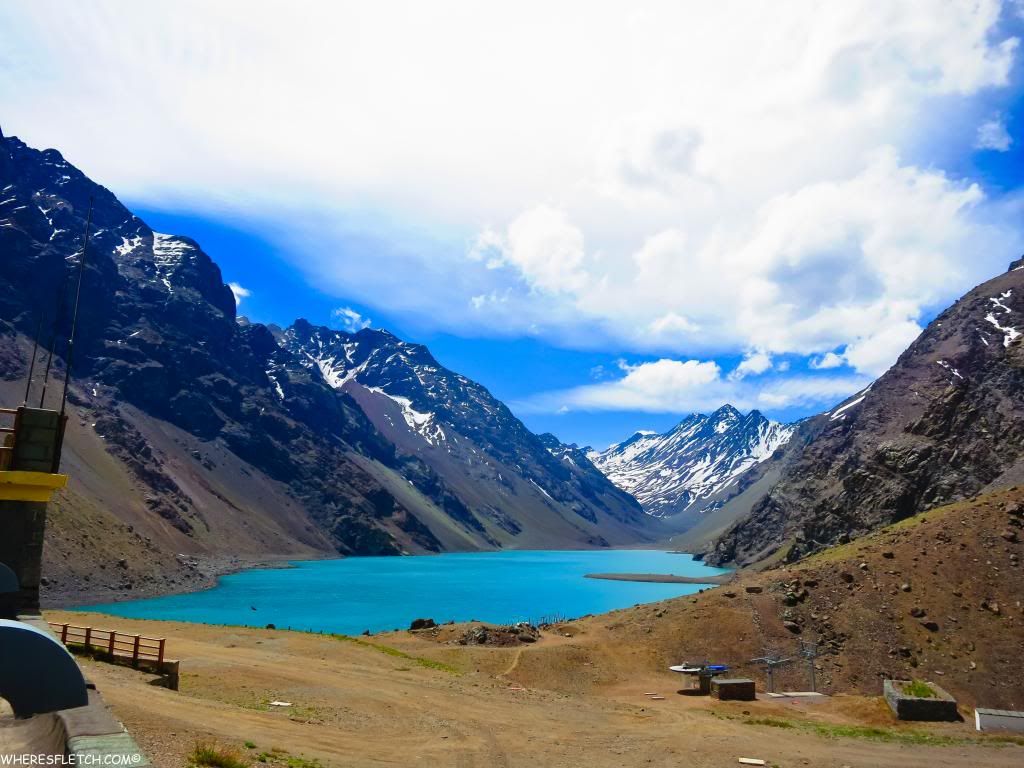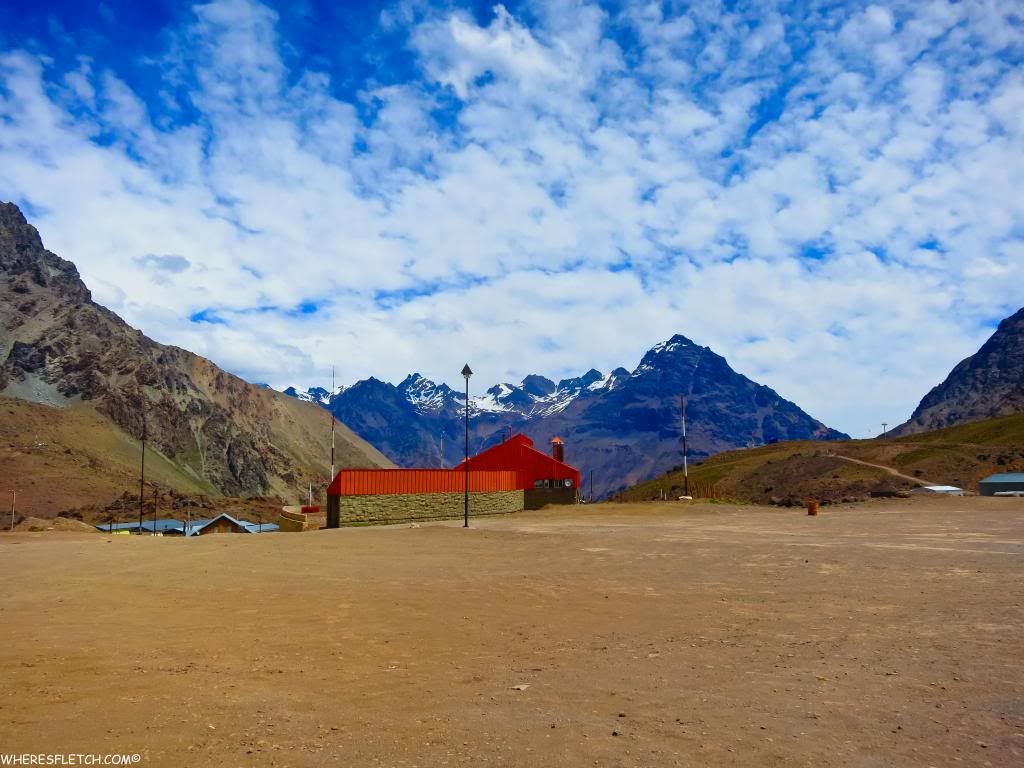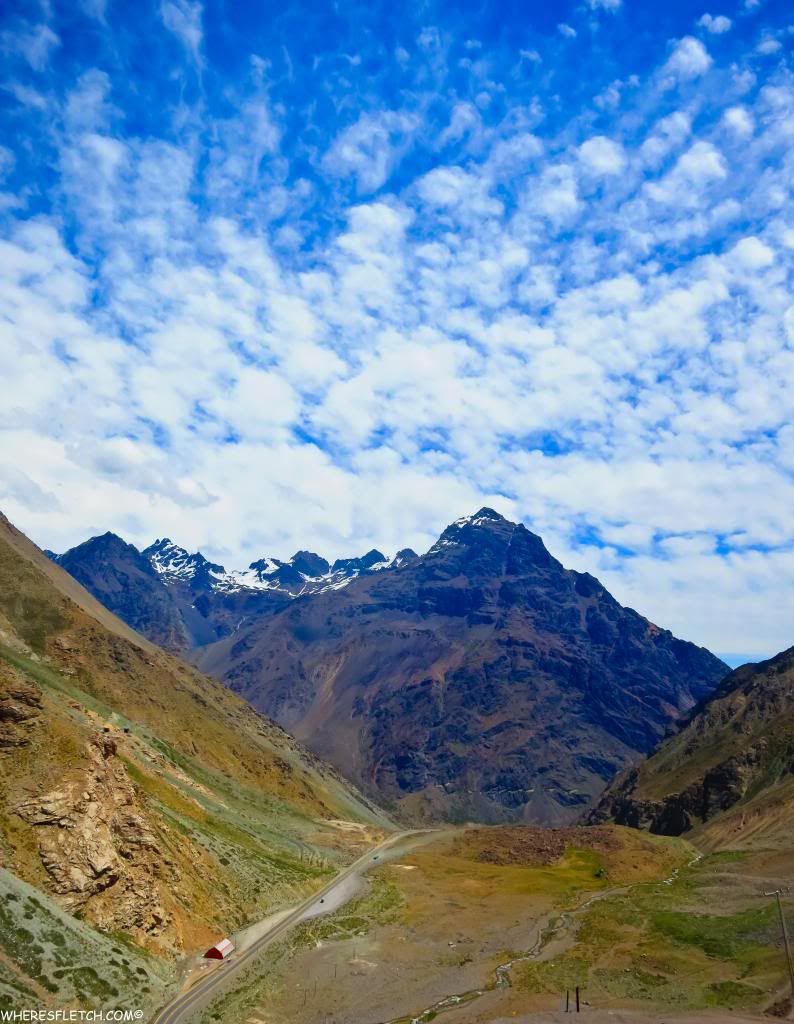 WELCOME TO CHILE MY FRIENDS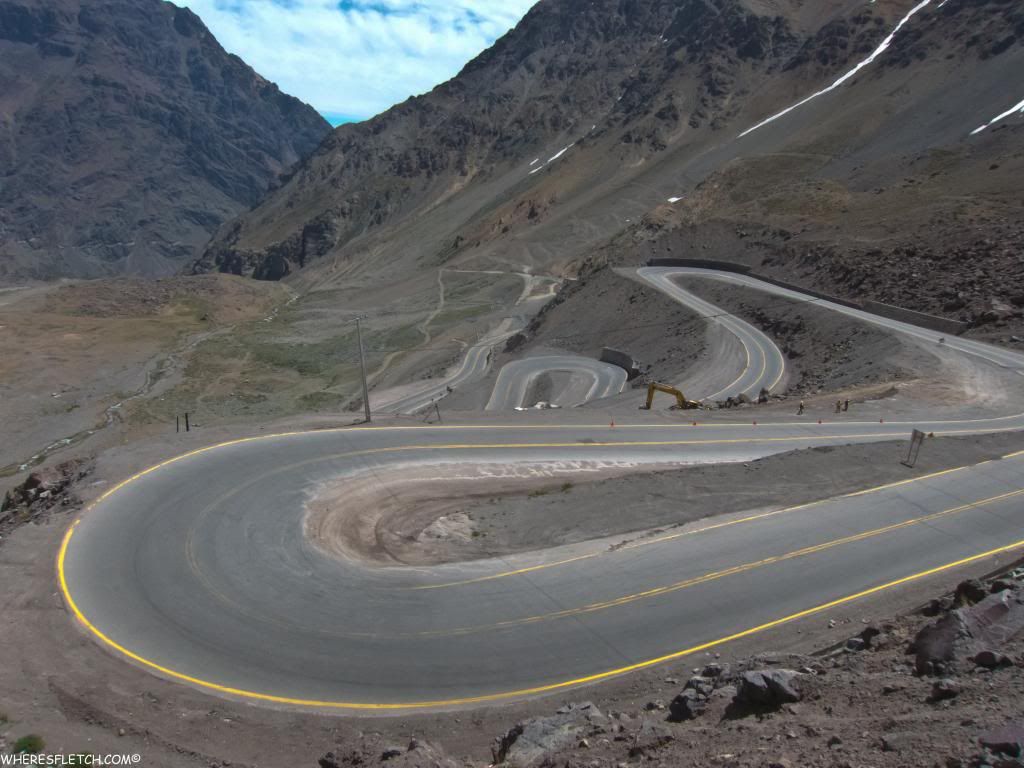 FOR SET OF THIRTY SWITCHBACKS DROPPING DOWN 1000 METERS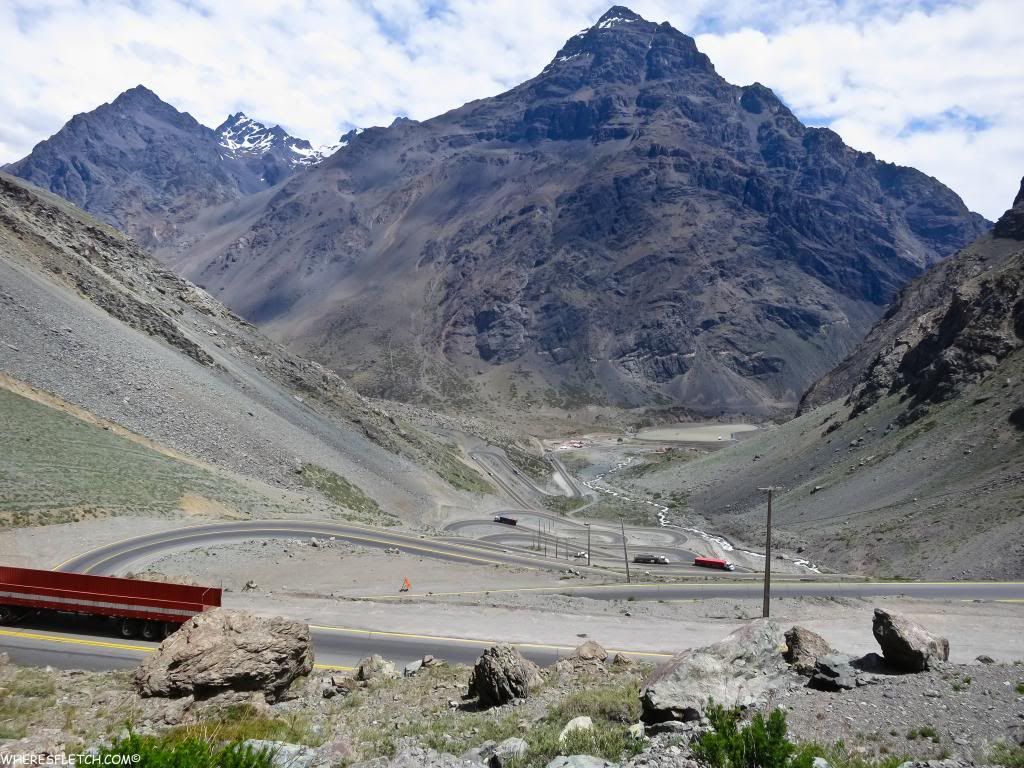 SECOND SET OF SWITCHBACKS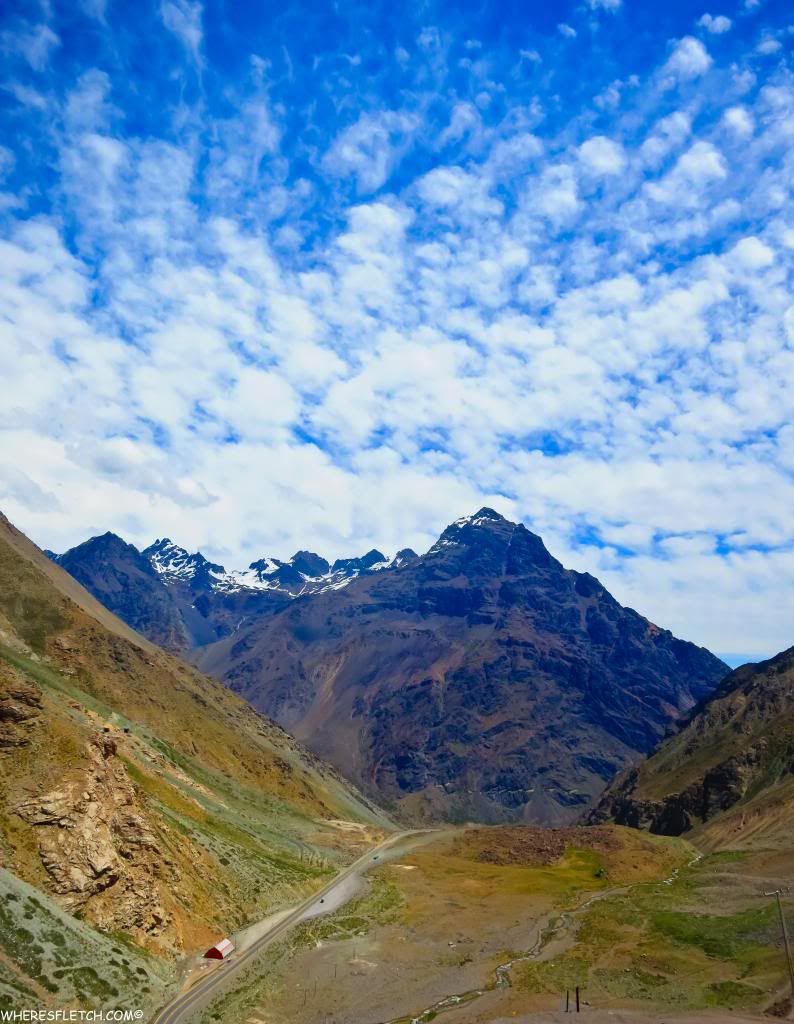 YUP, IT OFFICIAL I AM JUST HAPPIER IN THE MOUNTIANS!!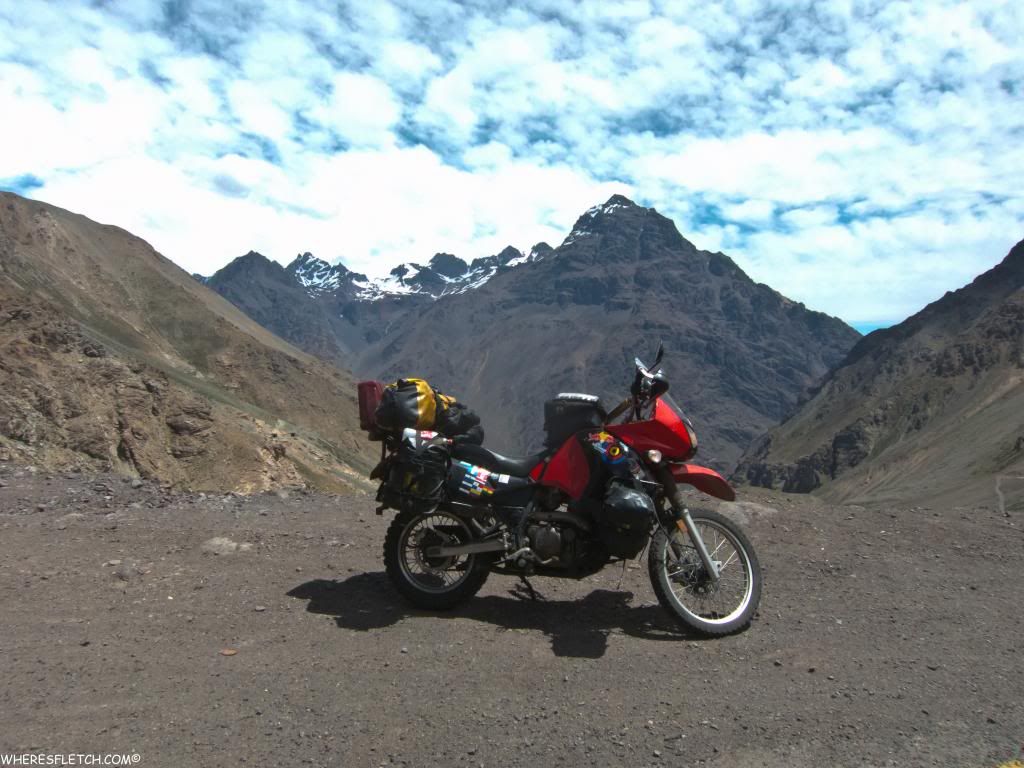 ANIMAL ON THE OTHER HAND NOT SO STOKED TO BE BACK IN THE ALTITUDE
ONE LAST SHOT OF THE ANDES FOR NOW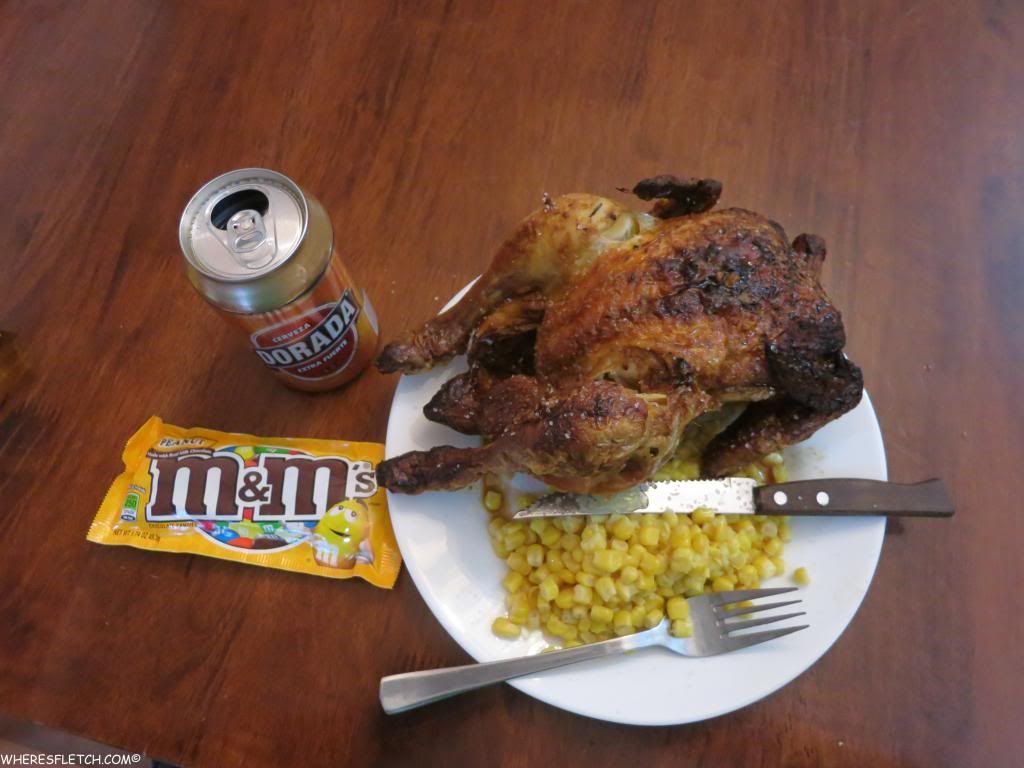 HAPPY THANKSGIVING!!!