If you do not want to see or read about a lamb being killed and butchered
DAY-375
11/12/2012
YOU MAY WANT TO SKIP THIS ENTRY IF YOU DO NOT WANT TO SEE OR READ ABOUT A LAMB BEING KILLED
If your not a fan just skip this one..Fletch
I woke up at 7:30am and headed to find Pablo, he pointed me toward Luis's room. He was already out milking the cow's, it took me a few tries but I finally got the milk flowing. I walked around and collected 20+ eggs from all of the hen houses and then Pablo and me walked into the fields. As we were walking, Luis rode by on a horse and started chasing through the sheep and cows. Pablo showed me the natural well and then we caught up to Luis as he was tying up a three month lamb and jumping onto his horse with it. We walked back to the barn, sharpened up a knife and hung the lamb.
Not going to lie I was a little nervous, never killed an animal first hand; alright I wanted this put up or shut up… I was ready knife in hand and I walked into to the gated slaughtering area. I was instructed what to do, hold the head, knife was placed in the correct place, and just need to push…. Alright Breath and push.. nothing alright push like a man and there it went. Crazy it was like the movies you could have the blood bubbling and the lamb gasping for air, with one more slice it was over and she was day. The nerves were still making it kick around I thought it was still alive but it turned out to be the nervous system. Luis took over and showed me how to skin it and break it down.
I changed my oil and tore apart my bike, once again. I checked the spark plug, shit what the hell it is running lean!?!?!?!? Well why is it smoking like that?? Huh weird. It is also leaking coolant out the back fender where the run off hose is. I put everything back together and now it is smoking a more white smoke. I packed up my gear and headed into the main house for my veal dinner!!! They had done a braise with it which had made it incredibly more delicate, I had three servings it really was just that good!!!! Such an incredible experience to get to go from field to plate with in one day..
I headed to bed knowing I had a good day of riding tomorrow.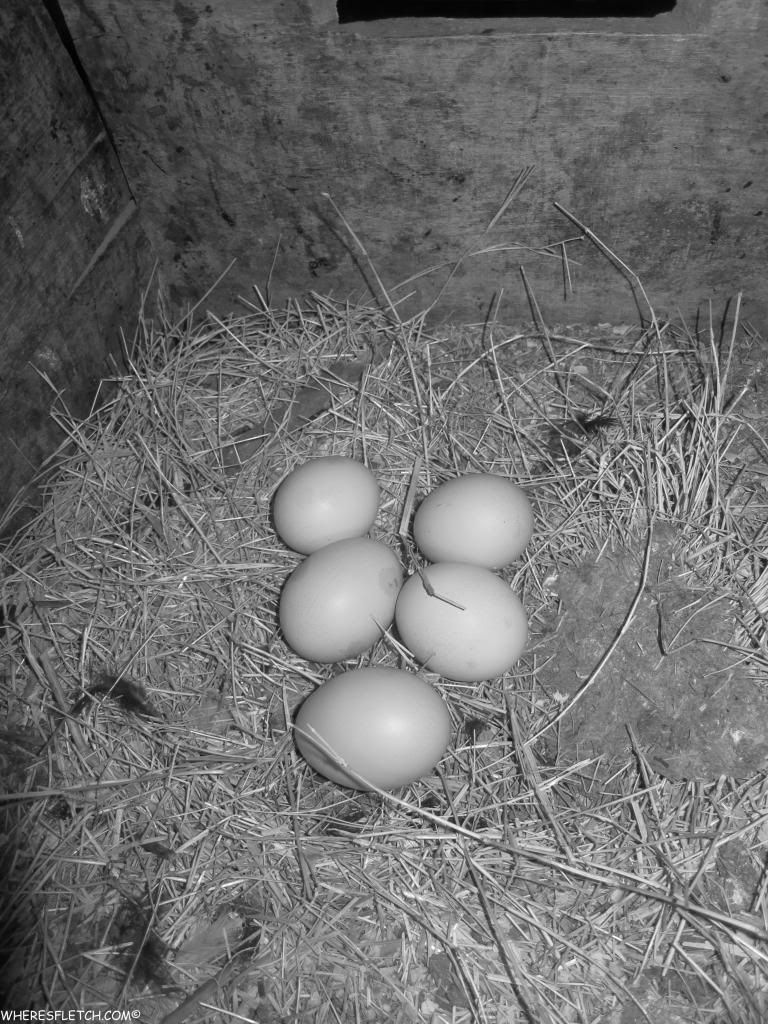 COLLECTING EGGS!!!
NO BIG DEAL JUST MILKING A COW IN URUGUAY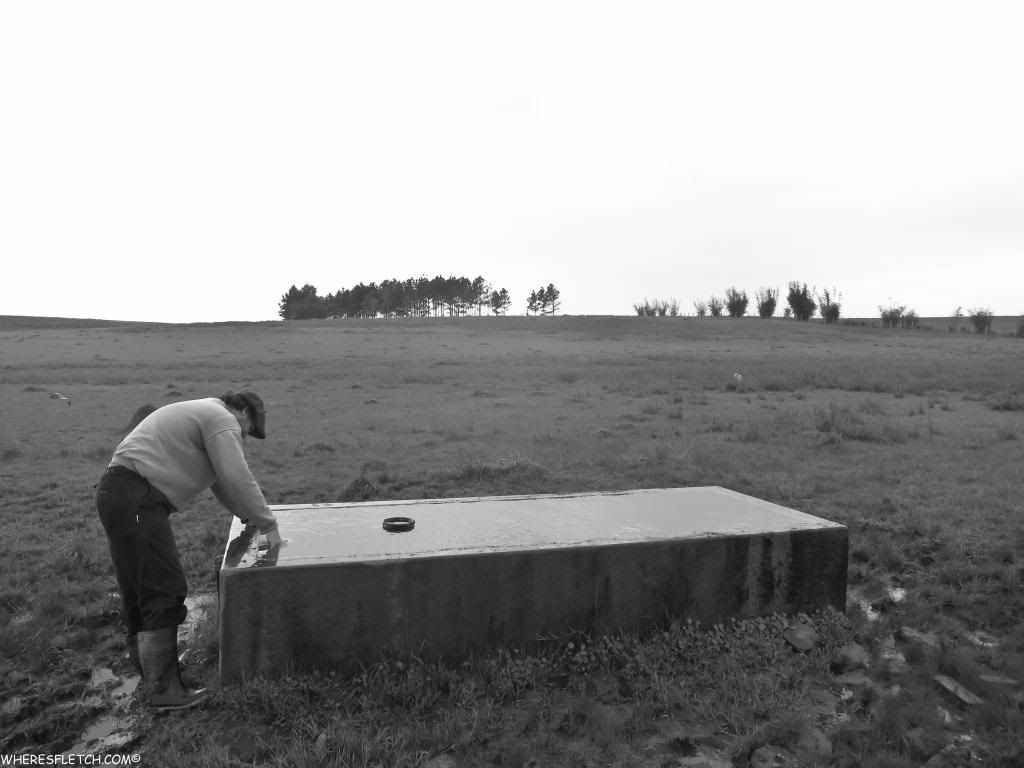 SHOWING ME THE NATURAL WELL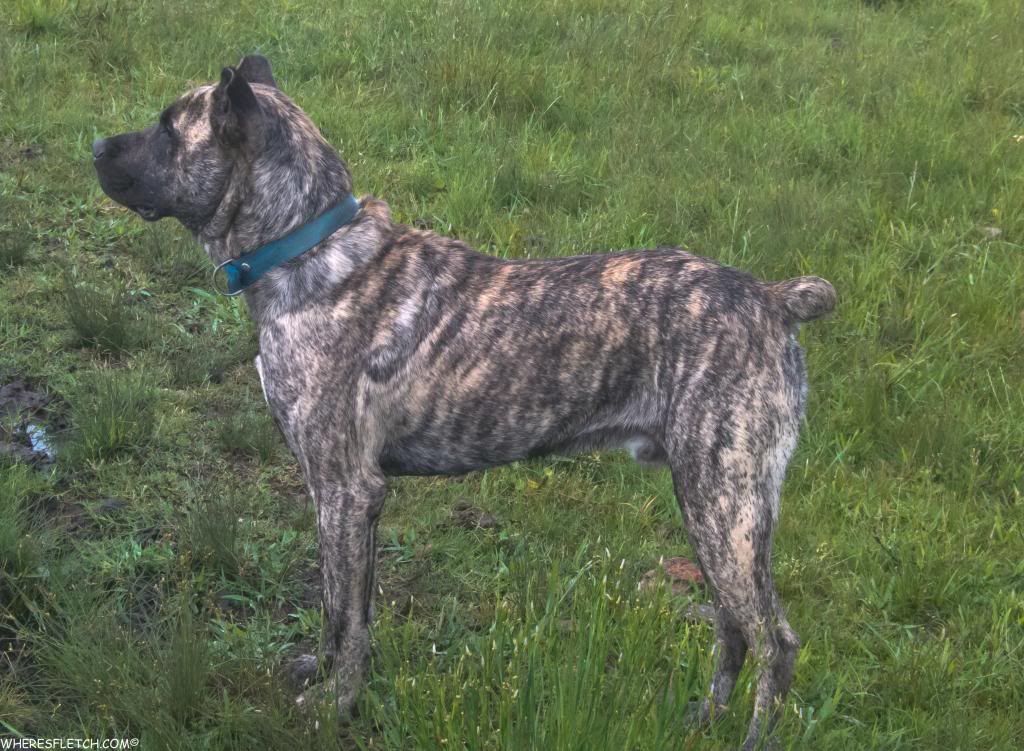 LOCAL URUGUAY BREED- BADASS DOGS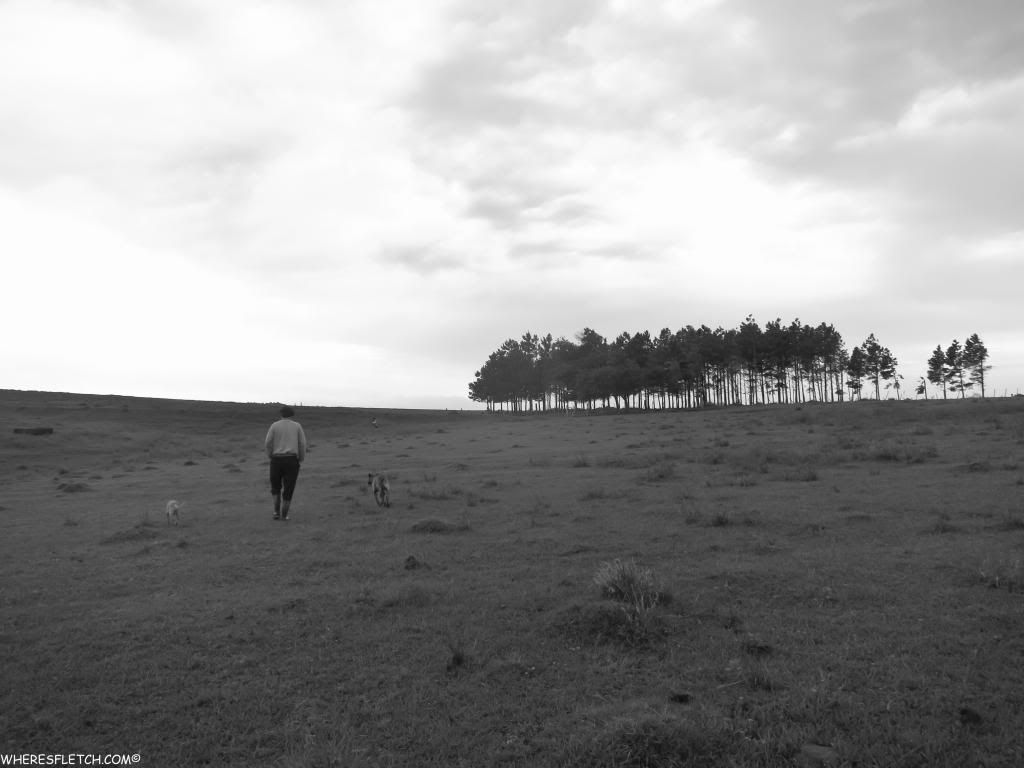 WALKING OUT TO PICK OUT OUR LAMB FOR DINNER
LUIS ROPING THE LAMB
HEADING BACK TO THE BARN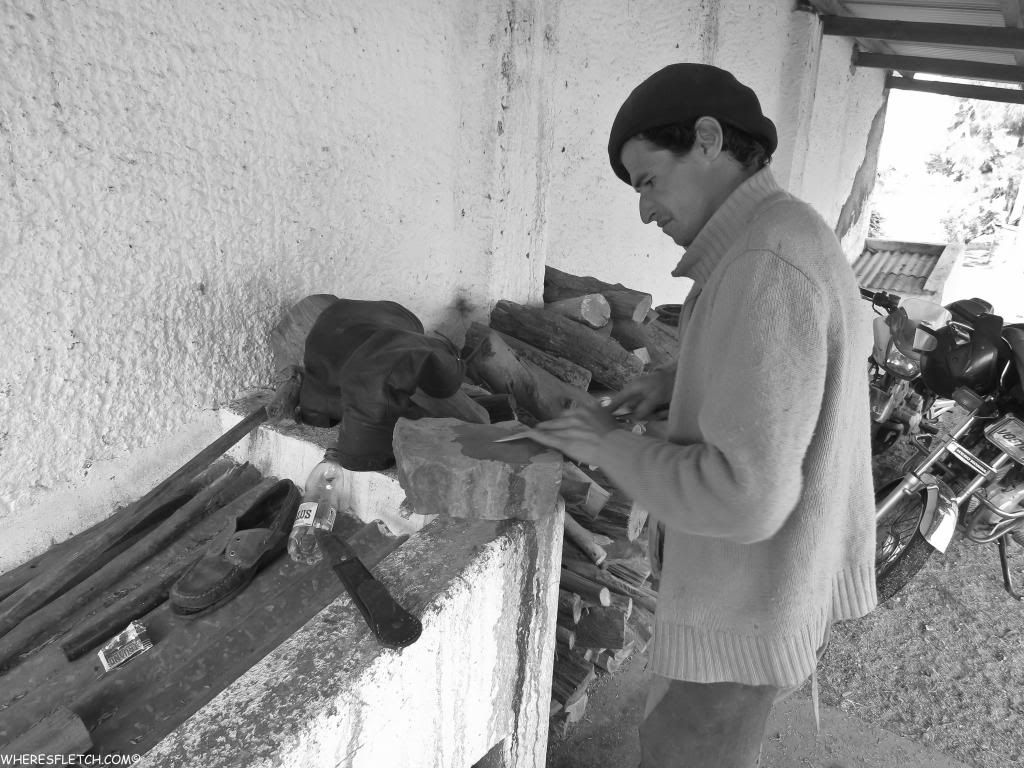 HE IS JUST SHARPENING HIS KNIFE ON A SMOOTH STONE WITH WATER NO BIG DEAL
JUST BOUT GO TIME
NO TURNING BACK, LETS GET DINNER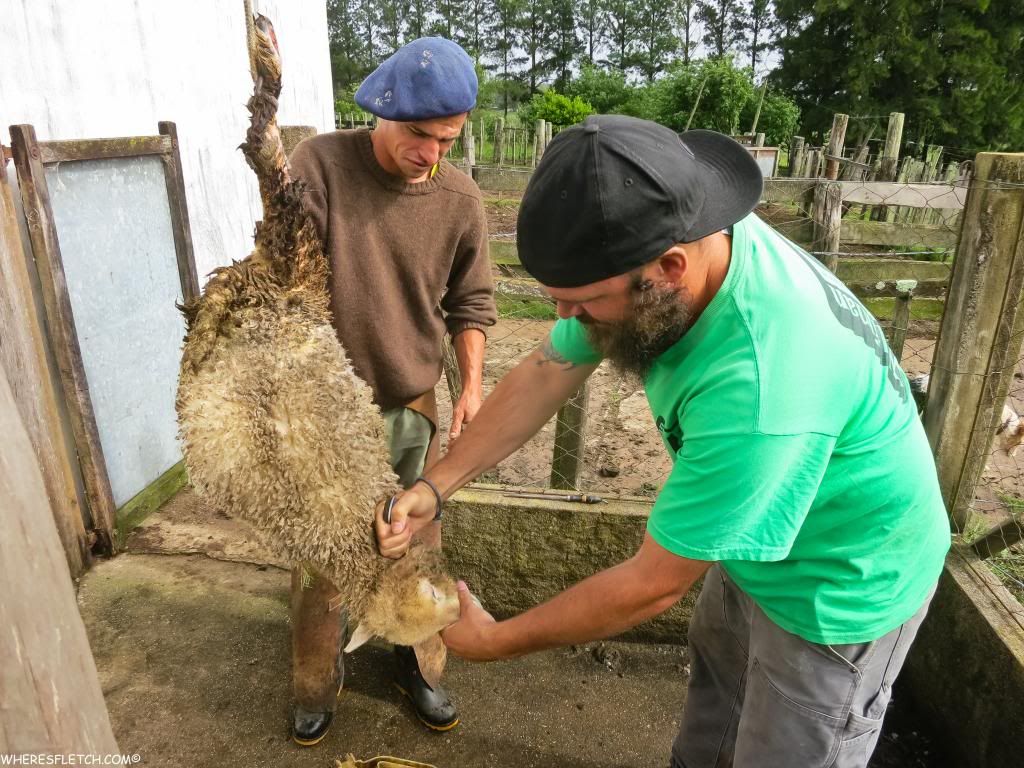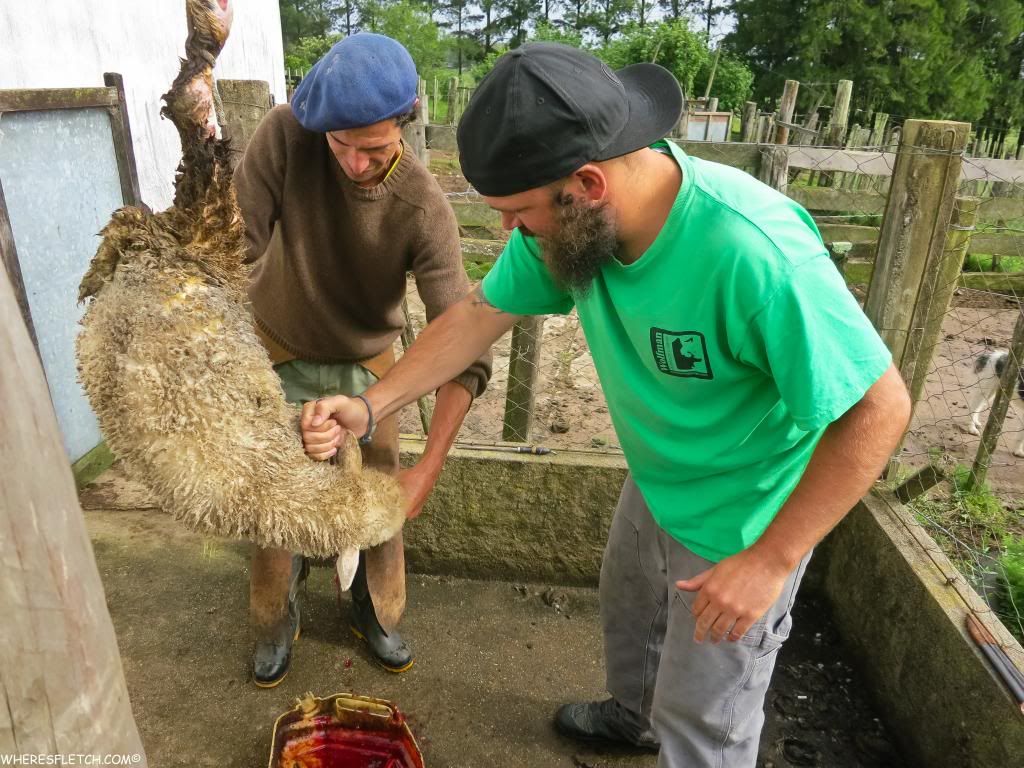 \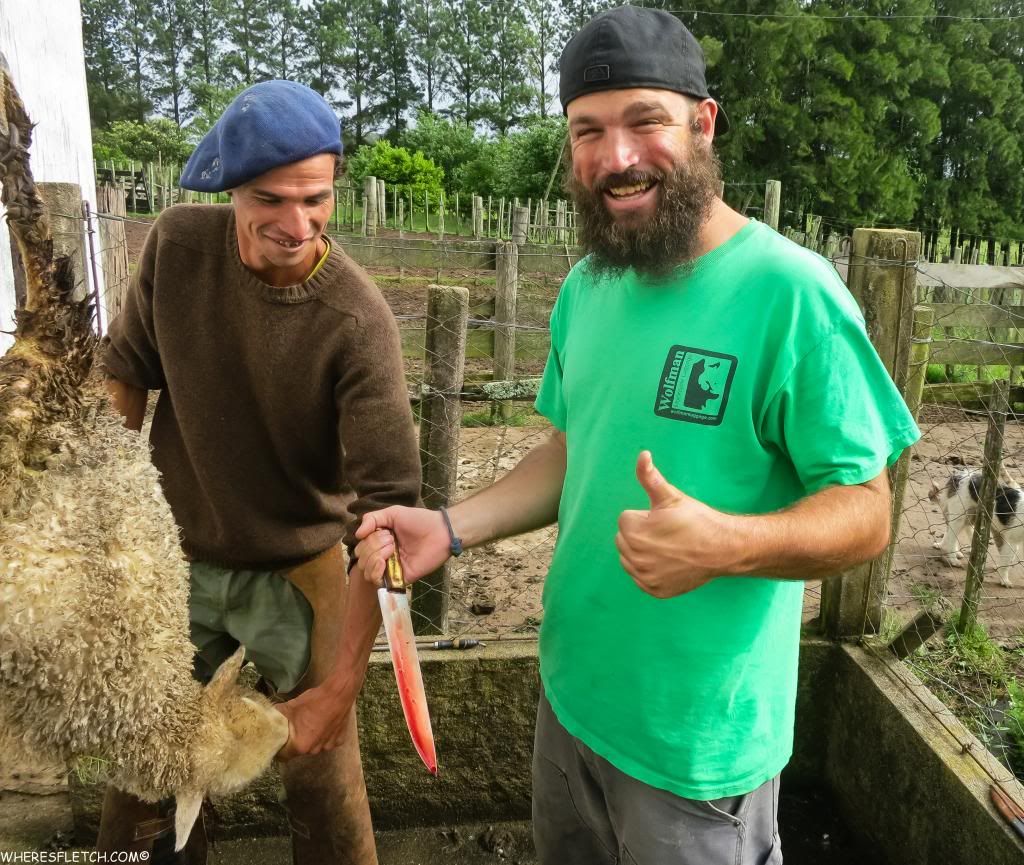 MY JOB IS DONE, TIME TO LEARN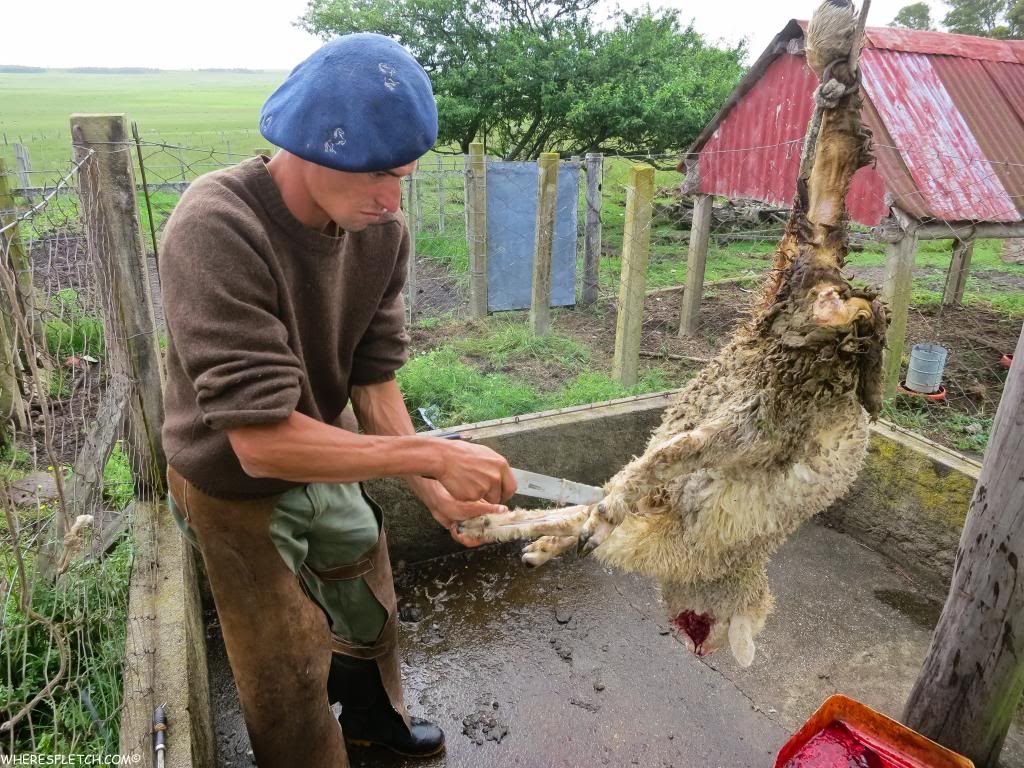 \
START OF SKINNING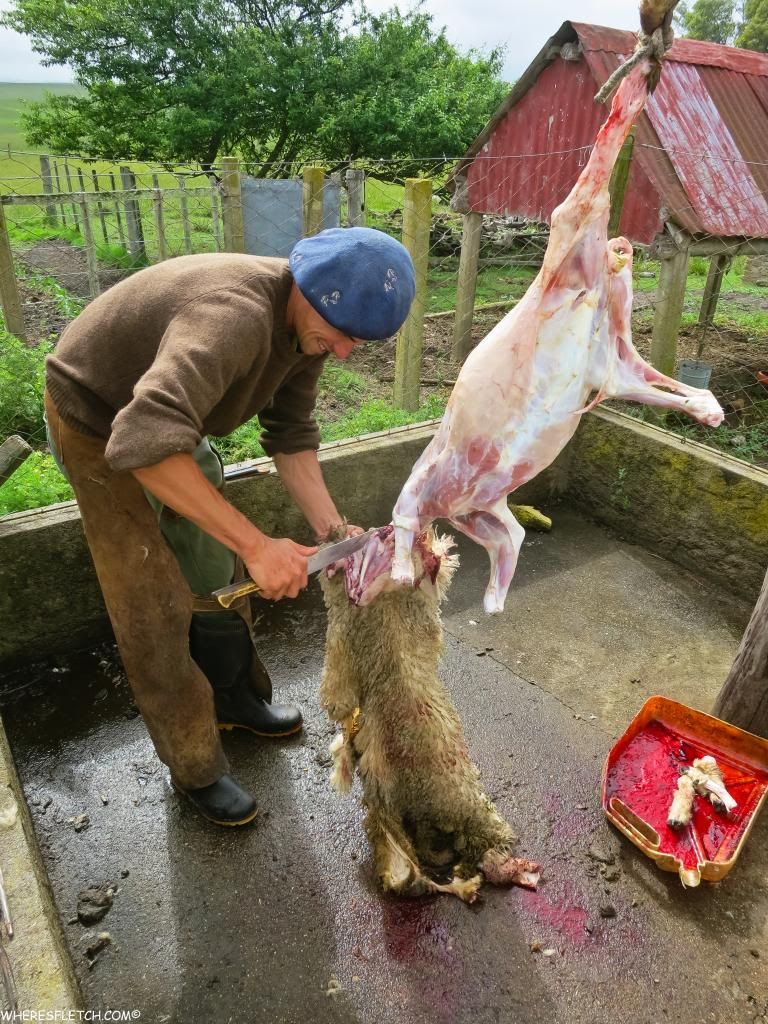 ALMOST DONE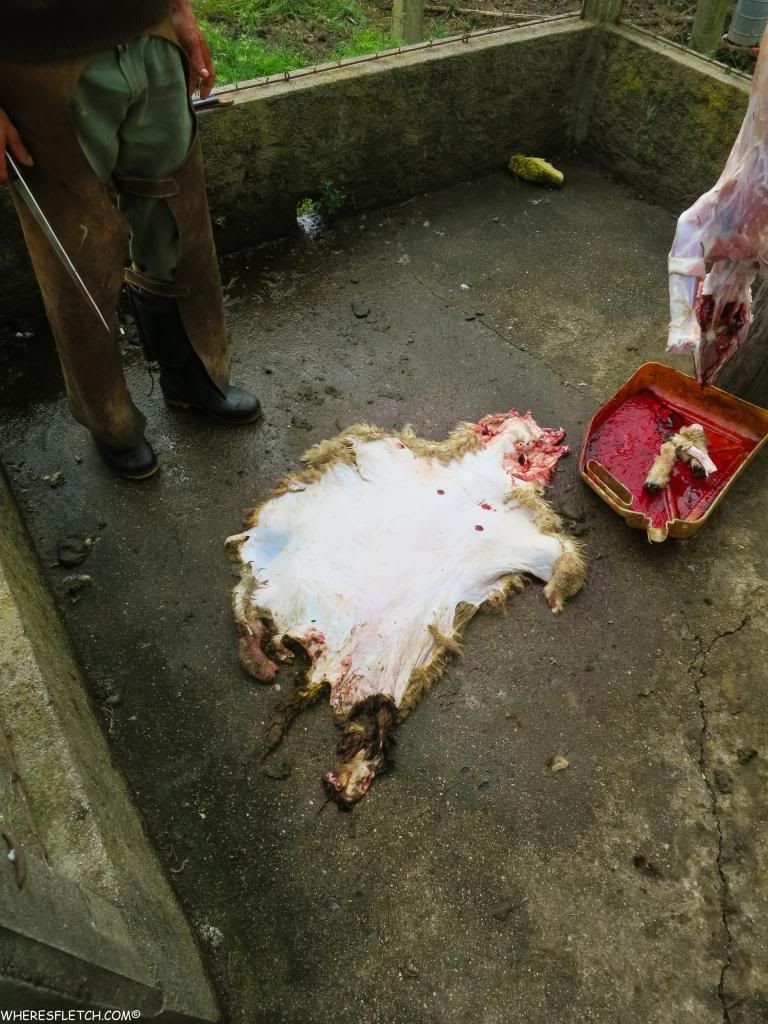 DONE WITH SKINNING
DONE WITH GUTTING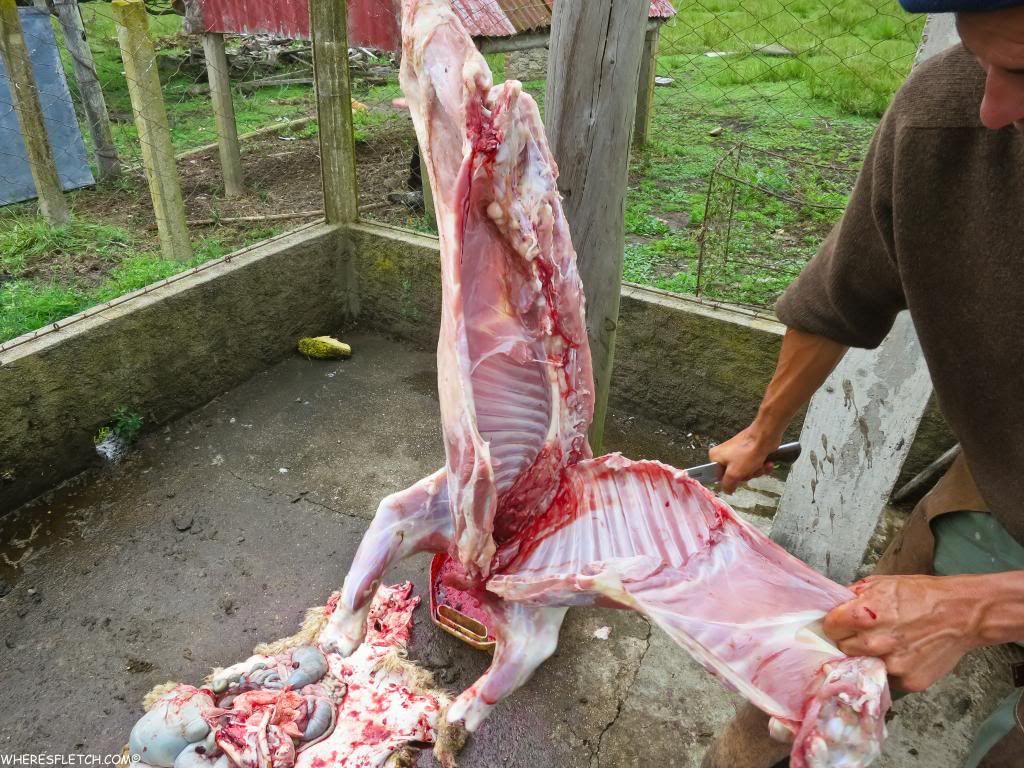 ALMOST DONE WITH BUTCHERING IT
Then we jumped on horses and headed out to check on the Prego Horses and their baby's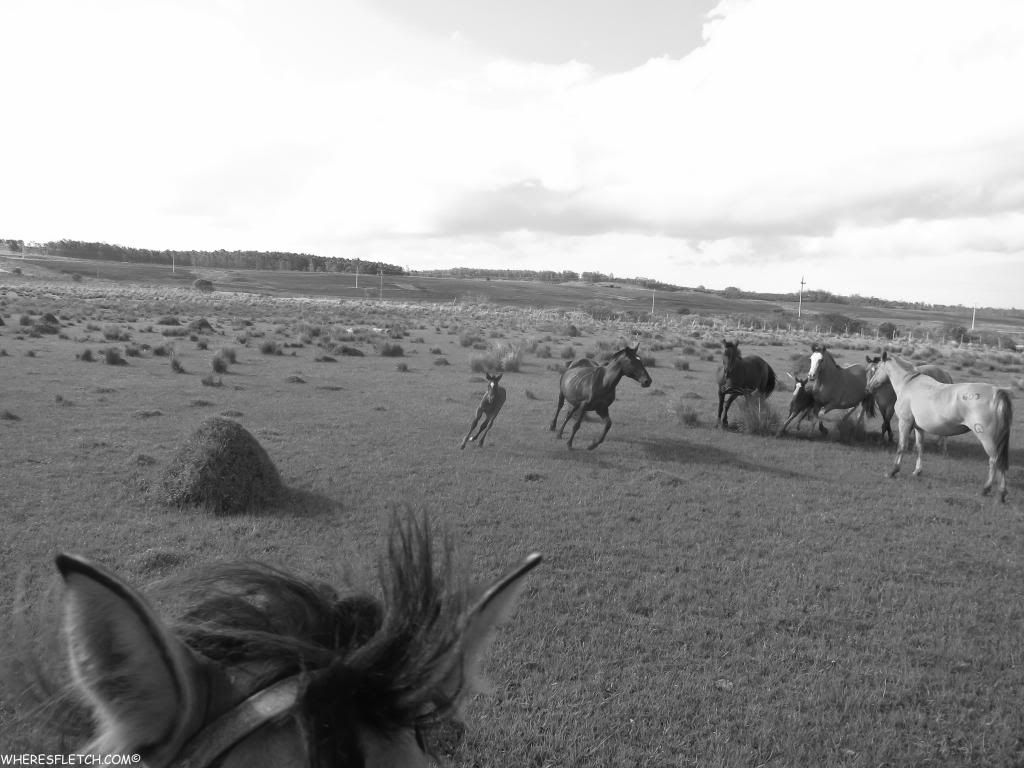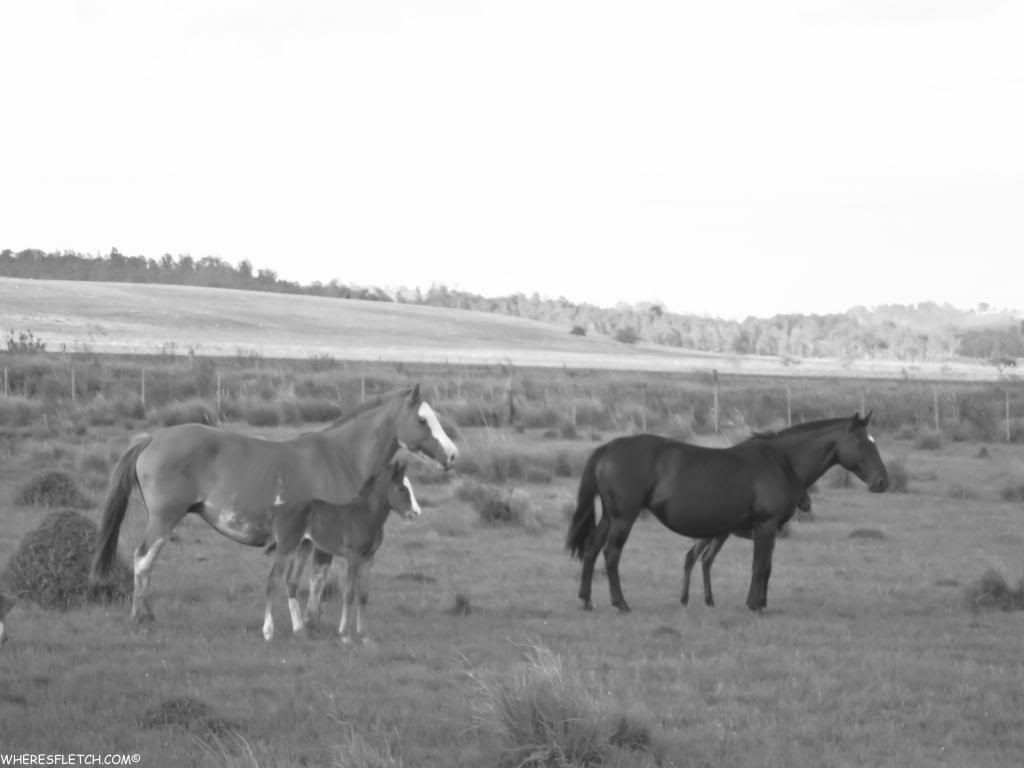 PREGO'S AND NEW BORNS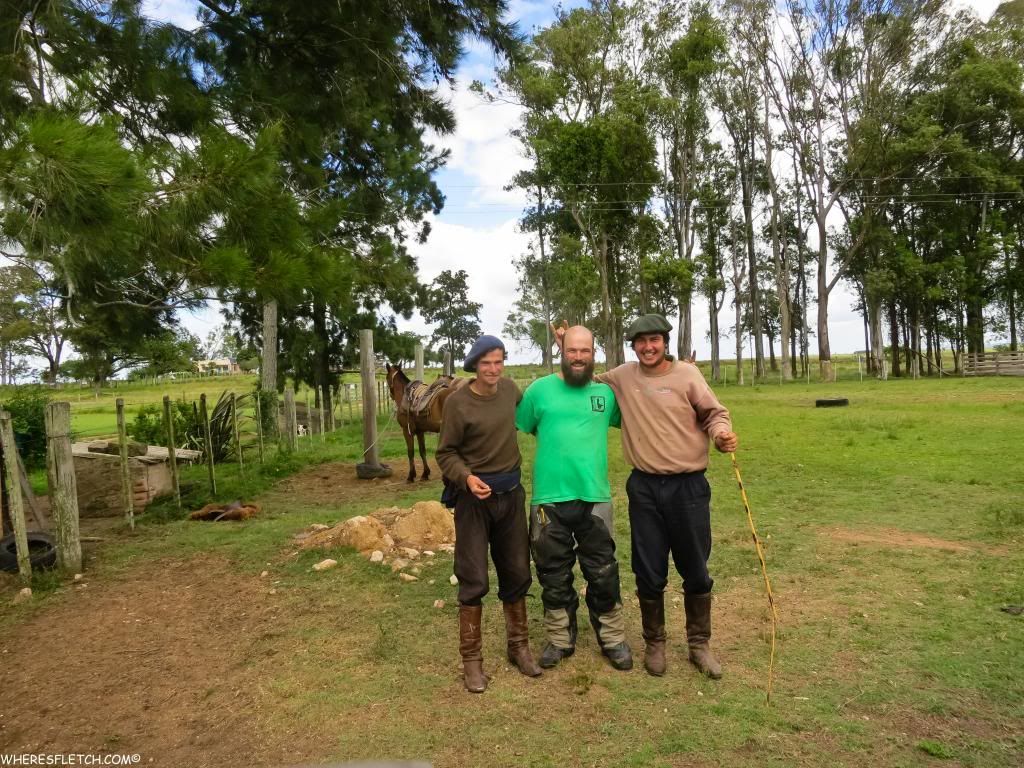 NEW GOOD FRIENDS, THANKS FOR SHOWING ME THE GOOD OL' URUGUAY FARM LIFE!!!
MY LAMB DINNER!!!
Hope it was not too gnarly for you guys, it was just an incredible experience I wanted to share with everyone.. I don't hide anything from my travels..
Fletch..
More updates coming